Stoner metal collective BISON b.c. are readying to conquer their homeland on a 10-date Canadian tour set to commence on October 12. The trek will kick off in Armstrong, BC and wind its way to Windsor, ON. before the band head off to the U.S. for some one-off shows in Cleveland and Chicago. BISON b.c. will be touring in support of their critically-lauded Dark Ages full-length, released via Metal Blade Records last April.
BISON b.c. Tour Dates:
10/12/2010 The Branding Iron Pub – Armstrong, BC
10/14/2010 Amigo's – Saskatoon, SK
10/15/2010 Parthenon Pizza – Brandon, MB
10/16/2010 Royal Albert Hotel – Winnipeg, MB
10/17/2010 Kilroy's – Thunder Bay, ON
10/19/2010 London Music Hall – London, ON
10/20/2010 Cafe De Kcuf – Ottawa, ON
10/21/2010 II Motore – Montreal, QC
10/22/2010 Sneaky Dee's – Toronto, ON
10/23/2010 Blind Dog – Windsor, ON
10/24/2010 Now That's Class – Cleveland, OH
10/25/2010 Subterranean – Chicago, IL
When BISON b.c. took its first step, amps were scorched and drums were smashed. Born of the ashes of seminal Vancouver skate-thrash band S.T.R.E.E.T.S., BISON b.c. are every headbanger's dream. Their riffs are colossal and flow like a mighty river into a sea of fuzzed out shredding. Their message is punk rock angst and revolution, with the occasional nod to white wizards, the king of swine and a mythical beast called the "Stokasaurus." On their debut album Earthbound they captured their massive live sound.
On BISON b.c.'s latest slab, Dark Ages, relentless touring has fine tuned the band's dedication to the RIFF to metallic perfection. Dark Ages breathes like a rapid animal that you'd find tied up in Wino's backyard. It's Flying V's, analog perfection, loud and sludgy, played by dudes with long hair in dirty denim jackets.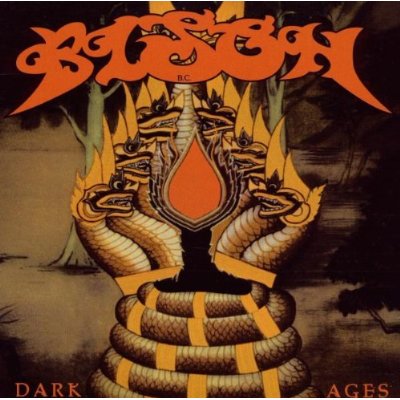 "BISON b.c. thinks as epic as prehistoric predecessor Mastodon, with Thin Lizzy corollaries and a hardcore fifth gear with vocals to match." –– The Austin Chronicle

"…BISON b.c. captures the feedback drenched crunch of the very best stoner metal." — Outburn Magazine 8/10

"…unpretentious, mountainous rock…frequently sound like Mastodon at their most straightforward, coming impressively close to that band's mastery of the riff." — Terrorizer
"They will crush the world…" — Exclaim!
"…colossal, large, big as it gets, massive… They delivered a level of volume and energy that started everybody off six beers deep." –– Decibel

"Dark Ages is not the sound of the earth moving off its axis; it is the sound of BISON b.c. shoving it off with contemptuous rage." –– Blabbermouth
http://www.myspace.com/bisoneastvan
http://www.metalblade.com
http://www.metalblade.tv