New AFM Records titles now available for coverage via Earsplit PR: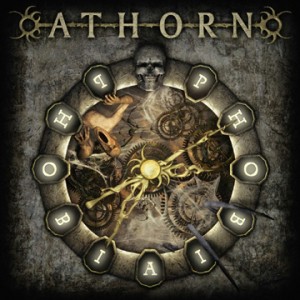 ATHORN – Phobia
Music has always been a very important part of the lives of the five guys from Germany's ATHORN. They are music fans, passionate visitors of festivals and ardent musicians. They've known each other for years, met often in Hannover´s metal and concert scene and eventually, in the Autumn of 2008, they began jamming together.
Despite the fact that they are influenced by very different styles of music — or perhaps because of that — they complement each other amazingly, forming a mixture of grooving rhythms, monolithic riffs, sophisticated sound structures and thrilling guitar work, which altogether reminds one of a modern and developed version of early Sanctuary or Nevermore. Professional experiences due to their jobs in the music industry together with this fresh euphoria that is only immanent in real rock fans formed a perfect symbiosis. ATHORN's music is professional, versed, fresh and energetic.
The band self-released their debut EP Livable Hatred in September 2009. Within a few weeks of the release the band had already developed a massive buzz due to the crowds that were attending their shows, and ATHORN were immediately offered a contract from Germany's AFM Records.
ATHORN's official debut Phobia, which was recorded and mixed in Waveland Studios in June and July of this year, is available now via AFM Records, and thematically deals with human fears and phobias. View the extensive trailer for Phobia here:
Phobia Track Listing:
01. Angels of the Fall
02. Emperor of Ruin
03. Humanize the Demon
04. Phobia Prologue
05. Phobia
06. After the End
07. A Matter of Time
08. From Beyond
09. The Ferryman
10. Schizophrenia
http://www.athorn.de
http://www.myspace.com/athornband
AT VANCE – Decade
After eight successful studio albums over the past decade, Germany's AT VANCE figured it was about time to release a "Best Of" album. An aptly titled double-disc set, Decade not only includes highlight tracks from every AT VANCE record, but also includes a disc of rare tunes, Japanese bonus tracks, several cover songs, the popular adaptions of classical masterpieces (Vivaldi, Beethoven…) and much more.
Decade Track Listing:
CD 1
01. Only Human
02. Take Me Away
03. Take My Pain
04. Heaven
05. Chained
06. Broken Vow
07. The Evil In You
08. Fallen Angel
09. The Curtain Will Fall
10. Dragonchaser
11. Shiver
12. Cold As Ice
13. Flying High (Remastered)
14. Princess Of The Night
15. Heart Of Steel
16. Ride The Sky
CD 2
01. Broken Vow (live)
02. Heroes Of Honour
03. Logical Song (Supertramp cover)
04. Shout (Tears For Fears cover)
05. Highway Star (Deep Purple cover)
06. The Winner Takes It All (ABBA cover)
07. Money Money Money (ABBA cover)
08. S.O.S. (ABBA cover)
09. Gloomy Monday
10. Wannabe
11. Eye Of The Tiger (Survivor cover)
12. Desperado (Eagles cover)
13. Vivaldi / Spring
14. Vivaldi / Summer
15. Solfiegetto
16. Beethoven 5th Symphony
17. Bumblebee
18. Caprice No.16
19. Bach Invention No.13
20. Cello Prelude G-Major
21. Chopin Etude No.4
http://www.at-vance.com
http://www.myspace.com/atvance
Promos of both albums and interviews with both ATHORN and AT VANCE are available upon request. In North America contact Earsplit PR for all AFM Records-related press inquiries.
http://www.afm-records.de
http://www.myspace.com/afmrecordsgermany