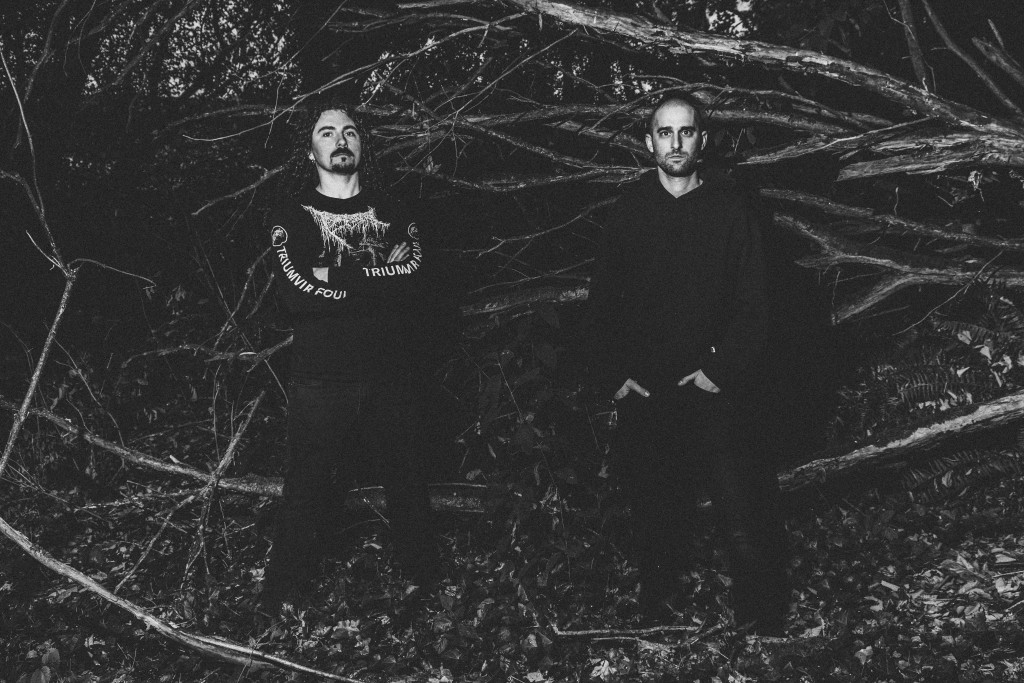 "Mirror Reaper bleeds profusely with misery, crushed by its own incredible weight, and locks eyes with you… blankly staring you down as it slowly perishes from all existence." — Invisible Oranges
Seattle doom metallers BELL WITCH will kick off a North American tour with Denver doom trio Primitive Man this week. The journey begins on October 24th in Salt Lake City, Utah and runs through November 19th in Mesa, Arizona. From there, the band will take a short break before joining French doom metalists/labelmates Monarch! for a stretch of live dates from December 1st in Vancouver, British Columbia through December 7th in Los Angeles, California with more performances to be announced in the coming days. Additionally, BELL WITCH will bring their devastating odes to the stages of Roadburn Festival 2018 in Tilburg, The Netherlands. The band will perform two sets, the first on Saturday April 21st at the 013 venue and Sunday, April 22nd at Het Patronaat recreating Mirror Reaper in its crushing entirety. See all confirmed dates below.
BELL WITCH will be touring in support of their breathtaking Mirror Reaper full-length, released last week via Profound Lore. Engineered and mixed by veteran producer Billy Anderson (Swans, Sleep, Neurosis), the duo of Dylan Desmond (bass, vocals) and Jesse Shreibman (drums, vocals, organ), Mirror Reaper delivers one continuous, eighty-three-minute piece unfolding as a single track. While retaining the immense weight of their previous releases, Mirror Reaper sees the band explore the more meditative, melancholy, and introspective aspects to their sound through the introduction of long, lonely organ passages and the return of vocalist Erik Moggridge (Aerial Ruin), offering a prominent presence.
Stream the record in full via the official Profound Lore Bandcamp page HERE.
Mirror Reaper is available on 2xCD, 2xLP, and digital formats. Order your copy today at THIS LOCATION.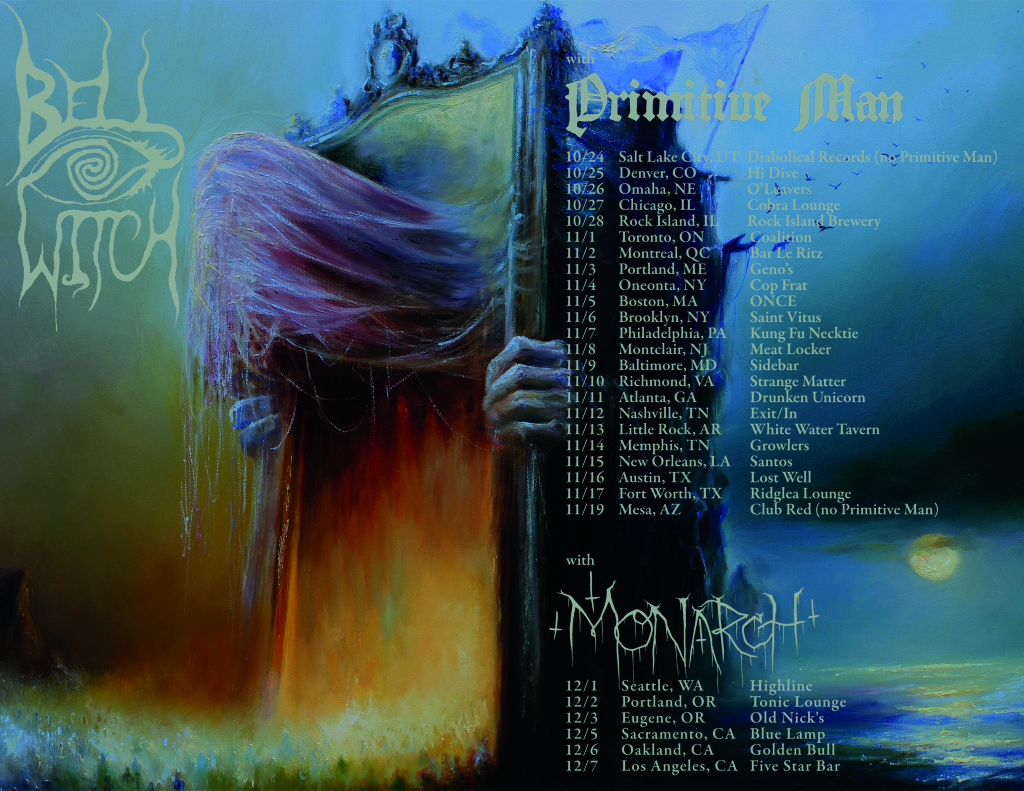 BELL WITCH w/ Primitive Man:
10/24/2017 Diabolical Records – Salt Lake City, UT * no Primitive Man
10/25/2017 Hi Dive – Denver, CO
10/26/2017 O'Leavers – Omaha, NE
10/27/2017 Cobra Lounge – Chicago, IL
10/28/2017 Rock Island Brewery – Rock Island, IL
10/29/2017 The New Dodge – Hamtramck, MI
10/30/2017 Ace Of Clubs – Columbus, OH
10/31/2017 Brillobox – Pittsburgh, PA
11/01/2017 Coalition – Toronto, ON
11/02/2017 Bar Le Ritz – Montreal, QC
11/03/2017 Geno's – Portland, ME
11/04/2017 Cop Frat – Oneonta, NY
11/05/2017 ONCE – Boston, MA
11/06/2017 Saint Vitus Bar – Brooklyn, NY
11/07/2017 Kung Fu Necktie – Philadelphia, PA
11/08/2017 The Meatlocker – Montclair, NJ
11/09/2017 Sidebar – Baltimore, MD
11/10/2017 Strange Matter – Richmond, VA
11/11/2017 Drunken Unicorn – Atlanta, GA
11/12/2017 Exit/In – Nashville, TN
11/13/2017 White Water Tavern – Little Rock, AR
11/14/2017 Growlers – Memphis, TN
11/15/2015 Santos – New Orleans, LA
11/16/2017 Lost Well – Austin, TX
11/17/2017 Ridgelea Lounge – Fort Worth, TX
11/19/2017 Club Red – Mesa, AZ w/ Thra, Ceremented * no Primitive Man
w/ Monarch!:
11/30/2017 Cobalt – Vancouver, BC * Bell Witch only
12/01/2017 Highline – Seattle, WA
12/02/2017 Tonic Lounge – Portland, OR
12/03/2017 Old Nick's – Eugene, OR
12/05/2017 Blue Lamp – Sacramento, CA
12/06/2017 Golden Bull – Oakland, CA
12/07/2017 Five Star Bar – Los Angeles, CA
End Tour
4/21/2018 013 @ Roadburn – Tilburg, NL
4/22/2018 Het Patronaat @ Roadburn – Tilburg, NL
Formed by Desmond and ex-drummer/vocalist Adrian Guerra, BELL WITCH released their first self-titled demo in 2011 and partnered with Profound Lore Records for their debut album, Longing, in 2012. The duo's second LP, 2015's acclaimed Four Phantoms was recognized as one of doom metal's triumphs of the year. The band extensively toured in North America and Europe, securing notable festival appearances including Roadburn, Basilica Soundscape, Sled Island, and Psycho California.
"The title 'Mirror Reaper' is indicative of the Hermetic axiom 'As Above, So Below,' written with two sides to form one whole," notes the band of the themes surrounding the concept and lyrics of latest offering, Mirror Reaper. "The song is both its own and its reflection, as an opposite is whole only with its contrary. Our focus as a band has always been the perception of ghosts and the implied archetype of the dichotomy of life/death therein. 'Mirror Reaper' is a continuation of that concept. During the writing process we were devastated by the loss of our dear friend and former drummer, Adrian Guerra. In love and respect to his memory, we reserved an important yet brief section in the song for him that features unused vocal tracks from our last album. This specific movement serves as a conceptual turn in the piece, or point of reflection. We believe he would be proud of it as well. 'Mirror Reaper' was the first collaborative writing project with the new lineup, and Adrian's death during it brought extra emotional weight. We sought to match the complexity and weight of these events within the composition of the piece."
"…a bottomless, candlelit mausoleum within which to lose yourself, as terrifying bellows are propelled from the depths on gusts of ire, and soothed by mellifluous paeans sung by mournful acolytes. A dismally beautiful tragedy." – Team Rock
"The Seattle-based funeral doom duo don't so much write songs as build sonic ecosystems, interval by interval and frequency by frequency. As performers, the charge every gesture with dynamic impact, nuance, and a degree of psychic intensity rare even in metal." — Decibel
"To listen to an album like Mirror Reaper is to surrender to it, to let it suck you in. Listening to Mirror Reaper, I'm not thinking about genres or influences or whether I like this album more than the band's last album. I'm not really thinking anything. I'm just feeling big feelings. Mirror Reaper, as a piece of music, exists somewhere in the beyond. It's a hell of a place to visit." — Stereogum
"Knowing the backstory makes listening to Mirror Reaper even more intense, but even if you don't, it's such a powerful piece of music that you'll be able to feel that some type of major force was behind it." — BrooklynVegan
"…one of the most breath-taking releases of the year." — Ghost Cult
"This record goes above and beyond, transcendent and beautiful…" — Two Guys Metal Reviews
"…an instant classic of its genre, meticulously deconstructing funeral doom's core components and reassembling them into something that pushes further than maybe any band of their kind has pushed before, and yet possessing an emotive heart and spirit so powerful and affecting that it feels the furthest thing from a clinical musical exercise and instead a stunning tribute to a fallen brother." — Distorted Sound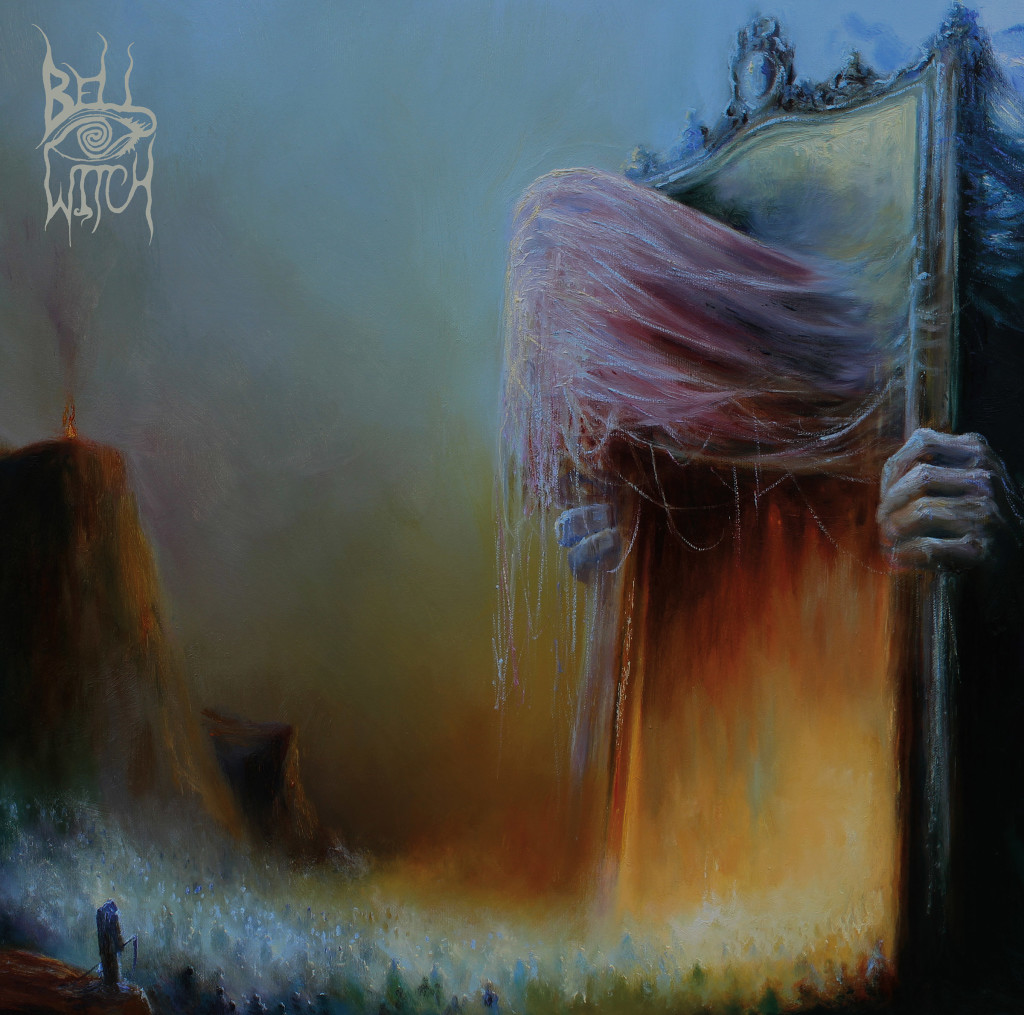 http://www.facebook.com/BellWitchDoom
http://www.profoundlorerecords.com
http://www.facebook.com/profoundlorerecords
http://www.profoundlorerecords.bandcamp.com