Detroit, Michigan-based metallers BATTLECROSS will be joining Canada's Protest The Hero as direct support on the band's spring US tour, set to commence March 1st in Buffalo. Tickets go on sale this Friday, January 24th.
Guitarist Tony Asta comments; "BATTLECROSS is very excited to hit the road with Protest The Hero! They seem like a very successful, humble group of guys who don't take things too seriously yet are serious about the business — a good role model for all modern bands and we can't wait to get to know them on the road. Oh yeah and they're shredders! Being direct support is a huge honor and we won't let anyone down. This is a very unique tour package and we can't wait to play to new crowds as well as expose some of our fans to bands they may not have seen yet. See you all in the road this spring!"
BATTLECROSS' latest effort, War Of Will, saw the band on the road as a part of 2013's Rockstar Mayhem Festival and debuted at #134 on the Billboard Top 200 chart, #118 on the Top Current Albums chart, #2 on the Heatseeker chart, #15 on the Current Hard Music chart, #16 on the Hard Music Overall chart, and #32 on the Independent Albums chart. It didn't stop here though, as the band also debuted in Canada's Soundscan charts coming in at #178 Top 200 Current and #25 Hard Music Charts while also landing on the iTunes charts for release date at #103 on the Top 200, #10 on Rock, and #2 on Metal! This marks the band's first ever Billboard chart debut! War Of Will also peaked at #3 on the US iTunes metal chart on the day of release.
BATTLECROSS
w/ Protest the Hero, The Safety Fire, Intervals, and Night Verses
3/01/2014 Waiting Room – Buffalo, NY
3/02/2014 Bogarts – Cincinnati, OH
3/03/2014 The Stache at The Intersection – Grand Rapids, MI
3/04/2014 Wooly's – Des Moines, IA
3/05/2014 The Garage – Burnsville, MN
3/07/2014 The Eagles Hall – Milwaukee, WI
3/08/2014 Mojoe's – Joliet, IL
3/09/2014 Bourbon Theatre – Lincoln, NE
3/10/2014 Aggie Theatre – Ft. Collins, CO
3/11/2014 Mesa Theatre & Club – Grand Junction, CO
3/12/2014 Urban Lounge – Salt Lake City, UT
3/14/2014 The Hop – Spokane, WA
3/15/2014 Knitting Factory – Boise, ID
3/16/2014 Knitting Factory – Reno, NV
3/17/2014 Assembly – Sacramento, CA
3/18/2014 House of Blues – Anaheim, CA
3/19/2014 191 Toole – Tucson, AZ
3/21/2014 Jake's Backroom – Lubbock, TX
3/22/2014 Red 7 – Austin, TX
3/23/2014 Juanita's – Little Rock, AR
3/24/2014 The Varsity Theatre – Baton Rouge, LA
3/26/2014 State Theatre – St. Petersburg, FL
3/27/2014 Culture Room – Ft. Lauderdale, FL
3/28/2014 Jack Rabbits – Jacksonville, FL
3/29/2014 Ziggys By The Sea – Wilmington, NC
3/30/2014 Lincoln Theatre – Raleigh, NC
4/01/2014 Tremont Music Hall – Charlotte, NC
4/02/2014 The Rock and Roll Hotel – Washington, DC
4/03/2014 Webster Theater – Hartford, CT
4/04/2014 Montage Music Hall – Rochester, NY
4/05/2014 The Middle East Downstairs – Cambridge, MA
4/06/2014 Revolution – Amityville, NY

Metalholic.com: #2, 10 Best Thrash Metal Albums of 2013
Matterz.co.uk: #1, Top 5 Metal Albums Of The Year
Metalwani.com: #8, Reaper's Top 10 Metal Albums of 2013
SkullsNBones.com: #15, Metal Mark's Top 15 Metal Albums of 2013
"Metallica-approved thrashers…catchy and direct-the secret behind BATTLECROSS songs is that they're short and not so sweet." — Revolver Magazine
"The overall result falls somewhere between the sheer aggression of traditional thrash and In Flames' sense of humanity, with nods to the technical ecstasy of metal's founding fathers along the way." — Metal Hammer Magazine (UK)
"BATTLECROSS sound like the bastard offspring of Kreator, Children Of Bodom and Dragonforce…metal fans will lap this up like a cat with a bowl of cream." — Big Cheese Magazine (UK)
"The level of musical and compositional progression here is startling, to be quite honest…The effect as a whole is energetic and fist-pumping to the extreme, ushering in a beacon of hope for American metal in 2013." — Zero Tolerance Magazine (UK)
"Pound for pound, the Detroit thrashers deliver one of the most eye popping, headbanging, horn throwing live shows in heavy metal. 10/10" — Outburn
"Whoever said that the metal genre has become stale and boring has clearly never heard of Michigan's Battlecross!" — New-Transcendence.com
"All told, War Of Will is a compact and exhilarating experience from BATTLECROSS, who are able to capture the feeling of old-school metal without needing to prop themselves up with nostalgia, instead allowing their love of the genre to shine through with every chugging riff, every solo, and every crazed fist pump." — Allmusic.com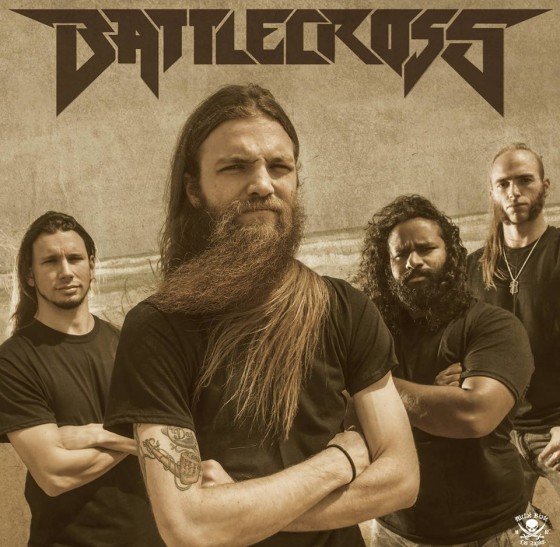 http://www.battlecrossmetal.com
http://www.facebook.com/battlecrossmetal
http://twitter.com/battlecross
http://www.metalblade.com