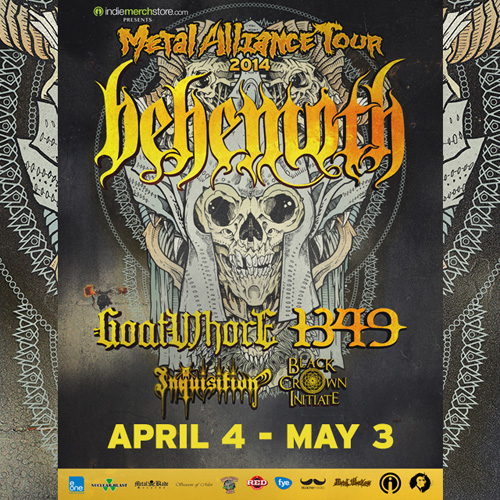 GOATWHORE will be on tour this April as part of the Metal Alliance Tour 2014! The band will be supporting headliners Behemoth, along with additional support acts 1349, Inquisition, and Black Crown Initiate. The Metal Alliance Tour will begin April 4th in Tempe, Arizona and runs through May 3rd in Seattle, Washington. Dates are listed below, as well as on facebook.com/thegoat666. GOATWHORE has additional plans in place for tour dates once the new album is complete, including a major summer tour that has yet to be announced. Updates will be posted as soon as they are made available.
In other news, GOATWHORE has returned to Mana Recording studios this month with producer Erik Rutan to record their sixth full-length album. Fans have been following GOATWHORE's progress over the course of the last week via updates at facebook.com/thegoat666, which includes exclusive photos and vine videos.
GOATWHORE's new album will be the follow up to the band's critically acclaimed 2012 release, Blood For The Master. Music and videos can be seen now at metalblade.com/goatwhore.
GOATWHORE
The Metal Alliance Tour w/ Behemoth, 1349, Inquisition, Black Crown Initiate
4/04/2014 Club Owl/ Club Red – Tempe, AZ
4/05/2014 House Of Blues – West Hollywood, CA
4/06/2014 Regency Ballroom – San Francisco, CA
4/08/2014 Gothic Theatre – Englewood, CO
4/11/2014 House Of Blues – Cambridge Room – Dallas, TX
4/12/2014 Emo's East – Austin, TX
4/13/2014 House Of Blues – Houston, TX
4/15/2014 Beacham Theatre – Orlando, FL
4/16/2014 Tremont Music Hall – Charlotte, NC
4/17/2014 Theatre Of Living Arts – Philadelphia, PA
4/18/2014 The Palladium – Worcester, MA
4/19/2014 Irving Plaza – New York, NY
4/22/2014 Club Soda – Montreal, QC
4/23/2014 The Opera House – Toronto, ON
4/24/2014 Agora Theatre – Cleveland, OH
4/25/2014 House Of Blues- Chicago, IL
4/26/2014 Skyway Theater – Studio B – Minneapolis, MN
4/27/2014 The Garrick – Winnipeg, MB
4/29/2014 MacEwan Hall – Calgary, AB
4/30/2014 Union Hall – Edmonton, AB
5/02/2014 Rickshaw Theatre – Vancouver, AB
5/03/2014 Studio Seven – Seattle, WA
"Five albums in, GOATWHORE still hold the crown as the hardest-working band in metal. With Blood For The Master, all of their sacrifices have finally paid off." — Decibel Magazine
"…breakneck barrage of doom, death, and black metal" — Revolver Magazine
"…draw on sludge, death and black metal without being easily classified as any of those" — Terrorizer Magazine
"Ben Falgoust owns the stage like a black-metal James Brown" — StereoGum.com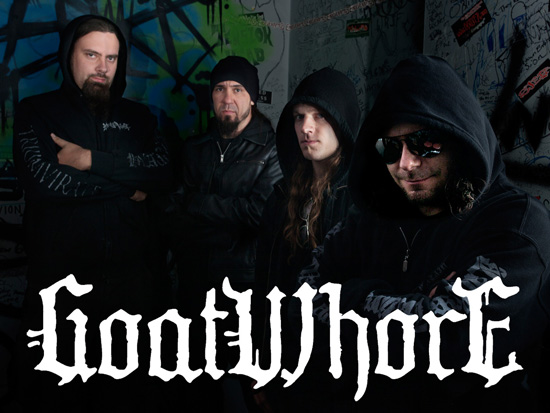 http://www.facebook.com/thegoat666
http://twitter.com/goatwhorenola
http://www.youtube.com/Goatwhorenola666