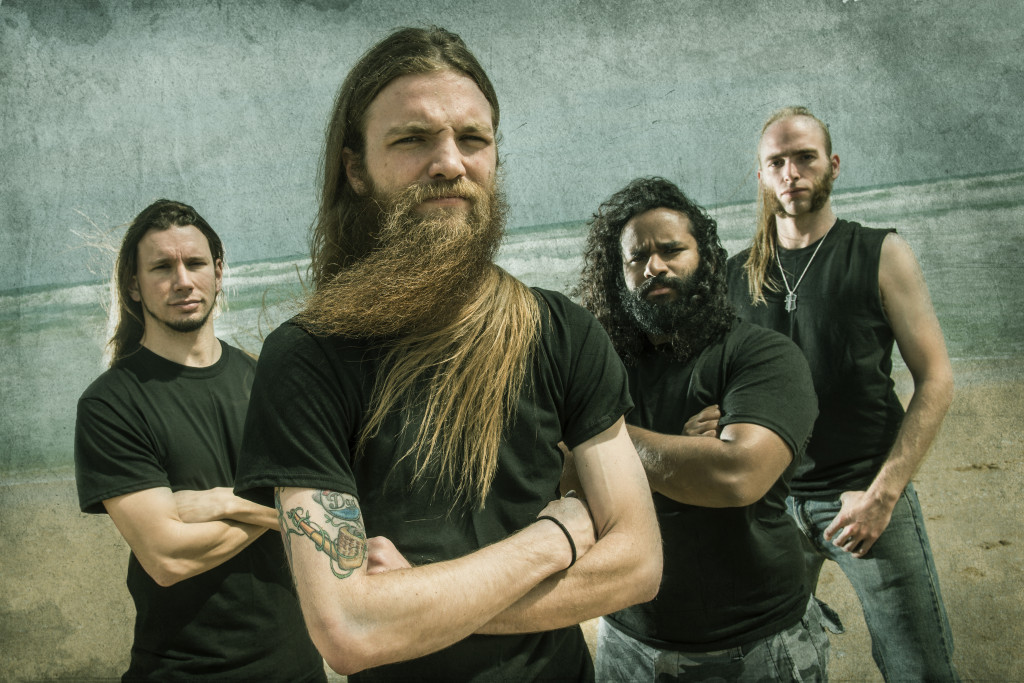 Following their upcoming North American trek with Soilwork, Unearth, Wovenwar, and Darkness Divided next month, Motor City thrashers BATTLECROSS will finish off 2016 with their annual headlining run, the third installment of the Winter Warriors Tour. This year, support will be provided by Metal Blade labelmates Allegaeon and Necromancing The Stone.
In conjunction with the Veterans Ticket Foundation, the Winter Warriors Tour will once again offer free admission to members of the US Armed Forces, and the band will donate a portion of their proceeds to local veterans' organizations in each city. Veterans are invited to register for free tickets at vettix.org starting on September 23rd. General admission tickets will be available at THIS LOCATION the same day. See below for all upcoming BATTLECROSS dates.
BATTLECROSS w/ Soilwork, Unearth, Wovenwar, Darkness Divided:
10/14/2016 Fete Music Hall – Providence, RI
10/15/2016 Stanhope House – Stanhope, NJ
10/16/2016 Shakes – Virginia Beach, VA
10/17/2016 Cats Cradle – Carrboro, NC
10/18/2016 The Loft – Atlanta, GA
10/20/2016 The Rail Club – Ft. Worth, TX
10/21/2016 18th Street – San Leon, TX
10/22/2016 Empire Control Room – Austin, TX
10/24/2016 Nile Theater – Mesa, AZ
10/25/2016 LVCS – Las Vegas, NV
10/26/2016 Glass House – Pomona, CA
10/27/2016 DNA Lounge – San Francisco, CA
10/29/2016 Studio Seven – Seattle, WA
10/30/2016 The Pin – Spokane, WA
11/01/2016 Dimondz Event Center – Jerome, ID
11/02/2016 Metro – Salt Lake City, UT
11/03/2016 The Summit – Denver, CO
11/05/2016 Fubar – St. Louis, MO
11/06/2016 Diamond Pub Concert Hall – Louisville, KY
11/08/2016 The Metal Grill – Cudday, WI
11/09/2016 Q&Z – Ringle, WI
11/10/2016 Home Bar – Arlington Heights, IL
11/11/2016 The Machine Shop – Flint, MI
11/12/2016 Diesel – Pittsburgh, PA
11/13/2016 Gramercy – New York City, NY
11/15/2016 The Brass Monkey – Ottawa, ON
11/16/2016 Rockpile – Toronto, ON
BATTLECROSS Winter Warriors Tour w/ Allegaeon, Necromancing The Stone:
11/25/2016 Basement Transmissions – Erie, PA
11/26/2016 Harmony House – Webster, NY
11/27/2016 Fuze Box – Albany, NY
11/28/2016 Cafe 611 – Frederick, MD
11/29/2016 Dingbatz – Clifton, NJ
11/30/2016 Amityville Music Hall – Amityville, NY
12/01/2016 Strange Matter – Richmond, VA
12/02/2016 Ground Zero – Spartanburg, SC
12/03/2016 The Iron Heights – Augusta, GA
12/04/2016 Jack Rabbits – Jacksonville, FL
12/07/2016 Southport Music Hall – New Orleans, LA
12/08/2016 Shooters – Texarkana, AR
12/09/2016 The Korova – San Antonio, TX
12/10/2016 Jake's – Lubbock, TX
12/11/2016 Thunder Alley – Oklahoma City, OK
12/12/2016 Aftershock – Merriam, KS
12/13/2016 Rev Room – Little Rock, AR
12/14/2016 The East Room – Nashville, TN
12/15/2016 Big Shots – Valparaiso, IN
12/16/2016 Rockstar Pro Arena – Dayton, OH
12/17/2016 The Token Lounge – Westland, MI
BATTLECROSS will be touring in support of their latest album, Rise To Power, which landed on the Billboard charts at #103, marking the band's second Billboard chart entry (2013's War Of Will entered the charts at #130). To preview and purchase Rise To Power, visit: metalblade.com/battlecross.
Allegaeon will release their new album, Proponent For Sentience, this Friday, September 23rd. Produced by Dave Otero (Cattle Decapitation), Proponent For Sentience is a musically complex, intelligent, and absorbing concept record that can rightfully sit alongside the true greats of the medium. With a lyrical arc rooted in science-fiction yet uncomfortably encroaching upon the reality of the present, it captures the Fort Collins, Colorado natives at their most ambitious and accomplished, pushing the boundaries even further than on their three previous critically acclaimed full-lengths. To preview and purchase Proponent For Sentience, visit: metalblade.com/allegaeon.
If flaccid, identikit, breakdown-laden "metal" is the disease, Necromancing The Stone's recently released debut full-length, Jewel Of The Vile, is the cure. Featuring current/former members of Arsis (guitarist James Malone), The Absence (drummer Jeramie Kling), The Black Dahlia Murder (bassist Ryan "Bart" Williams), and Brimstone Coven (guitarist Justin Wood and vocalist "Big" John Williams), Necromancing The Stone "has brought back the glory days [of '80s heavy metal] with unbridled spirit" (Loudwire.com). To preview and purchase Jewel Of The Vile, visit: metalblade.com/necromancingthestone.
http://www.battlecrossmetal.com
http://www.facebook.com/battlecrossmetal
http://www.twitter.com/battlecross