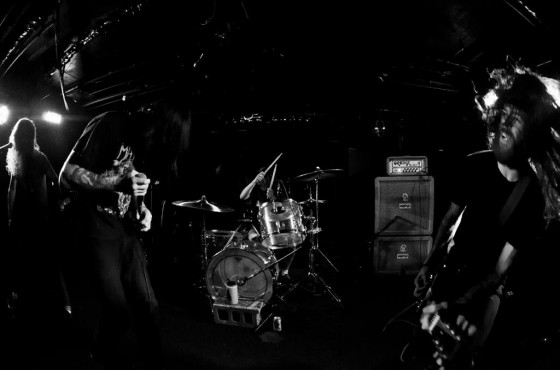 Bushcraft, the debut LP from Vancouver's most explosive band, BAPTISTS, is out now worldwide via Southern Lord. While the band's initial 7″ immediately turned heads scene-wide, Bushcraft is ripping them right off. Recorded with Kurt Ballou at his Godcity Studio, the album showcases the band's creed of destruction through a blistering hybrid of punk-fueled hardcore propelled by white-knuckled snare-blasts, d-beat thunder, dissonant riff urgency and an overall relentless by-the-throat approach.
Amidst a landslide of commendations from countless mags and webzines, today Canadian national music outlet Exclaim! Magazine is streaming all of BAPTISTS' seething Bushcraft for all to experience. Check it out HERE.
In addition to their hometown record release show February 28th, BAPTISTS are locking new gigs on their way to storm through SXSW 2013. Stay tuned for an arsenal of new dates to be announced in the coming days.
BAPTISTS – Bushcraft record release show:
2/28/2013 The Biltmore – Vancouver, BC w/ Haggatha, Erosion
"The LP's survival-skills-focused title track lets the machete-sharpening Drury spit venom at unaffordable housing markets as he preps to head for the hills." – The Georgia Straight
"Not only do the Vancouver, BC-based band tackle Converge's noisier, chaotic moments – a far more common undertaking – they also attempt their restrained dirges… 8/10" – Exclaim!
"No one can accuse the band of being the same old d-beat hardcore we're used to hearing; they're exploring much darker and more ominous regions of the genre than almost anyone else seems capable of. 4.5/5" – Dying Scene
"…the Vancouver killing machine's in-your-face attitude and propulsive punk fury indicates the staunchest of negativity and ill will towards man." – BrooklynVegan
"…seizes the throat with an iron grip and doesn't let go… more anger is packed into these eleven tracks than you would ever think possible." – Cvlt Nation
"…when Bushcraft finishes, nothing but a trampled husk remains where you once stood." – Nocturnal Cult
"From start to finish this album rarely lets up off the accelerator with its sludgy, bastardized hardcore malevolence. 4/5" – Mouth For War
http://xdrownyoursorrowsx.blogspot.ca
http://baptists.bandcamp.com
https://www.facebook.com/pages/BAPTISTS/111676572202547