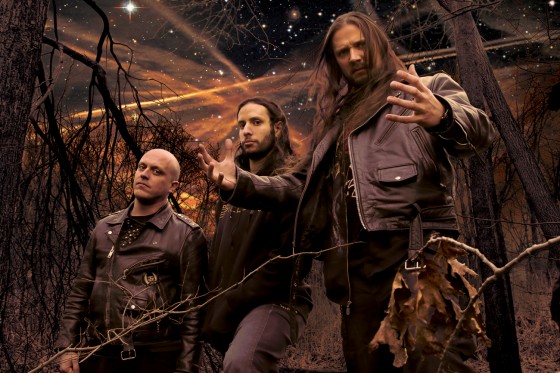 AZURE EMOTE, the avant-garde death metal entity envisioned and created by Mike Hrubovcak (Monstrosity, Vile, Divine Rapture, Abraxas), will release its second full-length work, The Gravity Of Impermanence, worldwide on April 3rd via Selfmadegod Records.
Under Hrubovcak's direction, songwriting and full-on participation in its creation, The Gravity Of Impermanence was executed utilizing musicians from Death, Fear Factory, Yakuza, Monstrosity, Tristania, Rumpelstiltskin Grinder and more. With over an hour of material displayed through fourteen tracks, the album is fueled by pummeling blast beats, electronic programming, a mixture of both guttural and haunting vocal styles, violins, saxophone, harmonica and a barrage of other instruments coalescing in a melting pot of misanthropic darkness that defines the AZURE EMOTE ethos, recorded, mixed and mastered by Ron Vento of Aurora Borealis at Nightsky Studios. The cover art was once again done by AZURE EMOTE's creator and frontman Mike Hrubovcak, his Visual Darkness works well-known in the death/grind communities for illustrating covers for Sinister, Grave, Cattle Decapitation, Hate Eternal, Mortician, and many others.
Today venerable scene news outlet/community Lambgoat.com is hosting an exclusive stream of the opening track to The Gravity Of Impermanence. Unleash the brilliantly unique destruction of "Epoch Of De-Evolution" AT THIS LOCATION.
Experience the epic closing track to the album "Puppet Deities" right here:
http://www.azureemote.com
http://www.facebook.com/azureemote
http://www.azureemote.bandcamp.com
http://www.selfmadegod.com
http://www.selfmadegod.bandcamp.com
http://www.facebook.com/selfmadegod
http://www.twitter.com/selfmadegodrec