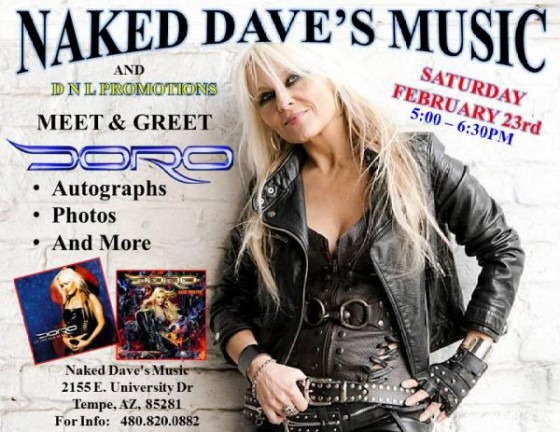 Legendary Metal Queen DORO PESCH is currently finishing up the Raise Your Fist North American tour which commenced with a fiery appearance on the 70000 Tons Of Metal Cruise late last month! Touring in support of the anthemic Raise Your Fist full-length, released worldwide via Nuclear Blast late last year, the iconic songstress continues to enthrall the masses with her permeating voice, metallic grace and infectious, onstage charm.
Comments the perpetually upbeat DORO: "So far the tour has been so amazing! It's the best North American tour we've ever done. The venues have been packed and so many have sold out. The fans have been truly amazing and so supportive, it's been overwhelming! The Joliet, Illinois show was so intense, we're saving some of the live footage for an upcoming DVD. Some shows have been very long — everyone wants to hear so many songs; so many encores! We are so looking forward to playing the rest of these shows, especially Hollywood! The old Warlock members, our label and so many friends are coming out. I truly thank all the fans who've made these shows so amazing and possible."
Additionally, DORO devotees in Tempe, Arizona will have the opportunity to meet Pesch and her bandmates at a special in-store meet & greet on Saturday, February 23, 2013 at Naked Dave's Music located at 2155 E. University Drive, Tempe, AZ. The signing session will run from 5:00pm – 6:30pm. For more info, go to THIS LOCATION.
DORO North American Headlining Tour 2013 [remaining dates]:
2/19/2013 El Corazon – Seattle, WA
2/20/2013 Hawthorne Theatre – Portland, OR
2/21/2013 Thee Parkside – San Francisco, CA
2/22/2013 House Of Blues – West Hollywood, CA
2/23/2013 Rocky Point Cantina – Tempe, AZ
Advance ticket links are available on DORO's Official Facebook Page.
Raise Your Fist features guest appearances by Motörhead's Lemmy Kilmister and Ozzy/Firewind guitarist Gus G, with artwork by British artist and longtime DORO collaborator Geoffrey Gillespie. The offering debuted at #65 on the American Billboard Heatseekers chart upon its first week of release and was commended by Outburn in an 8/10 rating for delivering "50 minutes of expertly crafted Teutonic metal."
"…probably the classiest lady in metal." – Outburn
"Raise Your Fist is a solid outing for DORO PESCH and at this stage in the game, would expect nothing less from her. She still manages to savor that hard rock image and make it work for her and I hope she never stops doing this. I say raise your fist in the air babe, and never let it go." – Blistering
"On her 12th solo album, German metal maiden DORO PESCH sounds more assured than ever, particularly as a songwriter on these 13 taut, Teutonic tunes." – Revolver
"Raise Your Fist will put a smile on all of DORO's fans faces, many years after she first appeared Heavy Metal still has plenty to give thanks to those like DORO." – Sea Of Tranquility
"There is no doubt in my mind that DORO is a pioneer in her field of music, one that does what she loves best, and gives her fans all. That's what I call dedication. Do I recommend "Raise Your Fist", most definitely." – Metal Titans
"Raise Your Fist is a confident, well crafted, classic metal album, which offers a slab of horn-throwing anthems, with just the right amount of sentiment. DORO heads into a new decade with another load of rock and roll ammunition in her arsenal." – The Examiner
"For a quarter century, DORO has been defying stereotypes and putting out old-school metal that never fails to recall the days when the star of heavy metal burned brightest. Time may not have been the kindest to the style of music DORO has always stood for, but it has been kind to her. The accomplishment of staying relevant in the scene for so long is not something to be taken for granted, and it's something indeed to be proud of." – Bloody Good Horror
http://www.DORO.de
http://www.facebook.com/DOROOFFICIAL
http://www.Twitter.com/DOROOFFICIAL
http://www.YouTube.com/DOROOFFICIAL
http://www.myspace.com/DOROBAND
http://www.nuclearblastusa.com
http://www.nuclearblast.de