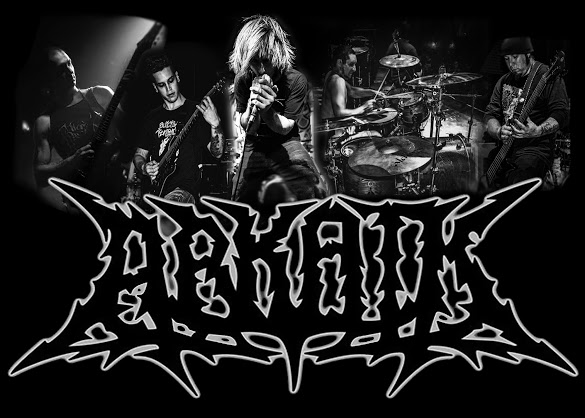 Lucid Dawn is the forthcoming full-length from West Coast progressive death metal practitioners, ARKAIK. Set for release next month via Unique Leader Records, Lucid Dawn is the second installment in a series of concept albums revolving around Cyrix, a disillusioned character in a dystopian society. In Cyrix's world, dreaming is systematically controlled by a tyrannical ruler named Khaal-Li-Phar and his army of dark shamans, where people are forced to build monuments to the tyrant to stifle their imaginations and inhibit their ability to achieve a multi-dimensional existence. Lucid Dawn is a death metal take on American mythologist, writer and lecturer, Joseph Campbell's monomyth, and the beginning of Cyrix's "Hero's Journey." Musically and conceptually, Lucid Dawn carries the listener on a visceral expedition through the depths of evil and beyond the threshold of mundane reality.
In advance of its release, today No Clean Singing offers up the first helping of Lucid Dawn in the form of a lyric video for "Awaken The I." Issues the esteemed extreme metal portal, "ARKAIK treats you to a head-spinning display of insectile tech-death frenzy – the kind of performance that somehow feels both machine-tight and berserk. And in the midst of that crazed but calculated opening performance, they're already beginning to inject a melodic theme into your brain that just gets more insidiously infectious as the song unfolds."
Peep the lyric video for "Awaken The I," courtesy of No Clean Singing, at THIS LOCATION.
The ten-track Lucid Dawn was engineered, mixed and mastered by Zack Ohren (Suffocation, Fallujah, Wrvth, All Shall Perish et al.) at Sharkbite Studios in Oakland, California, and takes ARKAIK's multifaceted sound to an entirely new dimension, showcasing each musician's creative potential and upping the proverbial ante of the brutality and technicality of their back catalog. With the addition of guitarists Miguel Esparza (ex-Hatriot) and Greg Paulson as composers, Lucid Dawn delivers a fresh approach to the band's sound and the entire progressive death metal genre. As an added bonus, the album features guest appearances from death metal heavy weights, Trevor Strnad and Ryan Knight of The Black Dahlia Murder, as well as Bay Area live string quartet, Amaranth in addition to the stunning art renderings of Tyler Space.
Prior to the release of Lucid Dawn, ARKAIK will embark upon a near month-long headlining tour from October 16th through November 8th. The Lucid Revolution Tour will terrorize twenty four cities in eleven states with support from Bermuda and Enfold Darkness.
ARKAIK – Lucid Revolution Tour w/ Bermuda, Enfold Darkness:
10/16/15 On The Y – Sacramento, CA *
10/17/15 The Third Street Pub – Bend, OR
10/18/15 El Corazon (Funhouse) – Seattle, WA
10/19/15 The Pin! – Spokane, WA
10/20/15 The Shredder – Boise, ID
10/21/15 Karmikazees – Salt Lake City, UT
10/22/15 Trailside Saloon – Denver, CO
10/23/15 Thunder Alley – Oklahoma City, OK
10/24/15 Walters – Houston, TX
10/25/15 The Korova – San Antonio, TX
10/26/15 House of Rock – Corpus Christi, TX
10/27/15 Dirty Dog Bar Austin, TX
10/28/15 Tomcats West – Fort Worth, TX
10/29/15 YaYas – San Angelo, TX
10/30/15 Blu Phoenix – Albuquerque, NM
10/31/15 The Quarry Bisbee – Bisbee, AZ
11/01/15 The Rogue – Scottsdale, AZ
11/02/15 Doll Hut – Anaheim, CA
11/03/15 Elks Lodge – San Bernardino, CA
11/04/15 Five Star Bar – Los Angeles, CA
11/05/15 Brick By Brick – San Diego, CA
11/06/15 Chinatown Youth Center – Fresno, CA
11/07/15 Whiskey Dicks – South Lake Tahoe, CA
11/08/15 DNA Lounge – San Francisco, CA
*ARKAIK and Enfold Darkness only
ARKAIK's Lucid Dawn will be released on October 30th, 2015 worldwide via Unique Leader Records. Preorders and supplementary audio lacerations to be revealed in the coming weeks.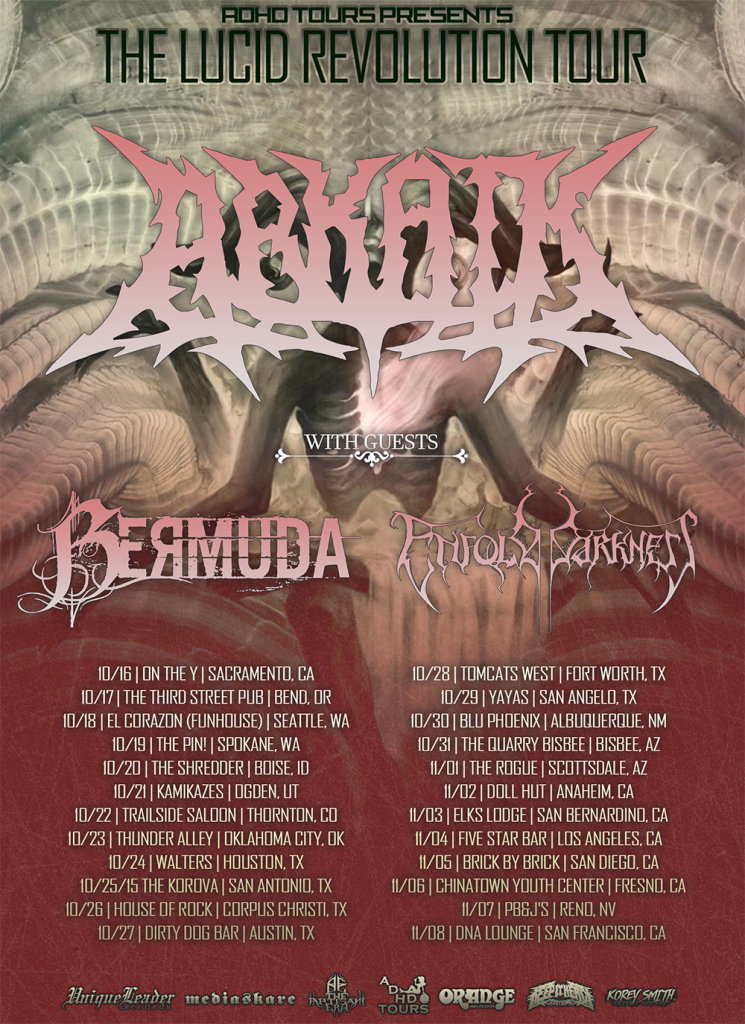 http://www.facebook.com/ArkaikBand
http://www.uniqueleader.com
http://www.facebook.com/UniqueLeaderRecords
http://www.twitter.com/UniqueLeaderRec
http://www.youtube.com/uniqueleaderrecords