Detroit punk/metal/noise rock misfits/unruly road demons, CHILD BITE, are currently monopolizing stages across the US supporting KEN mode. The latest trek follows the band's North American expedition supporting Superjoint and King Parrot on the It Takes Guts Summer takeover as well as a followup run with Down.
Comments CHILD BITE vocalist Shawn Knight from their van of inequity, "I type these words while bouncing inside our rattling cargo van going 80 mph, listening to fucking U2, heading east out of Colorado toward Kansas City. We are about a week and a half into our month-long trek with Canadian power trio KEN mode. They are surprisingly sweet boys and haven't beaten any of us up yet. What a disappointment. Tour highlights so far include visiting the lighthouse from the Temple Of The Dog 'Hunger Strike' music video in Seattle as well as staying up til 5:30 am playing blackjack at the Hooters casino in Las Vegas. With a track record of zany antics like that, who knows what kind of terrible memories we will rack up over the next couple weeks? CHILD BITE thrives on shame."
Notorious for their onstage debauchery and offstage capers, CHILD BITE recently undraped their Jabroni Jamboree tour documentary which follows the band on their journey with Coliseum earlier this year.
Now playing courtesy of Skulls 'N' Bones, point your peepers on over to THIS LOCATION and get viewing.
CHILD BITE w/ KEN mode:
9/24/2015 MiniBar – Kansas City, MO
9/25/2015 Mohawk – Austin, TX
9/26/2015 Sons Of Herman Hall – Dallas, TX
9/27/2015 Siberia – New Orleans, LA
9/29/2015 Syndicate Lounge – Birmingham, AL
9/30/2015 Liberty Bar – Tallahassee, FL
10/01/2015 Churchill's – Miami, FL
10/02/2015 Will's Pub – Orlando, FL
10/03/2015 529 – Atlanta, GA
10/04/2015 The Hideaway – Johnson City, TN
10/06/2015 Local 506 – Chapel Hill, NC
10/07/2015 Strange Matter – Richmond, VA
10/08/2015 Kung Fu Necktie – Philadelphia, PA
10/09/2015 The Acheron – Brooklyn, NY
10/10/2015 Bug Jar – Rochester, NY w/ Life In Vacuum
CHILD BITE's Strange Waste EP was released via Housecore Records last Fall. Ugly, anxious and perilously habit-forming, the record continues to shock and awe ears of the willing with its deliciously bastardized hybrid of the Melvins, Dead Kennedys, Big Black and Faith No More. The band recently issued a video for "Mongoloid Obsession" (from Strange Waste). Written and directed by the band during their recent studio sessions at the famed Nodferatu's Lair and self-described as a "lo-if slab of Ed Wood-meets-John Waters bafoonery," "Mongoloid Obsession" features a cameo appearance by Philip H. Anselmo and finds CHILD BITE at their most bizarre. Check it out HERE.
Titled Negative Noise, CHILD BITE's impending new full-length was recorded by Anselmo and will be released via Housecore Records. Further details to be revealed shortly. In the meantime, Strange Waste is currently available on CD, double vinyl seven-inch (recently repressed with alternate artwork/colored wax) and digitally via Housecore Records at THIS LOCATION.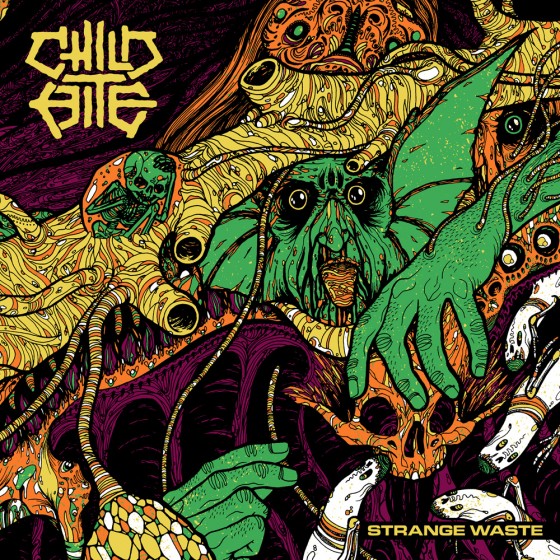 http://www.childbite.com
http://www.childbite.bandcamp.com
http://www.facebook.com/childbite
http://www.thehousecorerecords.com