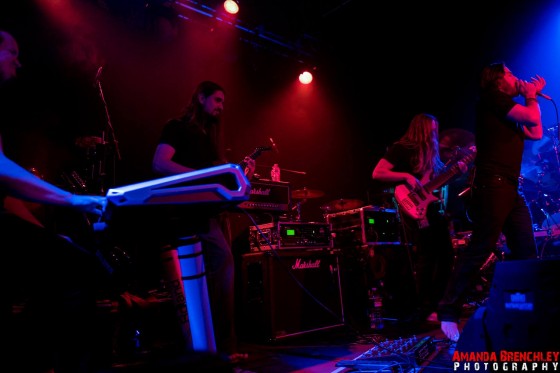 With a strong foothold on the diehard progressive rock/metal circuit worldwide as well as a dominant place at the top of Australia's prog scene, ARCANE has signed with Sensory Records for the international release of their epic new double-disc conceptual masterpiece, Known/Learned.
In 2013, ARCANE sanctioned Sam Vallen (Caligula's Horse) to produce their most massive album to date, a two-part conceptual masterpiece entitled Known/Learned. Encompassing sixteen expansive tracks totaling an immense two hours of music, the new project will see release as a two CD package. The first movement, Known delivering a more traditionally-oriented progressive rock performance, and the second, Learned, taking a lighter, more acoustic/folk inspired journey, both opuses forming one central storyline. "Known/Learned is a collection of themes and moments, captured between recurring characters," issues ARCANE, on the basis for their latest and most bold undertaking as a band. "While never explicitly told in the traditional vein of the 'concept album', the imagery of Known/Learned depicts fragmented moments in the lives of a father and his daughter, their loss, their love, their journey. A bittersweet love song for life." The recordings were mastered by Troy Glessner at Spectre Mastering in Seattle, and the album's cover art provided by Chris Stevenson-Mangos.
A generous crowd funding campaign supported by passionate fans, organizations and fellow bands helped ARCANE produce Known/Learned, yet as the album was seeing completion, the band crossed paths with New Jersey-based progressive label, The Laser's Edge, who took the album on for worldwide release and distribution upon its recent completion through its Sensory Records entity. A limited run of the album will be dispatched to the loyal funding crowd, while Sensory will release the album on a 2xCD digipak and deluxe digital package worldwide on January 20th.
An advance single from Known/Learned has been released in the form of third track, "Instinct," now playing at THIS LOCATION.
ARCANE has confirmed a string of live launch shows tied in with the release of Known/Learned, with shows in Brisbane, Sydney and Melbourne later this month and into mid-December.
ARCANE Known/Learned Album Launch:
11/22/2014 The Brightside – Brisbane
11/28/2014 The Bald Faced Stag – Sydney
12/13/2014 The Esplanade Hotel | Gershwin Room – Melbourne
Stand by for additional audio teasers and more from Known/Learned in the coming days, in addition to new tour dates from ARCANE in the months ahead.
Occupying a unique place in the Australian progressive music scene, ARCANE formed in 2006, and the following year issued their now out of print debut album, Ashes. Since, the band's transcendental live performances have captivated fans across their home country, and their monumental recorded works draw in fans abroad. Their respectable success is largely to their immersive sound, and the vocals of Jim Grey, something that was immaculately portrayed in their 2009-released critically acclaimed, dark and enigmatic concept album Chronicles Of The Waking Dream, an album which has helped earn them an inimitable reputation as one of Australia's premier progressive rock bands.
On stage, ARCANE's live show, often accompanied by a backdrop of staggering visualizations, is a vast sensory experience. The band has taken their craft to the maximum, having headlined the annual Progfest tour, providing touring support for Ne Obliviscaris, and performing to capacity crowds at Sonic Forge Festival in Melbourne, and has shared the stage with artists as diverse as Anathema, Soilwork, Queensryche, Dead Letter Circus and hundreds more.
Known/Learned Track Listing:
"Known"
1. Promise [Part 2]
2. Unturning
3. Instinct
4. Womb (In Memoriam)
5. Selfsame
6. Holding Atropos
7. Keeping Stone: Sound on Fire
8. Learned
"Learned"
9. Hunter, Heart & Home
10. Little Burden
11. Impatience and Slow Poison
12. Known
13. Nightingale's Weave
14. Eyes for the Change
15. Keeping Stone: Water Awake
16. Promise [Part 1]
http://www.arcaneaustralia.com
http://www.facebook.com/arcaneaustralia
http://twitter.com/arcaneaustralia
http://www.lasersedgegroup.com/labels/sensory-records
http://www.facebook.com/TheLasersEdge
http://twitter.com/thelasersedge