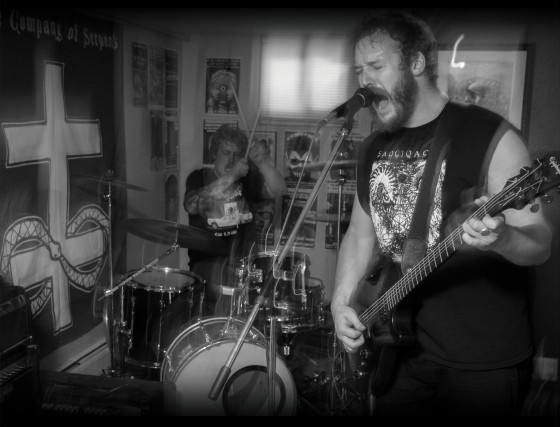 Merging In Light is the forthcoming EP from Denver doom conjurors, IN THE COMPANY OF SERPENTS. Set for official unveiling next month, the duo's latest manifestation of slow, sordid sonic debilitation carries on their signature, planet shattering resonance with three tracks of hostile, lumbering cheerlessness. Produced, mixed and mastered by Dave Otero (Cephalic Carnage, Catheter, Nightbringer, Primitive Man, Cobalt, etc.) at Flatline Audio in Denver, Colorado, Merging In Light flaunts over twenty ugly minutes of audio desolation, fit for devout adherents of Grief, Saint Vitus, Om, Khanate, Weedeater, Sunn O))) and the like.
In celebration of its upcoming release, today Cvlt Nation hurls forth near ten-minute closing psalm, "A Union Of Opposites," for public consumption noting simply and accurately that, "this track punishes you with its massive presence, but also keeps the mammoth groove in their riffs."
Get punished by "A Union Of Opposites" at THIS LOCATION.
IN THE COMPANY OF SERPENTS' Merging In Light features artwork by renowned illustrator Sam Turner, (Sleep, Speedwolf et al) and will be released independently on limited 12″ colored vinyl with an etched B-side. The two ouroboros serpents forming the Vesica Piscis symbol on the front and back cover will be done in UV spot gloss on the jacket, so it will have the appearance of glossy black against matte black. Additionally, 100 of the 500 records pressed will have a haze of black set against a milky, semi-translucent white, and will also come with a printed slipmat available. The remaining 400 will be white vinyl.
Following a crushing performance opening for Neurosis last month, IN THE COMPANY OF SERPENTS will level the stage of No Thanks Fest in Emory, Texas this weekend alongside Sabbath Assembly, Pinkish Black, Uzala, Dead To A Dying World and more with additional live rituals to be announced in the weeks to come.
IN THE COMPANY OF SERPENTS Live:
11/07-09/2014 No Thanks Fest – Emory, Texas w/ Uzala, Sabbath Assembly, Dead To A Dying World [info]
IN THE COMPANY OF SERPENTS was forged in early 2011 by vocalist/guitarist Grant Netzorg and drummer JJ Anselmi formerly in separate area country bands. The two united through their mutual adoration of Earth's The Bees Made Honey In The Lion's Skull. Later that Spring they recorded a four-song demo in a friend's basement studio, which they paid for in AR-15 ammunition and beer. Shortly thereafter, Anselmi fled the band on amicable terms, and Joseph Weller Myer (Royal Talons, Whilt) has been slaying the skins in his stead ever since. In May of 2013 Myer and Netzorg entered the studio to record their follow-up, Of the Flock, which was subsequently mixed and mastered by Billy Anderson. Of the Flock was self-released on vinyl on Halloween of 2013.
Merging In Light will be released on December 21st, 2014, the winter solstice, via the band's official BandCamp page at THIS LOCATION.
"…heavier than damn near anything you've ever heard…" — Hard Rock Revolution
http://www.facebook.com/InTheCompanyOfSerpents
http://www.inthecompanyofserpentsdoom.bandcamp.com