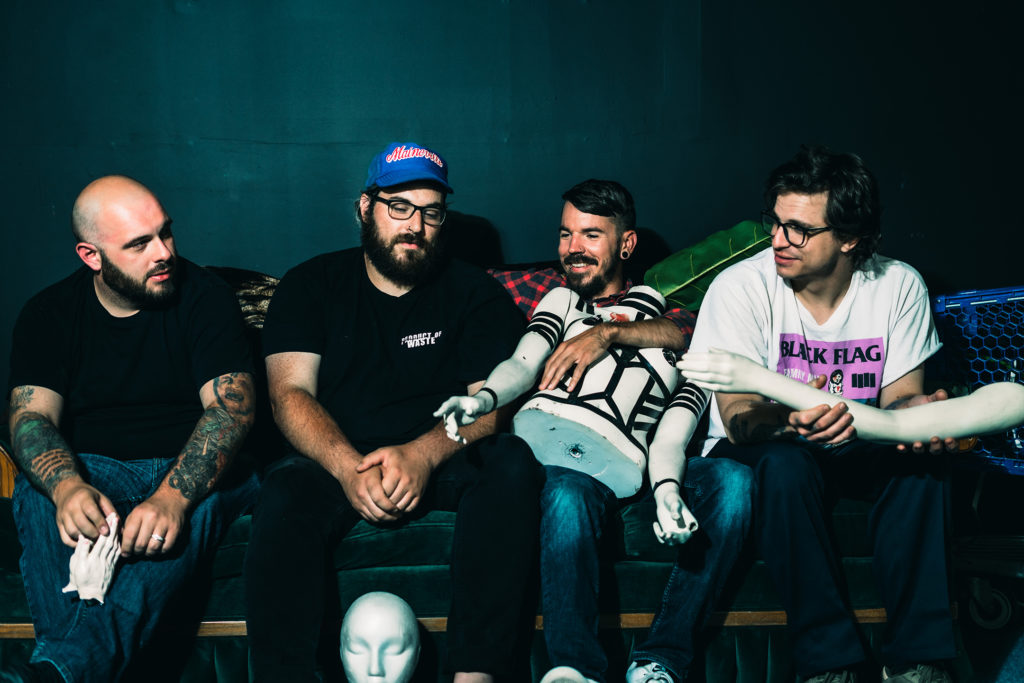 photos by Vinnie Bellows
Nefarious Industries presents Live From The Poison Factory, the debut LP from Providence, Rhode Island-based punk rock/noise rock quartet ANXIOUS WAVE.
The musical collaboration of four stalwarts of the Providence music scene, ANXIOUS WAVE unites guitarist Mikey Belcastro (formerly of the bands Product Of Waste and Violent Sons), vocalist Brandon St. Pierre, bass player Sam Okon, and drummer Dylan Lagory. After forming in early 2018, the group released a digital demo that March, followed by the self-released cassette EP Love Quantified in November, and a Summer 2019 split with friends PanzerChocolate.
ANXIOUS WAVE spent the majority of the 2020 lockdown writing and recording their first full-length album, Live From The Poison Factory. The record's ten riotous tracks were engineered and mixed by Bryan DeStefano at Roach Ranch, mastered by Will Benoit (SOM) at The Radar Studio, and completed with photography by Vinnie Bellows at 476 Productions, artwork by Greg Pennisten and layout by Greg Meisenberg. The song "Executive Dissector" features additional vocals by Marina Phom of PanzerChocolate.
A video for the record's first single "Complex Needs" was released in March 2021 in collaboration with Monster Makeup Productions, a local collective of filmmakers creating independent horror films with a focus on LGBTQ storytelling.
Live From The Poison Factory will be released September 2nd on vinyl – with 100 on Transparent Red and 100 randomly mixed colors – as well as 100 Transparent Red cassettes and all digital platforms.
Watch ANXIOUS WAVE's "Complex Needs" video and find preorder options for Live From The Poison Factory at Nefarious Industries RIGHT HERE.
Live From The Poison Factory Track Listing:
1. Complex Needs
2. The Silk Fortress
3. Mirror Bed
4. Nothing Elicits Joy
5. Regards
6. Carnivore
7. Void Boyz
8. Executive Dissector
9. Explicit Bliss
10. Wings Beneath The Whine
Watch for new audio singles from the LP, live dates, and more to be issued over the weeks ahead.
ANXIOUS WAVE appeared in the 2020 film Death Drop Gorgeous, a gory, drag queen exploitation slasher film currently playing festivals with national distribution recently secured but not yet announced. The band have also shared the stage with numerous acts across many subgenres of aggressive music, including '68, Pentagram, Today is the Day, The Obsessed, Torche, Wear Your Wounds, The Proletariat, The Urinals, High Command, Lesser Glow, The Cancer Conspiracy, Intercourse, and many others.
ANXIOUS WAVE:
Brandon St. Pierre – vocals
Mikey Belcastro – guitar
Sam Okon – bass
Dylan Lagory – drums
https://anxiouswave.bandcamp.com
https://www.instagram.com/anxious.wave
https://www.youtube.com/c/AnxiousWave
https://www.facebook.com/anxiouswave
https://nefariousindustries.com
https://nefariousindustries.bandcamp.com
https://facebook.com/nefariousIndustries
https://instagram.com/nefarious_industries
https://twitter.com/nefariousInd