photo by Whiteshroud
Following their recent covers of Leonard Cohen's "Avalanche," Government Issue's "Jaded Eyes," and Portishead's "Chase The Tear," Louisville post-punk trio FOTOCRIME completes their current series of cover songs, releasing their rendition of Discharge's "The Price Of Silence." The entire collection will be compiled and released on July 28th as the Alcoves EP, exclusive to FOTOCRIME's Bandcamp.
Founder Ryan Patterson writes, "I am a bit obsessed with the '80-85 era of Discharge. Through those years they are the perfect hardcore band with perfect songs, lyrics, and imagery. While controversial to some, I love the later series of singles when guitarist Pooch took the reins from original guitarist Bones. The songs slowed down a bit and had a slightly over-produced sheen that made Discharge sound like an apocalyptic chrome-dipped rockabilly band on methamphetamines. The songs feel like nuclear-charged riffs from the reanimated corpses of Eddie Cochran and Gene Vincent with Discharge singer Cal Morris unleashing his melodic and sporadic cold war invectives in precise bursts.
"With 'The Price Of Silence,' I tried to keep that feeling in mind while letting the song loosen up, becoming more reminiscent of Red Lorry Yellow Lorry (another band I obsess over endlessly). The heaviness of Discharge's riffing wouldn't work for FOTOCRIME, so Nick picked up a Jazzmaster and I played my big hollow body Gretsch, each plugged into Marshall JCM800s, for a mixture of '80s grit and '60s twang. Will cranked up the distortion on the bass, I programmed the beat into the drum machine, and off we went.
"I feel like we're still 'living in the shadow… the shadow of fear,' so this song is as powerful now as it was four decades ago."
Check out FOTOCRIME's visualizer for the cover of Discharge's "The Price Of Silence" HERE.
"The Price Of Silence" is now playing at Spotify as well. Find it alongside FOTOCRIME's other recent covers and more HERE.
The series of cover songs comes to its finale in conjunction with FOTOCRIME's upcoming Northeast US tour dates. From July 17th through 26th the band will tour through Ohio, Ontario, Quebec, Rhode Island, New York, and Maryland, joined by Population 1280 on all shows and Blacklist and others along the way. See all confirmed dates below and watch for additional announcements to post shortly.
FOTOCRIME Tour Dates:
7/17/22 Happy Dog – Cleveland, OH w/ Population 1280
7/18/22 Meteor – Windsor, ON w/ Population 1280
7/19/22 Bovine Sex Club – Toronto, ON w/ Population 1280
7/20/22 Minotaure – Gatineau, QC w/ Population 1280
7/21/22 Ritz PDB – Montreal, QC w/ Population 1280
7/22/22 AS220 – Providence, RI w/ Population 1280, Blacklist, Infinity Ring
7/23/22 No Fun – Troy, NY w/ Population 1280, Blacklist
7/24/22 Union Pool – Brooklyn, NY w/ Population 1280, Blacklist
7/26/22 Bar 1801 – Baltimore, MD w/ The Holy Circle
While Ryan Patterson, the singer, songwriter, multi-instrumentalist, and producer behind FOTOCRIME, often sings in a rich baritone, he stands in stark contrast to the laconic troubadour persona typically associated with his hometown of Louisville, Kentucky. Patterson has spent over two-and-a-half decades adding to the town's legacy with his impassioned and activist-minded approach to music, his distinctive work as a graphic artist, and his contributions to nearly every aspect of creative underground culture. After his time fronting forward-thinking art-inflected punk band Coliseum, Patterson looked to the urban centers of London, New York, and Berlin for new sonic inspiration, drawing from the passion of his roots while tapping into the sounds of classic EBM and post-punk artists for FOTOCRIME.
Patterson is joined in FOTOCRIME by two fellow Louisville underground legends, both longtime friends and collaborators; guitarist Nick Thieneman (Young Widows, Fool's Ghost) and bass player Will Allard (Aon Brasi, Xerxes). At their live shows, the trio lines the front of the stage for a guitar and synth-fueled attack, backed by the trusty pummeling of their drum machine. When in Patterson's House Of Foto recording studio, all three band members readily share instrumental duties on new recordings. Allard is a well-versed pianist and drummer and Thieneman is well known for his prowess on the bass guitar.
With FOTOCRIME's organic-meets-electronic cinematic sweep, Patterson charts the topography of concrete-lined city streets, his voice permeating every opening like a heavy morning fog. The songs are intimate and poignant yet immediate and visceral, reminding us of the communal experience of getting lost in a sea of people while the sound of a bass drum beats on our chests.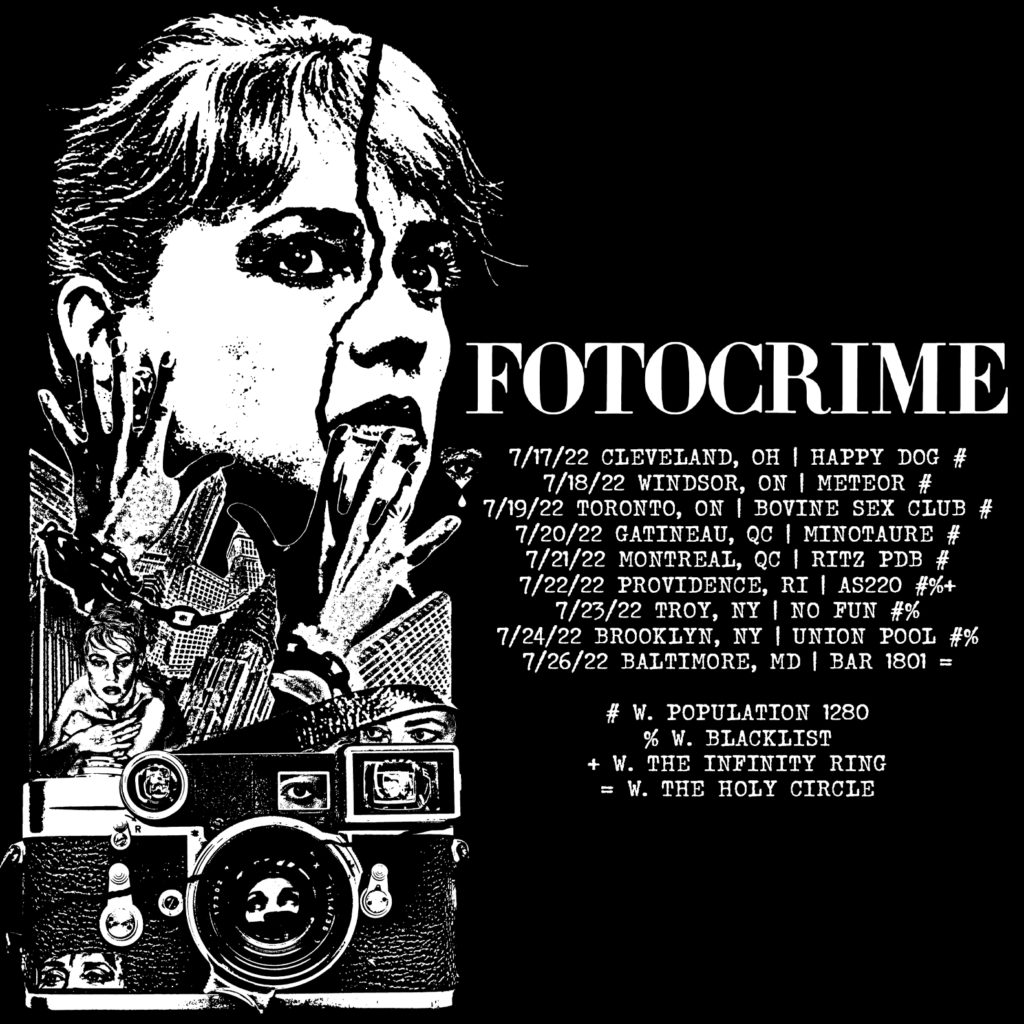 https://www.fotocrime.com
https://fotocrime.bandcamp.com
https://www.instagram.com/fotocrime
https://www.facebook.com/fotocrime