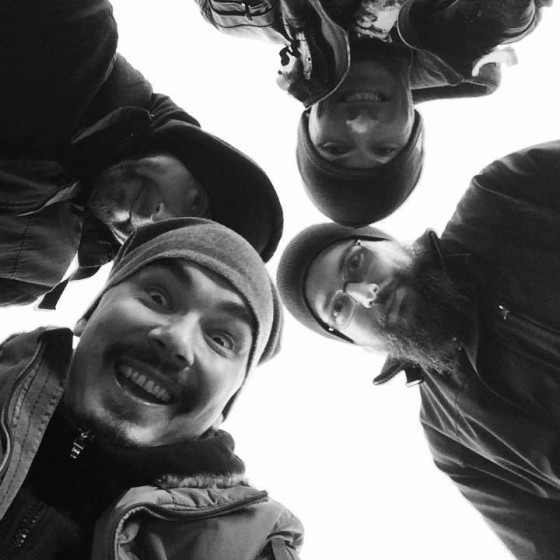 The unstoppable grindcore juggernaut known since 2000 as ANTIGAMA unapologetically dispatches their seventh full-length studio album, The Insolent in the coming days, and as a precursor to its official collision with humankind, Invisible Oranges has issued an exclusive stream of the entire creation. This all transpires just one week before the band makes their long-awaited return to American soil for their East Coast tour with Selfmadegod Records lablemates, Drugs Of Faith, including the band's second time invading Maryland Deathfest.
Recorded in February at JNS Studio in Warsaw, The Insolent was engineered by Pawel Grabowski, mixed by Pawel Grabowski and the band, mastered by Scott Hull at Visceral Sound in Bethesda, Maryland (Pig Destroyer, Agoraphobic Nosebleed), and features a guest appearance by the legendary Polish electronic artist WÅ'adysÅ'aw "Gudonis" Komendarek. Advance warnings of the persuasive pummeling The Insolent offers have been issued from respected media outlets in recent weeks, including a write-up from Stereogum which offers, "By all rights, ANTIGAMA should be widely recognized as Europe's answer to Pig Destroyer… The Insolent is ANTIGAMA's seventh LP and 24th release overall, and the band sounds as young and hungry as ever. Few bands have pushed themselves so hard for so long." Invisible Oranges blasted, "They're known for technical playing and mind-bending song structures, you'd almost call them progressive were it not for the fact that this stuff will probably send death Theater fans running for their lives. For a grind outfit, their song lengths tend to stretch into 'normal' territory, but making a good hallucinatory riffscape takes time." Metal Insider's review issues in part, "To say that this music is violent in nature would be a drastic understatement. It's played out like a rabid and injured animal, backed into a corner and fighting for its sheer existence. At times raw and feral, and at others sleek and insightful, ANTIGAMA have penned an album that could almost be defined as 'progressive grind' as they combine both the artistic and the bombastic into a cohesive package."
Be an observer of the intriguing damage caused by ANTIGAMA's aptly titled The Insolent through an exclusive Invisible Oranges preview at THIS LOCATION.
Orders for The Insolent are available on cassette, eco-pack/gatefold digisleeve CD, black 12″ gatefold LP, and a translucent 12″ gatefold LP, limited to 100 copies worldwide. All four versions are now available internationally from Selfmadegod HERE and in the US via Selfmadegod's stateside mailorder outlet, Earsplit Distro, RIGHT HERE.
ANTIGAMA's nine-city Northeastern US tour begins next Wednesday, May 13th in Brooklyn, New York and runs through their return appearance at the massive Maryland Deathfest in Baltimore on May 23rd. Presented by Blow The Scene, Selfmadegod and Earsplit, and featuring direct support from labelmates Drugs Of Faith, the tour includes a headlining performance at Mildfest Vol. 1: The Grinding on May 15th in Clifton, New Jersey, and will also see local support throughout the tour from the likes of The Communion, Buckshot Facelift, Earthling, Infernal Stronghold, Organ Delaer, High Priest and more before closing down at Maryland Deathfest alongside Agoraphobic Nosebleed, Cephalic Carnage, Full Of Hell, Inter Arma and many more. Check out an exclusive interview at Blow The Scene on the upcoming tour and more at THIS LOCATION.
ANTIGAMA Blast the East Coast US Tour w/ Drugs Of Faith:
5/13/2015 Nihil Gallery – Brooklyn, NY w/ The Communion, Buckshot Facelift [info]
5/14/2015 The Funky Jungle – Providence, RI w/ The Communion, Eaten, Feedback [info]
5/15/2015 Clash Bar – Clifton, NJ @ Mildfest w/ The Communion, Organ Dealer, Pink Mass, more [info]
5/16/2015 Second Empire – Philadelphia, PA w/ Infernal Stronghold, Past Tense [info]
5/17/2015 Smash! – Washington, DC w/ Ampallang Infection, Blockhead [info]
5/18/2015 Cellar Door – Annandale, VA w/ Earthling, Blooddrunk Trolls [info]
5/19/2015 Strange Matter – Richmond, VA w/ High Priest, Empty Hands [info]
5/20/2015 Main Street Annex – Charlottesville, VA w/ Earthling, Blooddrunk Trolls [info]
5/23/2015 Baltimore Soundstage – Baltimore, MD @ Maryland Deathfest [no Drugs of Faith] [info]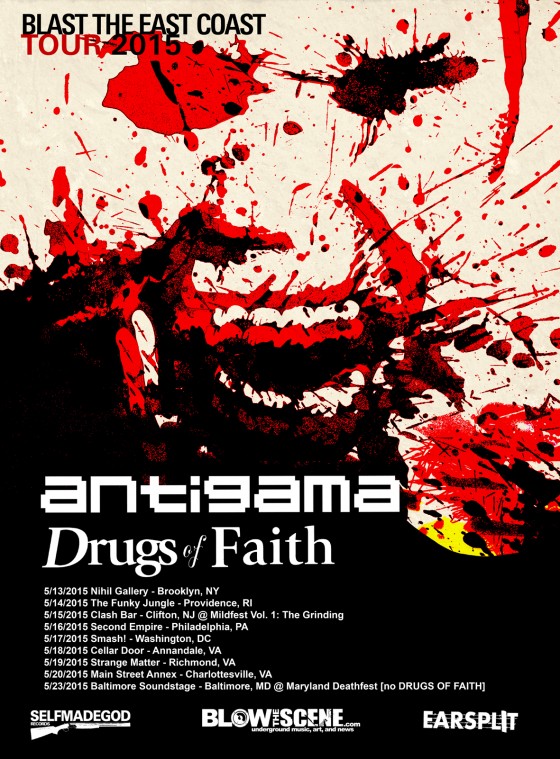 http://www.facebook.com/antigama
http://twitter.com/antigama
http://www.selfmadegod.com
http://www.youtube.com/user/SelfmadegodRecords
http://www.facebook.com/selfmadegod
http://twitter.com/selfmadegodrec
http://www.earsplitdistro.com