As AN EVENING REDNESS prepares to release their stunning eponymous debut full-length this Friday via Transylvanian Recordings, Decibel Magazine is currently hosting an advance stream of the entire record.
AN EVENING REDNESS is parched desert drone doom and the sound of thunder over the mountains. Evoking the hallucinatory clarity of the alkali plains and the biblical violence of its literary namesake, the collective bursts from obscurity with a fusion of sounds that seem incompatible on paper but prove blindingly innovative in action.
Deeply introspective and evoking hallucinatory darkness, AN EVENING REDNESS' self-titled debut is the newest release from Brandon Elkins. Composed, arranged, and produced by Elkins, the offering is a masterwork of diverse ambient doom and post-ambient composition, with the minimalism of Earth contrasted with passages that wouldn't feel out of place on Jesu's Opiate Sun. An ensemble of musical talents including vocalist Bridget Bellavia (BLKTXXTH, Piggy Black Cross), guest soloist Brendan Sloan (Convulsing), and session drummer Ryan Jewell (Riley Walker and many others) serve to underscore the drama and focused production contained within the album's six tracks.
On the eve of An Evening Redness' release, Elkins writes , "When I was eleven or twelve, I flew to Arizona to live with my grandmother for a month. We drove from Sierra Vista northwest through all the major sights of the state: the Sonoran Desert, the Petrified Forest, up trails through mountains and down rock flume water slides in canyons. Up through Tucson and Phoenix, across vast stretches of desert and mountains that my little Midwestern-born mind could barely comprehend, finally landing at the Grand Canyon. To say that sense of awe and isolation is something I chased throughout the production of this album is an understatement. The land, the stories, and the violence perpetrated within as described by McCarthy in 'Blood Meridian' have tangled up in my memory of the desert sun and dust and landed us here, together, treading in disorientation over frozen peaks and crusted, dried up lake beds."
Decibel writes with their advance stream of the album, "If the mysterious name and beautiful logo don't suck you in, the ambient mood of the music surely will… AN EVENING REDNESS conjure up a desert-dwelling American soundscape that fuses the best elements of drone into a soaring masterpiece."
Listen to AN EVENING REDNESS' entire debut album first through Decibel Magazine now at THIS LOCATION.
An Evening Redness will be released on CD, vinyl, and digital formats this Friday, February 25th. Find preorders at Transylvanian Recordings HERE.
"Their self-titled debut brilliantly evokes Blood Meridian's hallucinatory splendor with unsettling ambience, yawning drones, dusty pedal steel, breathy vocals, and a vast, cinematic sweep." — Bandcamp Daily
"AN EVENING REDNESS' folk-and-country-influenced drone musings transport the listener to the great, wild stretches of sand and nothingness of my youth…" — Invisible Oranges
"…the music, a rich mix of drone, dusty Americana, and doom, transports the listener deep into the desert, playing with heat and isolation as well as colorful evening skies that breath new life into your lungs." — Meat Mead Metal
"…an idiosyncratic work of compelling dark beauty." — Wonderbox Metal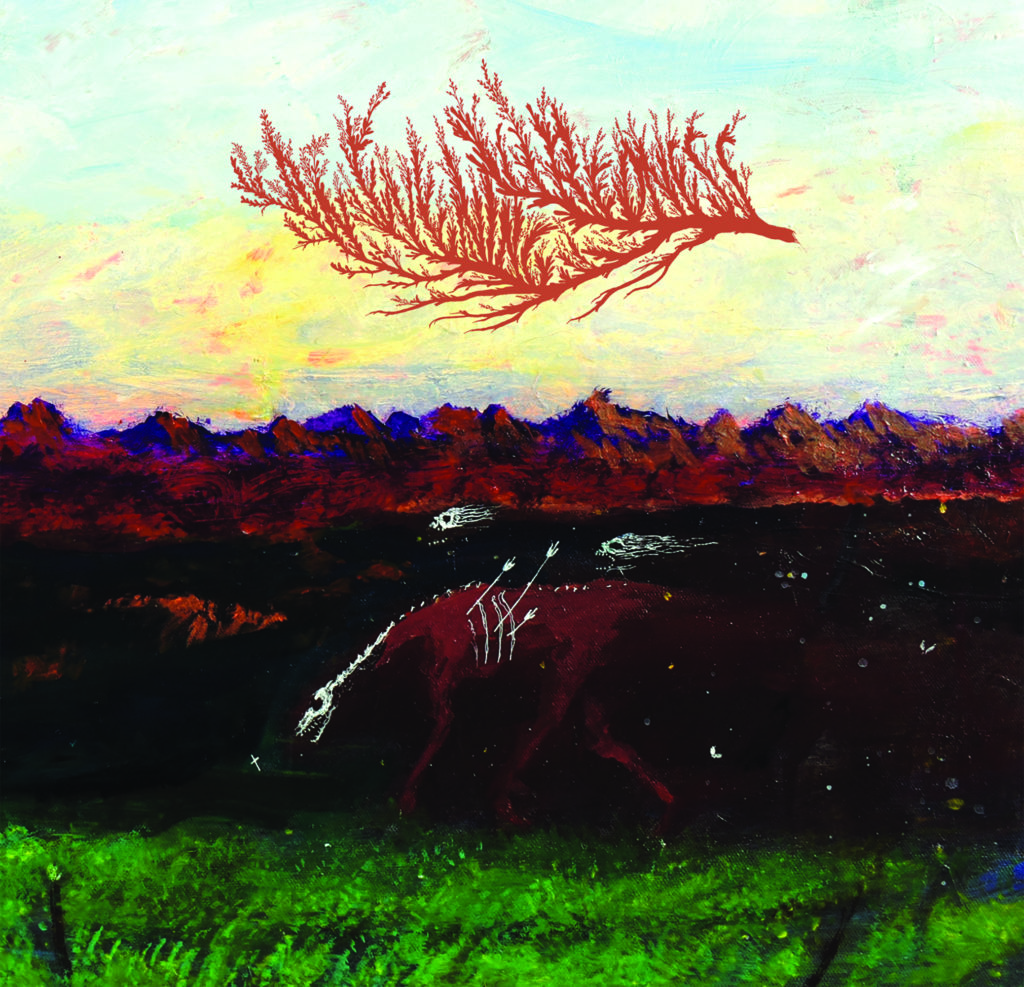 http://twitter.com/alkalidweller
http://www.facebook.com/TransylvanianRecordings
http://www.instagam.com/transylvanianrecordings
http://www.transylvaniantapes.bandcamp.com