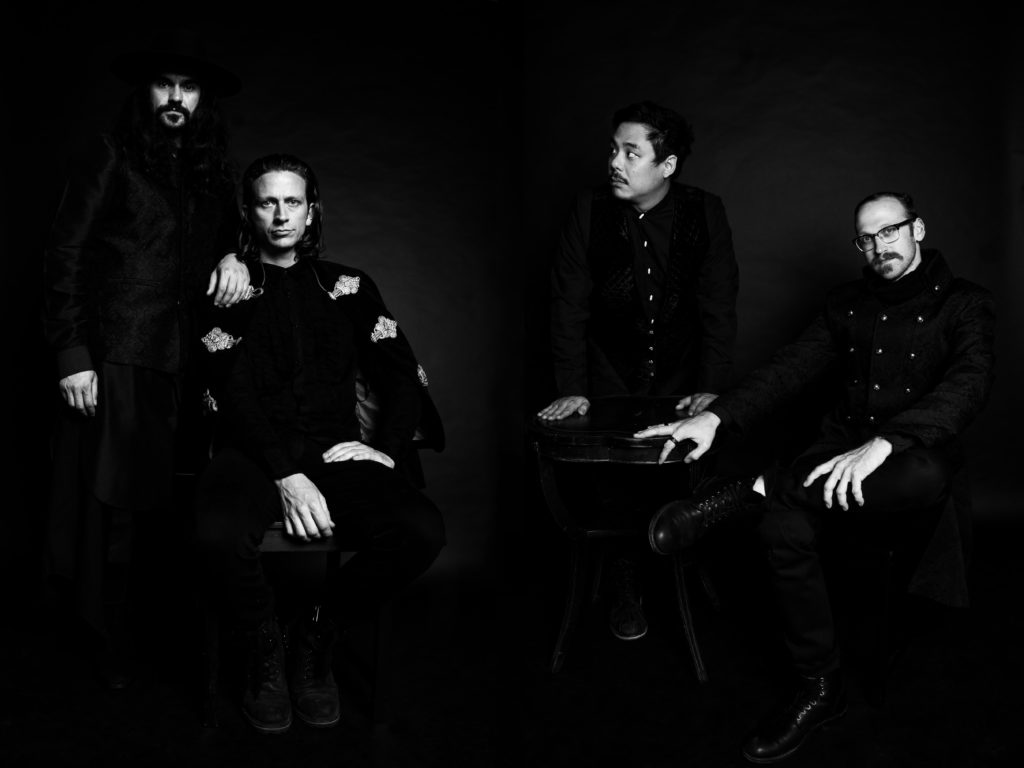 photo by Lena Jackson
Nefarious Industries presents "Reverie," a new single/video from Chicago-based alt-rock quartet LAVISHER, which makes its debut today through an exclusive BrooklynVegan premiere.
LAVISHER's sleek riffs and time-bending grooves have drawn comparisons to Failure, A Perfect Circle, and Queens Of The Stone Age. Their darkly uplifting songwriting is composed of minimalist poetry, textured guitar work, and focused drumming. The band released their eponymous debut EP in 2017, followed in 2019 by their first full-length, Drastic Shadows.
Following personnel shifts since the Drastic Shadows record, LAVISHER's current lineup sees vocalist/guitarist Gavin Cushman III and drummer Idin Alexzander now joined by new recruits George Bach on bass and Sam Kim on guitar. The group has completed a trio of singles, which will see release throughout 2022, while their second LP continues to be constructed. The first of these new singles, "Reverie," now makes its way into the public domain through a captivating video.
"Reverie" was recorded and mixed by Pete Grossman at Bricktop Studios and mastered by Brad Blackwood at Euphonic Masters. The single's striking cover art was created by Luis Perez Banus, and its immersive animated video was made by Bernie McGovern.
Watch LAVISHER's "Reverie" video first at BrooklynVegan now at THIS LOCATION.
"Reverie" will see release across all digital platforms this Friday, February 25th, available at Nefarious Industries RIGHT HERE.
Alexzander reveals of the inspiration for the "Reverie" single, "Conceptually, I remember clearly, two dreams I had near that time. I knew they weren't real and yet in the one, the knowing basically had me leaping from bed and in the other, I couldn't sleep deeply enough. I wanted to stay there knowing completely it wasn't real and not caring. So, I wrote some lyrics and wondered how I could frame the idea, used Alighieri as my guide and well, there's the song!"
Cushman reports on the current state of the band, "During the pandemic, we needed to make a lineup change. Through mutual friends, I met and recruited George Bach for bass and then, shortly after, Sam Kim on guitar. When they came aboard, Idin and I were well into the pre-production phase of the songs.  George and Sam helped polish up sections on what would become their parts. They also helped with background synths for the tracks. Then we hit the studio in mid/late-2021 to record as this new iteration of LAVISHER."
He expands, "These three songs came together right before we had our new members so for better or worse, they are the result of what happens when Idin and I spend too much time together unsupervised!  I think of them as an amuse-bouche. A prelude of what's to come. More songs are coming, and we're excited to present the other courses. Naturally, we are also extremely excited to finally start playing more shows this year as the pandemic (hopefully) wanes. Whatever happens on that front, we will continue to do what is in our power to create songs and not merely produce content."
Bernie McGovern explores the creation of the "Reverie" music video, "The song dives into the seductive way memory shapes us. We can see ourselves walking into a dark story of our own making, turn back with a second guess, then onward anyway. 'Reverie' is a state of mind fueled by the heart. I feel it as branches of nerves along my spine and capillaries in my eyes. Being so tree-minded lends nicely to this main character of ours. We took to calling him Soul Grass for the way life explodes from his neck. The imagery and entire narrative grew out of a collaborative process. My earliest sketches were impressionistic, thrilled by the spirit of the song. It's a particular joy to respond to music with non-verbal dreaming. The story, figures, and textures transformed over conversations, each stage of progress offering a chance to revise and redirect any aspect of the animation with feedback."
Watch for LAVISHER's two upcoming singles to be released over the months ahead while the band continues to develop their second album for release in 2023.
https://www.lavisherband.com
https://www.facebook.com/lavisher
https://lavisher.bandcamp.com
https://nefariousindustries.com
https://nefariousindustries.bandcamp.com
https://facebook.com/nefariousIndustries
https://instagram.com/nefarious_industries
https://twitter.com/nefariousInd