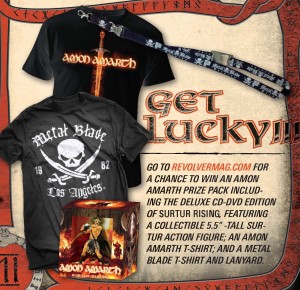 In celebration of AMON AMARTH's upcoming new full-length Surtur Rising, Revolver Magazine is giving fans an opportunity to win a killer prize pack which will include the deluxe edition of Surtur Rising, featuring a collectible 5.5″-tall Surtur action figure; an AMON AMARTH T-shirt; and a Metal Blade T-shirt and lanyard with bottle opener! To enter visit Revolver Magazine.
Don't forget to check out the latest issue of Revolver where AMON AMARTH vocalist Johan Hegg shares his five favorite Viking legends. For more info, point your browser HERE.
Be sure to visit the Surtur Rising landing page where you can find pre-order options, videos and a stream of "War Of The Gods," the record's opening track. Check it out HERE.
http://www.surturrising.com
http://www.amonamarth.com
http://www.facebook.com/AmonAmarthBand
http://twitter.com/amonamarthband
http://www.myspace.com/amonamarth