ABIGAIL WILLIAMS' thirty-date North American tour — alongside Melechesh, Hate, Lecherous Nocturne and headliners Rotting Christ — embarks this Wednesday, March 9th in Virginia. Dubbed the Apostles Of Darkness Over The Americas, the massive black/death tour lineup shall easily prove to be one of the most extreme metal tours of 2011 so far.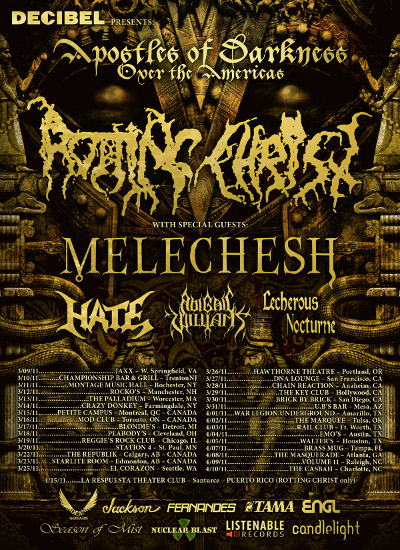 Apostles Of Darkness Over The Americas:
ABIGAIL WILLIAMS with Rotting Christ, Melechesh, Hate, Lecherous Nocturne
3/09/2011 Jaxx – West Springfield, VA
3/10/2011 Championship Bar & Grill – Trenton, NJ
3/11/2011 Montage Music Hall – Rochester, NY
3/12/2011 Rocko's – Manchester, NH
3/13/2011 Webster Theater – Hartford, CT
3/14/2011 Crazy Donkey – Farmingdale, NY
3/15/2011 Petite Campus – Montreal, QC
3/16/2011 Mod Club – Toronto, ON
3/17/2011 Blondie's – Detroit, MI
3/18/2011 Peabody's – Cleveland, OH
3/19/2011 Reggie's Rock Club – Chicago, IL
3/20/2011 Station 4 – St. Paul, MN
3/22/2011 The Republik – Calgary, AB
3/23/2011 Starlite Room – Edmonton, AB
3/25/2011 El Corazon – Seattle, WA
3/26/2011 Hawthorne Theatre – Portland, OR
3/27/2011 DNA Lounge – San Francisco, CA
3/28/2011 Chain Reaction – Anaheim, CA
3/29/2011 The Key Club – Hollywood, CA
3/30/2011 Brick by Brick – San Diego, CA
3/31/2011 U.B's Bar – Mesa, AZ
4/01/2011 The War Legion Underground – Amarillo, TX
4/02/2011 The Marquee – Tulsa, OK
4/03/2011 Rail Club – Ft. Worth, TX
4/04/2011 Emo's – Austin, TX
4/05/2011 Walter's – Houston, TX
4/07/2011 Brass Mug – Tampa, FL
4/08/2011 The Masquerade – Atlanta, GA
4/09/2011 Volume 11 – Raleigh, NC
4/10/2011 The Casbah – Charlotte, NC
Interviews with ABIGAIL WILLIAMS are available at all shows of the tour upon request; send your requests to Earsplit right away to schedule any kind of live or advance coverage with the band.
ABIGAIL WILLIAMS' latest album In The Absence Of Light was released in September via Candlelight. Recorded at Conquistador Studios in Cleveland and mixed by Peter Tagtgren (Dimmu Borgir, Immortal, Celtic Frost) at Black Lounge Studios in Sweden, the album presents founder/vocalist/guitarist Sorceron with new guitarist Ian Jekelis and drummer Ken Bedene. The album's eight songs, written exclusively by Sorceron, contain far more urgency then the band's previous material, cutting down on snyth and keyboards without depleting their crushing atmospheric capabilities, while adding a more brutal, sinister edge to their attack.

"…gothic, Scandinavian-goosed and slickly-produced black metal… Uncle Sam's answer to Dimmu Borgir." – Decibel
"…robust and vicious black metal compositions infused with an abundance of melodicism and harmony – not unlike early Dissection and Dimmu Borgir. 9/10" – Brave Words & Bloody Knuckles

"Whether the band are playing at breakneck speed or reducing to a slower sonic atmospheric soundstage, the band never fails to impress, including some rather excellent melodic guitar breaks. 4.5/5" – Sea of Tranquility

"…a guitar-driven symphonic/melodic black metal attack unlike any other band in North America has ever done before. 90/100" – Infernal Masquerade

"…one of the best black metal albums I've heard in a long time. 93/100" – Metal Reviews
http://www.myspace.com/abigailwilliams
http://www.purevolume.com/abigailwilliams
http://www.candlelightrecordsusa.com
http://www.myspace.com/candlelightrecordsusa