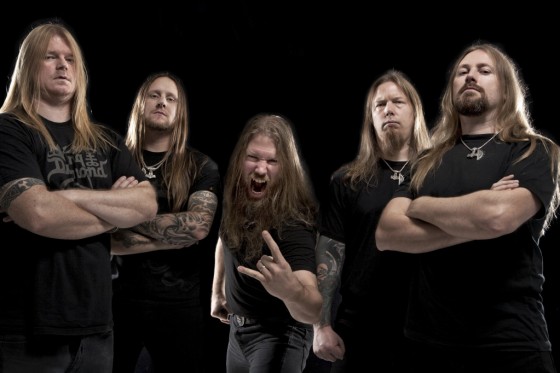 Starting today, fans can check out the new AMON AMARTH music video for the song "Destroyer of the Universe" off the band's latest release, Surtur Rising. The live video, which is premiering exclusively on BlankTV , was shot on the band's May 6th stop in Philadelphia, Pennsylvania at the Theatre Of Living Arts by director David Brodsky of MyGoodEye (The Black Dahlia Murder, The Devin Townsend Project, Suicide Silence, Municipal Waste, Whitechapel, etc).
Comments guitarist Olavi Mikkonen: "This time around we wanted to catch the energy and atmosphere of a live show, so we simply went for a live video. We look forward to get back to North America in August to continue and fulfill the 'Evening with' tour, meanwhile enjoy the video."
Check out the video HERE and be sure to leave a comment.
In a recap of the band's last tour in the US, Concertconfessions.com opined: "What is most beautiful about AMON AMARTH's triumph of America is that it's as pure as the music itself… Friends sharing with friends the magic of the music, that is a true token of success and judging on the reaction from Southern California on Easter Sunday 2011 – AMON AMARTH will have success for a very long time." The Washington Times applauded the band for leaving, "the sold-out crowd awestruck by [their] mastery of melodic death metal," About.com boasted, "I was highly impressed by AMON AMARTH's stage presentation, which easily rivals that of bands that normally fill arenas," while Skullsnbones.com put it simply: "One band came and conquered Atlanta and their name is AMON AMARTH!"
Don't forget to catch AMON AMARTH live when the band returns to North America for the second leg of the "An Evening with AMON AMARTH" tour.
Scheduled to kick off in Vancouver on August 4, the trek will pillage its way through 21 cities, including several Canadian venues, and come to a close in Boise, Idaho on September 3. The first set will again feature the band performing the Surtur Rising album in its entirety while the second will offer up mixed bag of tunes from their extensive catalog of Norse-inspired awesomeness.
An Evening with AMON AMARTH
8/04/2011 Commodore Ballroom – Vancouver, BC
8/06/2011 MacEwen Hall – Calgary, AB
8/07/2011 Edmonton Events Centre – Edmonton, AB
8/08/2011 Odeon – Saskatoon, SK
8/09/2011 The Garrick Centre – Winnipeg, MB
8/12/2011 The Phoenix Theatre – Toronto, ON
8/13/2011 Metropolis – Montreal, QC
8/14/2011 Imperial de Quebec – Quebec City, QC
8/16/2011 Mr. Small's – Millvale, PA
8/17/2011 St. Andrew's Hall – Detroit, MI
8/19/2011 Ram's Head Live – Baltimore, MD
8/20/2011 Starland Ballroom – Sayreville, NJ
8/21/2011 Water Street Music Hall – Rochester, NY
8/23/2011 Expo Five – Louisville, KY
8/24/2011 The Rave – Milwaukee, WI
8/26/2011 House of Blues – Houston, TX
8/27/2011 House of Blues – Dallas, TX
8/29/2011 Sunshine Theatre – Albuquerque, NM
8/31/2011 House of Blues – Anaheim, CA
9/01/2011 House of Blues – Las Vegas, NV
9/02/2011 The Complex – Salt Lake City, UT
9/03/2011 The Knitting Factory – Boise, ID
The eighth studio offering from one of Sweden's finest death metal exports, Surtur Rising was released in North America on March 29, 2011 via Metal Blade Records and continues to reap praise from fans and critics alike. AMON AMARTH nailed a cover spot of the April 2011 issue of Decibel Magazine and earned a 9/10 rating from Outburn who commended the band for delivering "a collection that is brimming with beefy riffs, insidious melodies, and a truly epic sense of scale." Fearnet.com agreed saying AMON AMARTH is now "at the head of the class," Metal Review gave it a 9.2/10 score calling it "one of the band's very best releases," while Metal Army America offered up a grade "A" review noting, "from the Stockholm-bred riff style to frontman Johan Hegg's Cimmerian-esque performance as growler du jour, AMON AMARTH's Surtur Rising proves to be an essential and defining listen for band and fans alike."
http://www.surturrising.com
http://www.amonamarth.com
http://www.victoriousmerch.de
http://www.facebook.com/OfficialAmonAmarth
http://twitter.com/amonamarthband
http://www.myspace.com/amonamarth
http://www.youtube.com/amonamarthofficial
http://www.last.fm/music/Amon+Amarth