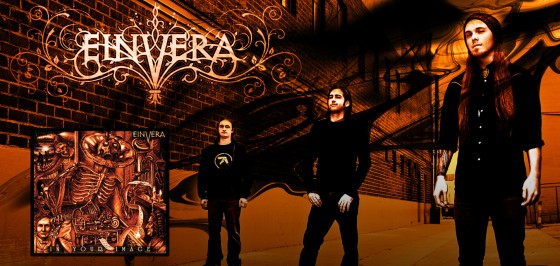 Earsplit PR welcomes Los Angeles-based metal trio EINVERA and their self-released debut full-length, In Your Image, to our ever-expanding roster of clients.
Born of three musicians who crossed paths in music school in Los Angeles, EINVERA deliver a high-paced multi-instrumental explosion of technical metal born under the influence of nontraditional American folk music. After months of crafting original material together, the band finalized and recorded early in 2011, the recording sessions resulting in the 33-minute-long, eclectic, energetic, eight-song, full-length dubbed In Your Image, recently self-released by the core members of EINVERA themselves.
With aggressive and psychedelic elements of progressive, death and black metal culminating in the EINVERA sound, with keyboards, banjo, vibraphone, accordion, mandolin, glockenspiel, pedal steel, violin, cello, trumpet and more infused into their already agile guitar, bass, drum skills, the entire album bearing a multi-dimensional clean/raw vocal attack. Professionally recorded at The Office Studios in Van Nuys, California (Motörhead, Dave Grohl, Alice Cooper, Zakk Wylde, etc.), In Your Image is an entertaining listen for fans of challenging and genre-expanding takes on traditional metal styles. Several tracks from the album are streaming now at EINVERA's official Facebook page.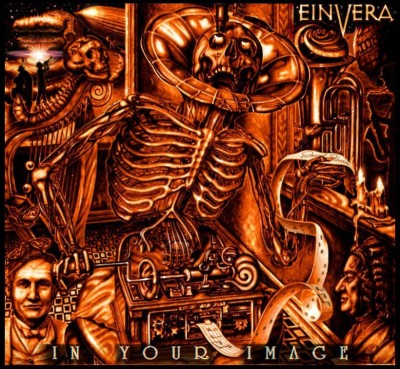 In Your Image Track Listing:
1. Static Ascension
2. Let in Without a Name (Sea of Trees)
3. Invariably Transient
4. Send Me Home
5. Prismatic Distortion
6. In Your Image
7. The Gift of a Ghost
8. A Mausoleum for the Living
EINVERA have performed throughout Southern California over the past year, appearing in support of 1349, Ensiferum, Tyr and many other national American and European metal acts, and plan on expanding their live actions through 2011 in support of In Your Image, so stay tuned for further updates in the coming weeks.
http://einveramusic.com
http://Soundcloud.com/einvera
http://www.youtube.com/user/Einvera
http://myspace.com/einvera1