[photo by Aga Hairesis]
As ALL OUT WAR prepares to unleash their sixth album, Give Us Extinction, through Organized Crime Records this Friday, the entire album is now streaming early at No Echo.
ALL OUT WAR delivers some of the band's most relentlessly destructive material to date on Give Us Extinction, the album offering over forty-two minutes of the band's brutal metallic hardcore wrath. Fueled by some of the most scornful vocal intensity, brutal breakdowns, and infectious grooves to date, each track leaves scorched earth in their wake through ALL OUT WAR's monolithic NYHC-meets-thrash metal brutality. Captured at West West Side Studios with Steve Evetts and mastered by Alan Douche, and completed with grim artwork by Alexandre Goulet, the album includes a cover of Nausea's "Cybergod," with guest vocals on "Choking On Indifference" and "Cybergod" provided by Emily Muscara (Straphangers), and guest vocals on "Carcass Rot" by Michelle Eddison (ex-Starkweather).
No Echo's advance stream of Give Us Extinction, posted alongside a brief interrogation of vocalist Mike Score, issues of the record, "the album is as catchy as it is punishingly heavy. ALL OUT WAR have always been masters of balancing the thrash metal elements of their guitar approach with the groove, more hardcore-driven side of what they do, and Give Us Extinction might be the best example of that in the band's discography."
Experience ALL OUT WAR's relentless Give Us Extinction with No Echo's premiere at THIS LOCATION.
Give Us Extinction sees release through Organized Crime Records this Friday, August 11th on LP, CD, and digital formats; find preorder options RIGHT HERE.
ALL OUT WAR continues to book new shows supporting Give Us Extinction, including shows with Cro-Mags, Integrity, Cold As Life, Brick By Brick, Eyehategod, Pig Destroyer, 100 Demons, and others, and sets at East Coast Tsunami Fest and Flyover Fest on the itinerary. More tour dates are to be expected.
ALL OUT WAR Tour Dates:
8/18/2017 Upstate Concert Hall – Clifton Park, NY w/ Cro-Mags, Brick By Brick, Cold As Life
8/26/2017 Café 611 – Fredrick, MD w/ Eyehategod, Cro-Mags, Pig Destroyer
9/23/2017 Reverb – Reading, PA @ Tsunami Fest w/ Integrity, Agnostic Front, Madball, Cro-Mags
10/20/2017 The Vanguard – Tulsa, OK @ Flyover Fest w/ Integrity, 100 Demons
10/21/2017 Cobra Lounge – Chicago, IL w/ 100 Demons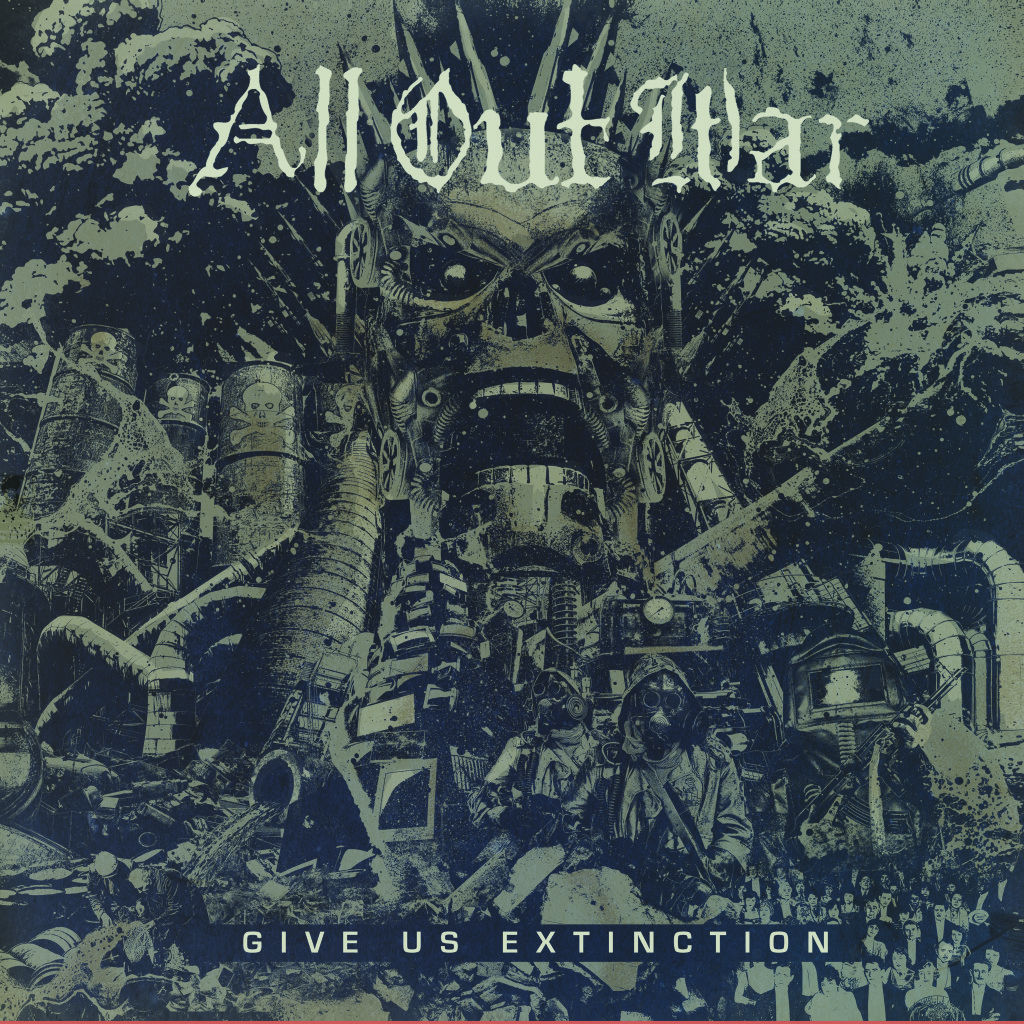 http://www.facebook.com/alloutwarunofficial
http://www.organizedcrimerecords.com
http://www.facebook.com/organizedcrimerecs
http://www.twitter.com/orgcrimerecs
http://www.crimescenemerch.com