AFM Records' new onslaught of June releases are now available to North American writers, including upcoming full-length albums from BLOODBOUND, DEBAUCHERY, LAKE OF TEARS and REV 16:8, all set for release stateside on June 14. Review copies of these new releases are available, as well as interviews with all of the acts upon request.
Swedish power metal force, BLOODBOUND, return with their fourth full-length release since their inception in 2006 this June. Entitled Unholy Cross, BLOODBOUND's crisp, powerful style is embodied here at its finest hour yet within these 11 anthems, while the band also introduce new vocalist Patrik Johansson (ex-Dawn Of Silence) for the first time on record here. Mixed and mastered by Jonas Kjellgren (Sonic Syndicate, Scar Symmetry), Unholy Cross resurrects the magical feeling heard on the band's adored Nosferatu album, yet with an updated approach. The album's cover art was created by Mark "The Masque" Wilkinson, known for his work designing art for Judas Priest, Iron Maiden and countless other major acts.
After having shared the stage with the likes of Evergrey, Paul Di'Anno and Hammerfall on European tours, as well major Euro festivals including Sweden Rock Fest, BLOODBOUND are not only well-known for their excellent live performances, but also for their massive stage mascot known as "The Nos," totally in the vein of Iron Maiden's "Eddie."
Unholy Cross Track Listing:
01. Moria
02. Drop The Bomb
03. The Ones We Left Behind
04. Reflections Of Evil
05. In For The Kill
06. Together We Fight
07. The Dark Side Of Life
08. Brothers Of War
09. Message From Hell
10. In The Dead Of Night
11. Unholy Cross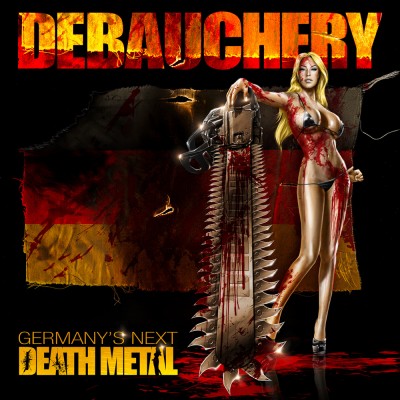 Set for release on June 14 via AFM Records, Germany's Next Death Metal, the seventh album from Germany death rock outfit DEBAUCHERY, is designed to serve as a middle finger to today's mass media.
DEBAUCHERY creator Thomas Gurrath is already notorious throughout the European metal media for constantly unveiling gory cover artwork and incessant stripping blood-soaked women and incorporating porno video clips to his live sets. Blood and tits: this is the obvious concept through the eyes of Gurrath, and that blatantly shows through on Germany's Next Death Metal, which surges with both death metal and arena rock influences simultaneously over the course of this latest DEBAUCHERY public service announcement.
Germany's Next Death Metal Track Listing:
01. The Unbroken
02. Zombie Blitzkrieg
03. Warmachines At War
04. Animal Holocaust
05. Bloodslaughter Onslaught
06. Germany's Next Death Metal
07. School Shooter
08. Death Will Entertain
09. Armed For Apocalypse
10. Genocider Overkill
11. Killing Is Our Culture
12. School's Out (Alice Cooper cover)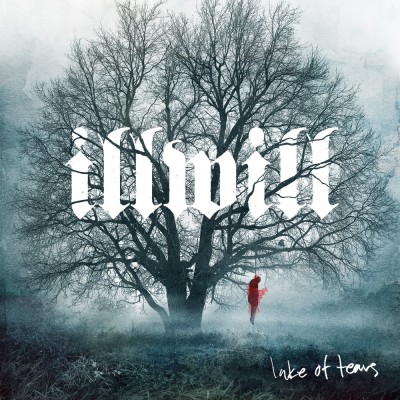 AFM Records will present the latest full-length from ever-morphing Swedish unit LAKE OF TEARS on June 14 in North America, marking the band's first new album in over four years. This latest dark offering from LAKE OF TEARS, entitled Illwill, as always, shows their sound moving into new directions from all previous recordings, yet still holds true to the central core sound fans have come to expect with each release.
Now in their nineteenth year since formation in 2002, the band continue to incorporate somewhat progressive elements and spacious textures to their rock and metal backbone, their widely-appreciated versatility continually landing them appearances at varied major European festivals including Wacken Open Air, Tuska Open Air and Sweden Rock Festival. Recorded and produced at the renowned Fascination Street Studios (Opeth, Paradise Lost, Soilwork, Amon Amarth, Katatonia) with Jens Bogren, Illwill demonstrates what LAKE OF TEARS stand for well to their diehard fanbase and the new fans that will surely be drawn into the album's ten engrossing tracks.
Illwill Track Listing:
01. Floating In Darkness
02. Illwill
03. The Hating
04. U.N.S.A.N.E.
05. House Of The Setting Sun
06. Behind The Green Door
07. Parasites
08. Out Of Control
09. Taste of Hell
10. Midnight Madness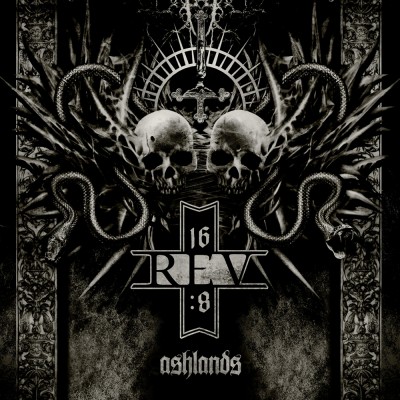 Not the usual type of release expected from AFM Records, Swedish black metal outfit REV 16:8 will unleash their sophomore full-length, Ashlands, via the German label on June 14, undoubtedly to be one of the most evil releases from the company this year.
Once known to the black metal world under former monikers Scythe, and then Bloodshed, the Stockholm-based unit adopted REV 16:8 in recent years, and now bear their second full-length of blazing but cryptic black metal on the 41-minute Ashlands. Recorded and produced in the infamous Necromorbus Studios (Watain, Ondskapt, Funeral Mist, Armagedda) the album also features guest vocals by Acerbus of Ondskapt.
Ashlands Track Listing:
01. Agenda
02. Ashlands
03. Blackline Sundown
04. A Study In Patterns And Habits
05. The Chase
06. Serenade
07. Rust Retinal Vein
08. Coal Mirror
09. When Your Words Are Obsolete
10. Leave Me
———————
In addition to the upcoming June releases, review copies of AFM Records' May 2011 releases are also still available, including U.D.O.'s Rev-Raptor, VOODOO CIRCLE's Broken Heart Syndrome, SUIDAKRA's Book of Dowth, SHAKRA's Back On Track, A LIFE DIVIDED's Passenger, and THE NEW BLACK's II, as are as interviews with these acts
http://www.afm-records.de
http://www.myspace.com/afmrecordsgermany