This October, extreme metal powerhouse, Unique Leader Records, will reissue The Anomalies Of Artificial Origin, the second full-length from Russian death metal behemoths and recent label signees, ABOMINABLE PUTRIDITY. The out-of-print brutalizer was initially released in 2012 via Brutal Bands Records and earned the adulation of underground slam fiends in the proverbial know. Sputnik Music praised in a 4/5 rating, "The Anomalies… is an album made for death metal fans, emphasizing everything they love and amplifying it in grotesque proportions. The riffs, drums and vocals have all been honed to near perfection, creating an album full of sci-fi based anthems that will bring the alien mosh warrior right out of you." In an 8.5/10 score, Metal Storm named the record, the "top slam death album of the year," adding, "For those who are unfamiliar with ABOMINABLE PUTRIDITY, all you need to know is that their sophomore release is quite literally stronger in every aspect: groove, technicality, brutality, flow, clarity, and songwriting prowess. Far be it from me to say these guys are the Tool of brutal death metal, but their overall abilities have improved immensely, surpassing their peers with a vulgar display of power." Spirit Of Metal concurred crowning The Anomalies Of Artificial Origin, "Russian death metal at its best," commending its, "musical quality and bombarding brutality," while Skull Fracturing Metal called the record, "a perfect example of what brutal death metal has to offer. It features relentless blast beats, an endless barrage of vocals that discuss pseudo-intellectual topics, and low-tuned slamming guitars."
The Anomalies Of Artificial redux was remixed and remastered by Ivan Anthropocide at Anthropocide Studios and includes the wicked sci-fi cover renderings of Par Olofsson, Matti Way (Cinerary, Liturgy, ex-Disgorge, ex-Pathology) on lead vocals and guest backing vocals by Angel Ochoa (Condemned, Cephalotripsy), Corey Athos (Deeds Of Flesh, Flesh Consumed), and A.J. Magana (Disgorge).
Check out opener "Remnants Of The Tortured" below:
The Anomalies Of Artificial Origin Track Listing:
Remnants Of The Tortured
A Massacre In The North
Letting Them Fall…
A Burial For The Abandoned
Lack Of Oxygen
Wormhole Inversion
The Anomalies Of Artificial Origin
The Last Communion
Hailing from the Moscow region, ABOMINABLE PUTRIDITY was forged in 2003 under the original moniker of Devoured Entrails. Through various lineup shifts over the next several years the band began performing regularly, and released several decimating recordings, leading with their initial promo demo in 2006, followed by their debut long playee, In The End Of Human Existence, released the following year by Lacerated Enemy Records. A four-year gap and multiple more lineup shifts would bridge their first full-length and their next release, a new promotional CD in 2011, which gained the attention of Brutal Bands Records, who issued the band's second album, The Anomalies Of Artificial Origin, in 2012.
2015 sees the ABOMINABLE PUTRIDITY lineup more stable than ever, and ready for the next chapter in their destructive history, having been picked up by Unique Leader Records. The band is currently composing material for their upcoming third full-length album which will be recorded later this year for release through Unique Leader in 2016. Fans of Devourment, Disgorge, Skinless, Pathology, Katalepsy and the like stay alert.
The Anomalies Of Artificial Origin will be reissued on CD and LP (with alternative artwork by Matt Auer of Mottla Art) via Unique Leader Records on October 30th. Preorders are currently available at THIS LOCATION.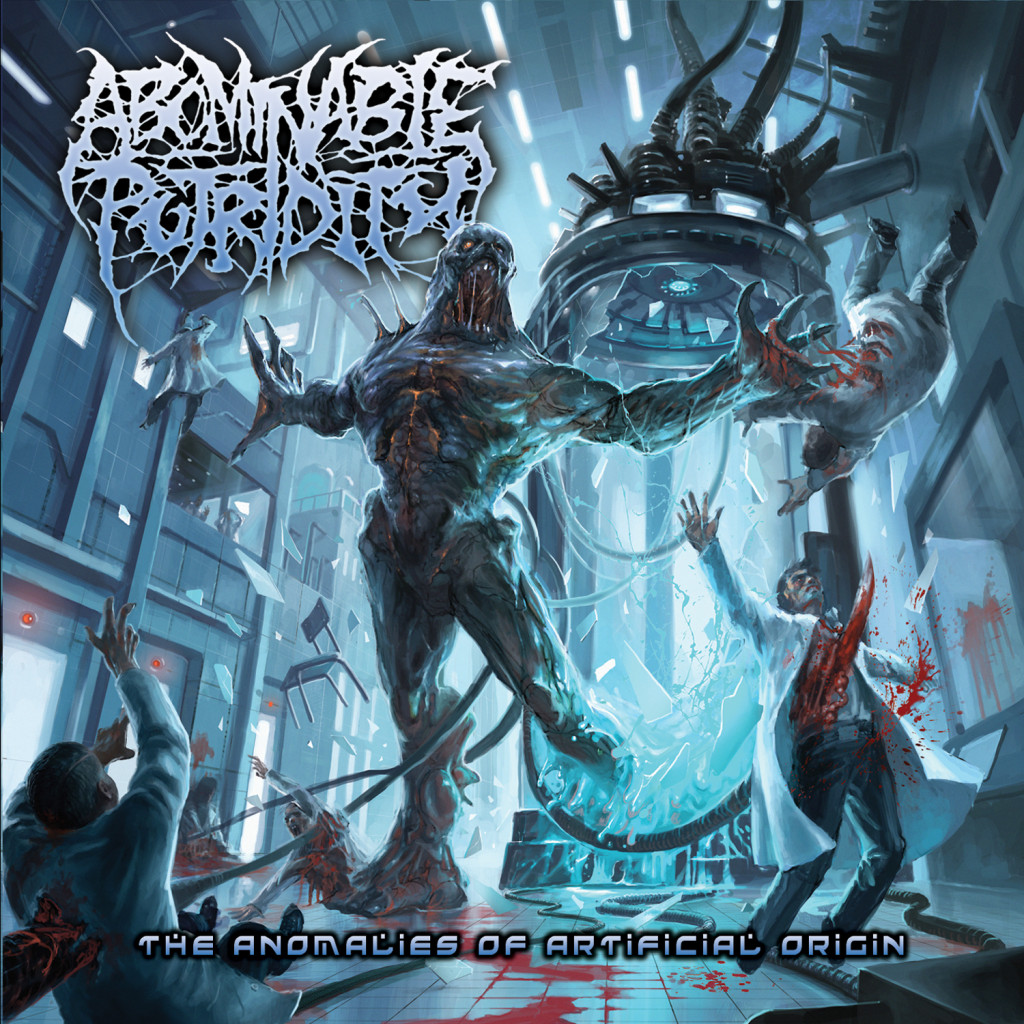 [CD cover]
[LP cover]
http://www.facebook.com/abominableputridityrus
http://www.abominableputridity.bandcamp.com
http://www.uniqueleader.com
http://www.facebook.com/UniqueLeaderRecords
http://www.twitter.com/UniqueLeaderRec
http://www.youtube.com/uniqueleaderrecords