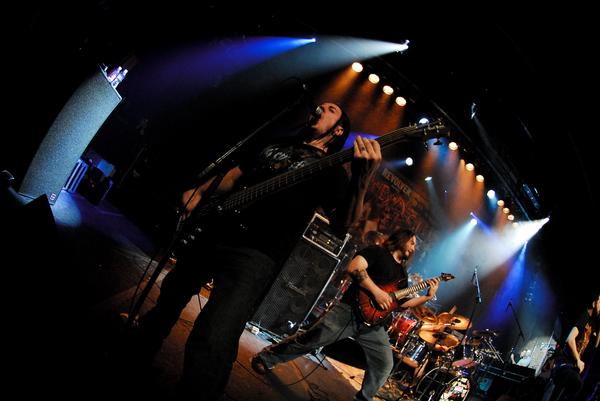 ABIGAIL WILLIAMS will headline a string of West Coast dates in the coming week to celebrate the completion of their second full-length album. The shows will follow the band's first Australian dates, supporting North Carolina's Nile. The shows are the first American performances of the year for the band.
ABIGAIL WILLIAMS have completed work on their still untitled second album. Recorded at Conquistador Studios in Cleveland, Ohio, eight new songs are planned for the band's album currently planned for release on September 14. Vocalist/guitarist Ken Sorceron with engineer Cole Martinez commanded the audio takes while Peter Tagtgren (Dimmu Borgir, Immortal, Celtic Frost) mixed the tracks. The record was mastered at Black Lounge Studios in Sweden.
Sorceron recently commented, "there is a lot less keyboards on the new songs. They are far more guitar-driven and have a bit more of a traditional sound in some ways but still very ABIGAIL WILLIAMS sounding. We let ourselves have much more room with writing this album, kind of a more open, free environment than any we have employed before. The studio experience this time round was very natural to us. We recorded everything with much more ease and I think it has helped in capturing a very honest vibe."
Confirmed dates for ABIGAIL WILLIAMS:
6/01/2010 The Rock – Tucson, AZ
6/02/2010 UB's Bar – Mesa, AZ
6/03/2010 Whiskey A Go-Go – West Hollywood, CA
6/04/2010 The Crossing – Palmdale, CA
6/05/2010 Stramler Park – Bakersfield, CA
6/06/2010 Chain Reaction – Anaheim, CA
ABIGAIL WILLIAMS' debut full-length In the Shadow of a Thousand Suns and Legend EP are available in stores now (iTunes, Amazon and others for digital).
http://www.myspace.com/abigailwilliams
http://www.candlelightrecordsusa.com
http://www.myspace.com/candlelightrecordsusa