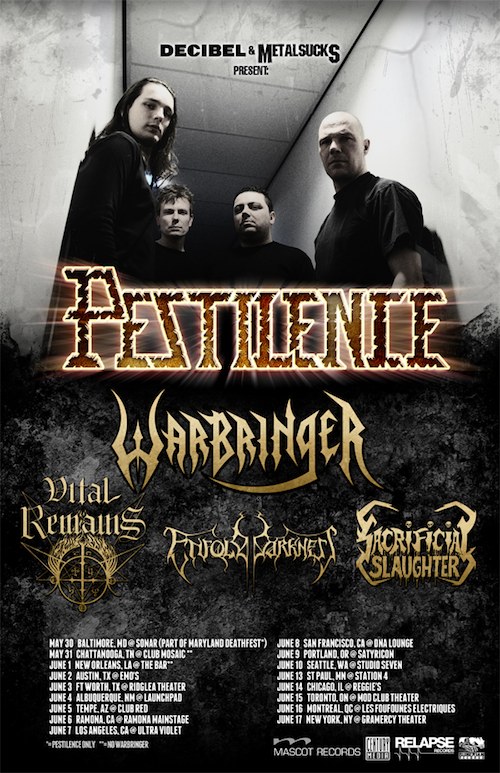 Technical death metal legends PESTILENCE will kick off their first North American tour in 16 years this Sunday! Presented by Decibel Magazine and MetalSucks, the Resurrection Macabre Tour 2010 will begin in Baltimore as part of the Maryland Deathfest at Sonar on May 30th and close at the Gramercy Theater in New York City on June 17. Support will be provided by Warbringer, Vital Remains, Enfold Darkness and Sacrificial Slaughter.
Commented vocalist/guitarist Patrick Mameli : "Words can't really describe how excited we all are about this upcoming Resurrection Macabre Tour 2010. We will put our heart and soul into these upcoming shows and hope to make lots of fans happy with both old and new material. The PESTILENCE is spreading once more!"
PESTILENCE released their first studio record since the critically acclaimed Spheres full-length (1994) with 2009's Resurrection Macabre (Mascot Records). The band currently features vocalist/guitarist Patrick Mameli (C-187), returning bassist Jeroen Paul Thesseling (Obscura), new drummer Yuma Van Eekelen (The New Dominion, Brutus) and guitarist Patrick Uterwijk.
PESTILENCE w/ Warbringer, Vital Remains, Enfold Darkness, Sacrificial Slaughter:
5/30/2010 Sonar – Baltimore, MD (as part of Maryland Deathfest)*
5/31/2010 Club Mosaic – Chattanooga, TN **
6/01/2010 The Bar – New Orleans, LA **
6/02/2010 Emo's – Austin, TX
6/03/2010 Ridglea Theater – Ft. Worth, TX
6/04/2010 Launchpad – Albuquerque, NM
6/05/2010 Club Red – Tempe, AZ
6/06/2010 Ramona Mainstage – Ramona, CA
6/07/2010 Ultra Violet – Los Angeles, CA
6/08/2010 DNA Lounge – San Francisco, CA
6/09/2010 Satyricon – Portland, OR
6/10/2010 Studio Seven – Seattle, WA
6/11/2010 Rickshaw Theatre – Vancouver, BC*
6/13/2010 Station 4 – St Paul, MN
6/14/2010 Reggie's – Chicago, IL
6/15/2010 Mod Club Theater – Toronto, ON **
6/16/2010 Les Foufounes Electriques – Montreal, QC **
6/17/2010 Gramercy Theater – New York, NY
* PESTILENCE only
** No Warbringer
http://enterthevault.com
http://www.myspace.com/pestilenceofficial
http://www.mascotrecords.com