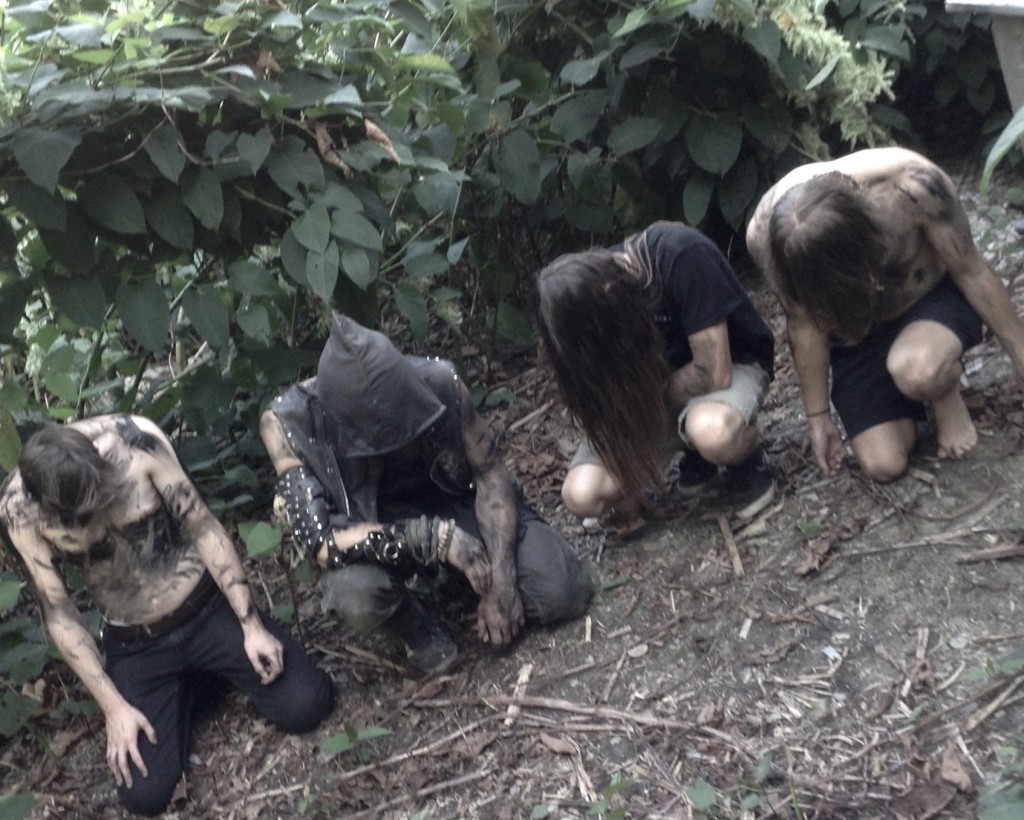 [photo by Seth Leach]
Breaking out of a year-and-a-half hiatus, Portland, Maine-based ZUD will storm back into action this week with a set at the open-air Shadow Woods Metal Fest, with more live and recording actions to follow.
ZUD's unique sound somehow manages to seamlessly blend the blackened arts of Necrovore, early Mayhem and early Bathory with the vibrant, infectious rock ways of Roky Erickson, Van Halen, Blue Oyster Cult and even Heart. Their debut album, The Good, the Bad and the Damned…, was recorded and mixed by Todd Hutchinson (Falls of Rauros, AOK Suicide Forest, East Of The Wall) at Acadia Recording Company in the band's hometown, and mastered by Tore Stjerna (Watain, Repugnant) at Necromorbus Studios in Stockholm, Sweden. ZUD self-released the record on the Summer Solstice of 2013, catching journalists off-guard, as the disc instantly raked in piles of outstanding media reactions.
Decibel said Zud was, "a lot more fun to listen to than Watain," Metal Injection called it "Definitely unique and a little bizarre," Cvlt Nation dubbed it, "a sick and twisted mix of classic riffs and black metal evil," and Ave Noctum said it resembled, "Quorthon fronting Van Halen…" A review at Cosmos Gaming included, "The Good, The Bad And The Damned is one of the coolest albums I have come across this year… a style I didn't know I wanted until I came across this release, and now I just want to keep going back to it," and No Clean Singing dubbed it, "a jet-fueled charge of something like first-wave black metal combined with filthy rock 'n' roll. The drumming is off the hook, the riffs are more fun than a barrel of monkeys on meth, and the clean guitar solo is a banshee screamer. The vocals are also evil, vicious, and intelligible. Refreshingly different metal…"
Following a wave of live performances, ZUD went into hibernation mode, having since remained off the grid, realigning itself with several personnel changes to the lineup. But that all changes this week as the band will return to the stage, headlining day two of the first Shadow Woods Metal Festival on September 26th – the new mid-Atlantic, open-air, camping-based metal fest — in White Hall Maryland, just north of Baltimore. With the likes of Midnight, Occultation, Wormreich, Dreadlords and Sangharsha and over two-dozen others at the two-day event, Shadow Woods can be expected to be a game changer in festivals held on the East Coast. More info and tickets for Shadow Woods Metal Fest can be found HERE.
For those a bit further north, there will also be one more live performance from ZUD for 2015; Halloween Night at Geno's Rock Club in Portland, Maine. Support will come from Sangharsha (Kathmandu via NYC) and two other Portland locals, Sylvia and Mugwort.
ZUD Live:
9/26/2015 Shadow Woods Metal Festival – White Hall, MD [info]
10/31/2015 Geno's Rock Club – Portland, ME w/ Sylvia, Sangharsha, Mugwort [info]
The Good, The Bad And The Damned was pressed in a limited run of 333 high-quality, hand-numbered, gatefold digipak CDs. There are a few copies still available direct from the band HERE. There will also be copies for sale at both upcoming shows, but expect this limited release to be gone VERY soon.
The Good, The Bad And The Damned can still be streamed via Cvlt Nation at THIS LOCATION.
2016 will see ZUD — now comprised of founder Justin Curtsinger (ex-Gift of Tongues) on vocals and guitar, Darron Brown (Mome, ex-Sanctioned For A Riot) on drums, Nate Manning (D.N.A., ex-Cruel Hand, ex-Outbreak) on lead guitar and Tim Walker (ifandit) on bass — offering more of their enthralling black'n'roll madness to the masses, both live and from the studio, so stand by for further declarations on recording news and upcoming live engagements in the months ahead.
http://zud666.blogspot.com
http://www.facebook.com/ZUD-572368749452852