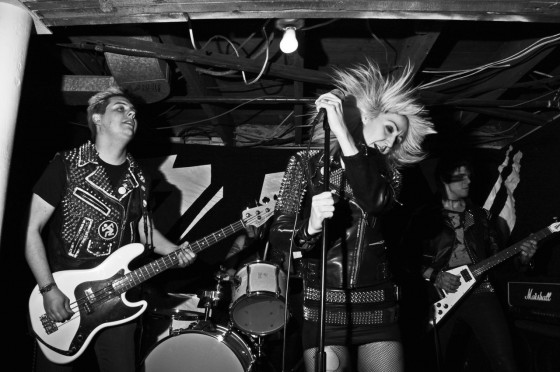 The members of Ottawa, Ontario-based ZEX are currently on their way around the globe, set to begin their Wanderlust Tour 2015 this Saturday in Penang, Malaysia. The month-long trek sees the ambitious quartet taking their their slick, infectious, punk rock and energetic live show to nineteen venues throughout Malaysia, Singapore, Indonesia, Australia and New Zealand from February 7th through March 2nd.
ZEX will tour throughout North America heavily this Spring, with the tentative routing for their US Invasion 2015, which is set to consume May and the first half of June, released via their Facebook page HERE, as final venue info will be announced in the coming weeks.
Channeling traditional heavy metal leads into their classic early punk rock approach, ZEX's Fight For Yourself drops ten insatiably infectious and fully unruly anthems, the album recorded at Meatlocker Studio with Paul Yogi Granger in Ottawa and mastered by Brad Boatright at Audiosiege in Portland. With a solid fanbase and buzz already going for them due to heavy widespread touring and a diehard worth ethic, the band independently released Fight For Yourself in Canada, which caught the attention of Magic Bullet Records, who this week officially re-releases Fight For Yourself with proper distribution to the international masses on CD and all digital platforms. The new LP version is in production and will be released shortly.
ZEX's newest video for "Wanderlust" was recently premiered via Decibel Magazine at THIS LOCATION. The two previously-released videos from the LP are also playing, "Fight For Yourself" HERE and "Savage City" HERE, while the LP is playing in its entirety HERE.
ZEX Wanderlust Tour 2015:
2/07/2015 Soundmaker – Penang MY
2/08/2015 Rumah Api – Kuala Lumpur MY
2/10/2015 The Wall – Batu Pahat MY
2/11/2015 Pink Noize – Singapore SG
2/13/2015 DIY show – Sidoarjo ID
2/14/2015 DIY show – Gresik ID
2/15/2015 DIY show – Kediri ID
2/16/2015 DIY show – Solo ID
2/17/2015 DIY show – Klaten ID
2/19/2015 DIY show – Bandung ID
2/20/2015 DIY show – Jakarta ID
2/22/2015 Bearded Lady – Brisbane AU
2/24/2015 Black Wire Records – Sydney AU
2/25/2015 Croatian Club – Newcastle AU
2/26/2015 Old Bar – Melbourne AU
2/27/2015 The World's End – Adelaide AU
2/28/2015 Black Goat – Melbourne AU
3/01/2015 Whammy Bar – Auckland NZ
3/02/2015 Valhalla – Wellington NZ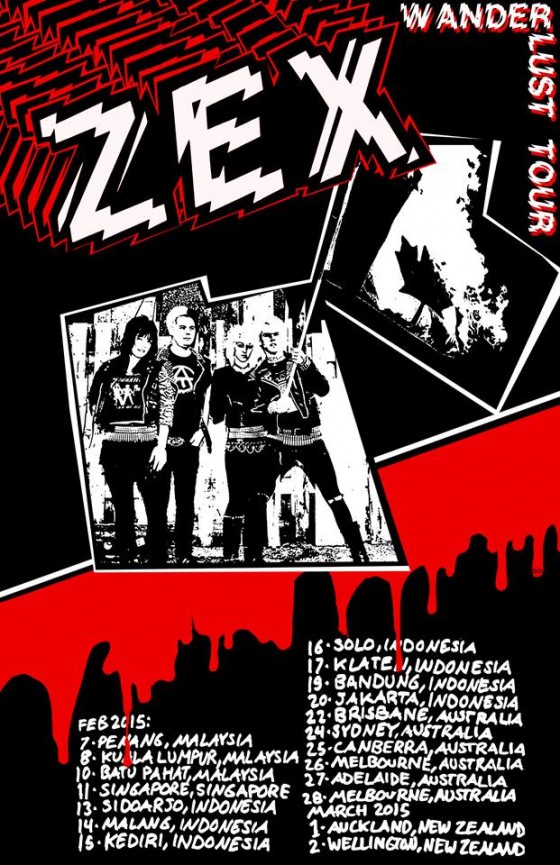 http://zexzexzex.com
http://www.facebook.com/zexzexzexofficial
http://zexzexzex.bandcamp.com
http://www.magicbulletrecords.com
http://www.facebook.com/magicbulletrecords
http://twitter.com/magicbulletrecs