With the release of Blessed Be My Brothers, the forthcoming new long player from atmospheric blackened death metal troupe, SARPANITUM, now less than two weeks away, today Stereogum thrusts forth the pulverizing tones of second cut, "By Virtuous Reclamation."
Captured at Dreaming Studios UK by drummer Leon Macey (Contrarian, Mithras, The Senseless et al) and centered on the abysmal consequence of religious warfare, SARPANITUM's Blessed Be My Brothers heaves with a deliciously diseased synthesis of traditional death metal, blackened riff onslaughts, perverse melodic atmospheres and an alluring brand of controlled chaos that can only come from the technical prowess of its creators.
Relays guitarist/bassist Tom Hyde of "By Virtuous Reclamation," "The song takes place during the Council of Clermont, specifically the speech given by Pope Urban II with the aim of manipulating Christian Europe into taking arms against Islam in the East and effectively starting what we now know to be the First Crusade. It is a grim reminder of how, throughout history, the elites exploit spirituality in order to make false claims and turn religions and races against each other in war. Musically it is filled with chaotic melody, brutally intense drumming and vibrantly ancient atmospheres."
Adds Stereogum, "The squelching psychedelia and massive-sounding production artifice that Morbid Angel hit upon during this period constitute the groundwork for SARPANITUM. You can hear a lot of other contemporaneous death metal greats in their sound, too: Nile's theatrical keyboards and grandiloquent song titles; the florid lead guitars of Vital Remains; Hate Eternal's insane speed and deep, commanding vocals. The band SARPANITUM resembles most strongly is probably Mithras, which is fitting; Mithras main man Leon Macey drives this album's rhythms with his impossible athleticism and clicky kick drums, while SARPANITUM guitarist Tom Hyde sometimes performs with Mithras live. But while playing influence whack-a-mole with this album is fun, it doesn't remotely convey the titanic physical presence that SARPANITUM brings to bear. Blessed Be My Brothers sports a combination of flashy speed and sheer power more commonly seen in blue-chip NFL defensive ends and 21st century war machines; it is a dazzling, mind-melting aural experience. And unlike many of this approach's lesser practitioners, SARPANITUM can and do write nasty hooks aplenty."
Get browbeaten with "By Virtuous Reclamation," courtesy of Stereogum at THIS LOCATION.
And if you missed it, taste the chaos with intricately-titled fourth movement, "Glorification Upon The Powdered Bones Of The Sundered Dead," still playing at Decibel HERE.
Named in part after Babylonian mother goddess, Sarpanit, meaning "the shining one," companion of the chief god, Marduk, SARPANITUM — who feature within their rants current and former affiliates of Mithras, Lantlos and Tenebrous Aeon — has maintained a maniacal DIY ethos, crumbling stages throughout Europe supporting the likes of Insision, Visceral Bleeding, Desecration, The Monolith Death Cult and Macabre since their formation in 2003. Based on Babolyanian folklore, the band's Galactic Records-released debut full-length, Despoilment Of Origin (2007) was an eloquently guttural performance of mythological blackened death metal that reaped the praise of underground listeners and media outlets in the proverbial "know." The band's Fidelium EP, independently-released four years later, reaffirmed their inexorable brutality both sonically and conceptually. Crowned, "one of the most compelling death metal releases of the year," by Last Rites and guaranteed to, "tickle the taste buds of anyone into this kind of domineering metal in the vein of The Monolith Deathcult and Mithras," the EP established SARPANITUM's ability to cohesively meld audio savagery and epic, cinematic segments, centering itself on the ultimate perils of religious fanaticism using first person perspectives from genuine participants of the First Crusade.
Blessed Be My Brothers will be unleashed via Willowtip Records on February 17th, 2015. Preorder your copy today at THIS LOCATION.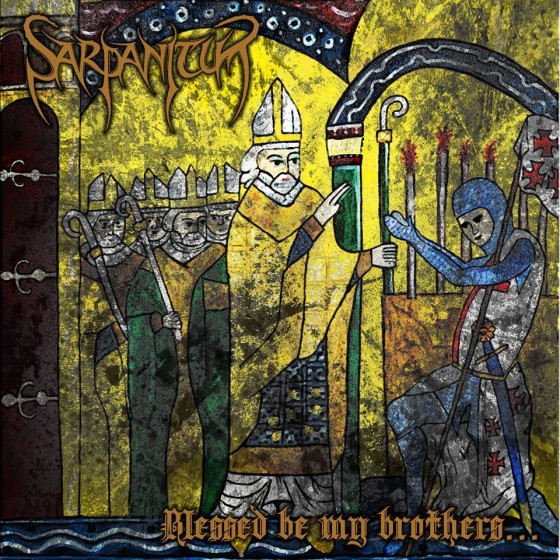 http://www.facebook.com/sarpanitum
http://www.willowtip.com
http://www.facebook.com/willowtip
http://www.willowtip.bandcamp.com
http://www.twitter.com/Willowtip