Ottawa, Ontario's punk quartet, ZEX, has issued the first wave of tour dates in the band's impending US Invasion this Spring, as they continue to conquer the globe in support of their infectious debut LP, Fight For Yourself.
Following a Fall tour of their native Canada, ZEX took their energetic live set to fans across Malaysia, Singapore, Indonesia, Australia and New Zealand on the Wanderlust Tour in February and March. The tour was a raging success, uniting with fans at raging, intimate DIY gigs in nearly twenty cities. Yet just shortly after their return home, great misfortune struck as the band's longtime comrade and touring drummer for the Wanderlust trek, Vassil Mester, tragically passed away. In honor of their great friend's passing, ZEX has issued a tribute video to Vassil, which includes a ton of live footage and fan interaction from their tour through the South Pacific.
Check out ZEX's heartfelt tribute to Vassil Mester RIGHT HERE.
Subsequent to the band's initial independent release of their first LP, Magic Bullet Records has officially issued Fight For Yourself worldwide, the album now available on all digital platforms, slipcase CD and now with both black and clear pressings 12″ wax. ZEX will continue touring on the new album, this week issuing the first bout of confirmed tour dates for their impending US Invasion. With nearly forty cities on the list, ZEX will trample the country from May 5th through June 13th — including one show in Mexico — with more than half of the routing now available. The remaining dates are being confirmed for announcement in the coming days. ZEX will also be releasing a brand new 7″ single called "Fear No Man" for this tour.
The band's "Wanderlust" video is playing at THIS LOCATION, the "Fight For Yourself" video HERE and the "Savage City" video HERE. Fight For Yourself is playing in its entirety HERE.
ZEX US Invasion:
5/05/2015 Low Beat – Albany, NY [info]
5/06/2015 Hotel Vernon, Worcester, MA [info]
5/07/2015 Kung Fu Necktie – Philadelphia, PA
5/08/2015 Barclay House – Baltimore, MD [info]
5/09/2015 TBA – Virginia Beach, VA
5/10/2015 New Price Books – Raleigh, NC
5/12/2015 Uncle Lou's – Orlando, FL [info]
5/13/2015 A-Space – Gainesville, FL
5/14/2015 529 – Atlanta, GA
5/15/2015 Betty's Grill – Nashville, TN
5/16/2015 Mono – Birmingham, AL [info]
5/17/2015 Sluggo's – Pensacola, FL [info]
5/18/2015 Spitfire – New Orleans, LA
5/19/2015 Black Barbie – Houston, TX
5/20/2015 Paper Tiger – San Antonio, TX
5/21/2015 TBA – Austin, TX
5/22/2015 Padaneria Chitchen-Itza – Dallas, TX [info]
5/23/2015 Sound Pony – Tulsa, OK [info]
5/24/2015 TBA – Oklahoma City, OK
5/26/2015 Gary's Place – Tucson, AZ [info]
5/27/2015 Time Out Lounge – Phoenix, AZ [info]
5/28/2015 Mods – Tijuana, MX [info]
5/29/2015 TBA – San Diego, CA
5/30/2015 Blacklight District – Long Beach, CA
5/31/2015 TBA – Riverside, CA
6/01/2015 East Side Joes – Las Vegas, NV
6/02/2015 Music Garage – Salt Lake City, UT [info]
6/04/2015 TBA – Kansas City, MO
6/05/2015 Hideout – Omaha, NE [info]
6/06/2015 TBA – Minneapolis, MN
6/07/2015 Wisco – Madison, WI
6/08/2015 Frank's Power Plant – Milwaukee, WI [info]
6/09/2015 2040 – Chicago, IL [info]
6/10/2015 Last House On The Left – Cincinnati, OH [info]
6/11/2015 Rock Room – Pittsburgh, PA
6/12/2015 Now That's Class – Cleveland, OH
6/13/2015 Genesse Park – Rochester, NY
Channeling traditional heavy metal leads into their classic early punk rock approach, ZEX's Fight For Yourself drops ten insatiably infectious and fully unruly anthems, the album recorded at Meatlocker Studio with Paul Yogi Granger in Ottawa and mastered by Brad Boatright at Audiosiege in Portland. With a solid fanbase and buzz already going for them due to heavy widespread touring and a diehard worth ethic, the band independently released Fight For Yourself in Canada, which caught the attention of Magic Bullet Records, who officially re-released Fight For Yourself with proper distribution to the international masses.
Physical copies of Fight For Yourself can be obtained via Magic Bullet Records HERE, and the digital HERE.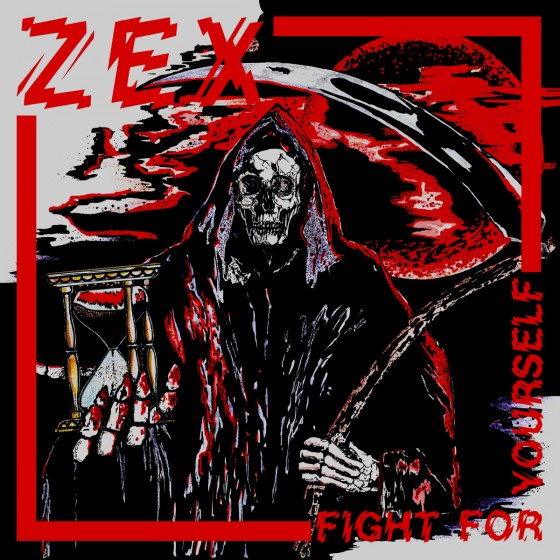 http://zexzexzex.com
http://www.facebook.com/zexzexzexofficial
http://zexzexzex.bandcamp.com
http://www.magicbulletrecords.com
http://www.facebook.com/magicbulletrecords
http://twitter.com/magicbulletrecs