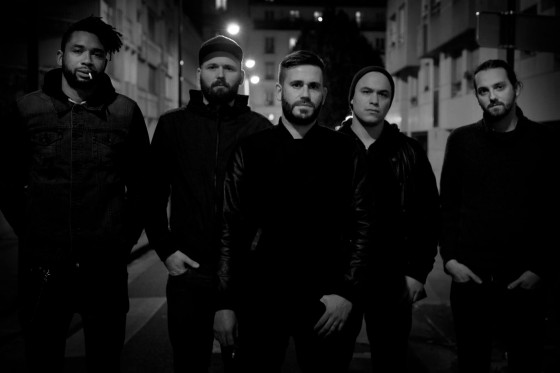 Parisian legion, COWARDS, continues to follow-up the monstrous release of their Rise To Infamy sophomore LP with loads of tour dates confirmed through early June. Additionally, following its February worldwide release through a network of underground labels including Throatruiner Records, RVINS Records and Deadlight Entertainment, the Rise To Infamy LP has been made available to North American fans with a stateside distribution deal with Deathwish Records.
The latest tour dates in the Infamous Tour MMXV will see COWARDS hitting the European peoples with three more waves of the pummeling live aggression they're now infamous for on stage. The action begins on April 24th and runs through June 5th, with the final clubs being locked up this week. Amidst the tour dates, the band is confirmed to play at the Throatruiner Records Festival dates in both France and Switzerland, and will see the band crossing paths with Nuclear Devastation, Revok, Oblivionized, Suburban Scum, Rude Awakening, Soul Grip and many others along the way. Additional European tour dates are being planned, and COWARDS is devising a scam which will get them onto North American shores in the near future as well.
Watch COWARDS' "Bend The Knee" video through Metal Injection at THIS LOCATION and stream Rise To Infamy HERE.
COWARDS Infamous Tour MMXV:
4/24/2015 Soundcheck Schiedam – Rotterdam, NL w/ Nuclear Devastation, Voulge [info]
4/25/2015 Jeugdhuis JOB – Sint-Amandsberg, BE w/ Dali Thundering Project, Soul Grip [info]
4/26/2015 Vortnvis – Ieper, BE w/ Oblivionized, Implore [info]
4/27/2015 Trixxxter – Berlin, DE w/ Sick Eater, Whorns [info]
4/28/2015 Kawiarnia Naukowa – Wydarzenia – Kraków, PL [info]
4/29/2015 Emokeller – Essen, DE w/ Slowly We Rot [info]
4/30/2015 Papagei – Minden, DE w/ Soul Grip [info]
5/01/2015 AK44 – Giessen, DE w/ Revok, Membrane, Stand Der Dinge, Potence [info]
5/02/2015 Juz St. Ingbert – Saint-Ingbert, DE w/ Implore, Slowly We Rot [info]
5/03/2015 Sunset Bar – Martigny, CH w/ Circle Of Execution [info]
5/04/2015 La Scierie – La chaux-de-fonds, CH
5/05/2015 L'assommoir – Saint-Etienne, FR w/ Plèvre [info]
5/06/2015 Music City – Antwerp, BE w/ San Diablo [info]
5/07/2015 Simplon – Groningen, NL
5/08/2015 Le Chapeau Rouge – Troyes, FR [info]
5/14/2015 GlazArt – Paris, FR @ Throatruiner Records Festival [info]
5/15/2015 TBA
5/16/2015 L'Usine – Geneva, CH @ Throatruiner Records Festival [info]
6/02/2015 Le Klub – Paris, FR w/ Suburban Scum, Rude Awakening, Pyrecult [info]
6/03/2015 TBA – Saint-Dié-des-Vosges, FR
6/04/2015 Kawati Studios – Strasbourg, FR w/ Haut&Court [info]
6/05/2015 TBA – CH
A digipak CD version and 180-gram vinyl edition of Rise To Infamy have been produced (150 on clear and 350 on black), the wax in heavyweight jackets with spot UV varnish. A bundle including all physical editions and a shirt is available from COWARDS directly RIGHT HERE. North American fans can now order the LP through Deathwish Mailorder RIGHT HERE. Orders for the CD and shirt bundles are available through Deadlight Entertainment HERE, and LP and shirt bundles via RVINS Records HERE and Throatruiner Records HERE.
COWARDS dredges forth a deep, oppressive, urban harshness amidst their crushing wall of amplification which stabs blackened sludge metal savagery into the band's Holy Terror/H8000 inspired-hardcore. Recorded by engineer Francis Caste at Sainte Marthe Studio (Arkhon Infaustus, Eibon, Kickback), the band's monstrous tones here sound more callous than ever. This is nothing but a monument of down-to-earth, unvarnished violence, punishing from start to finish. American Aftermath scored the new album with a 9/10, their review offering, "From Shooting Blanks & Pills, to the Hoarder EP to now, it only seems like COWARDS are becoming colder, more violent and more massive. Rise To Infamy sets the bar high with its overbearing blackened, sludge-ridden hybrid and its grimy yet clear and concise production quality. If you are in need of something punishingly heavy, then you can do no wrong with this record. They may call themselves COWARDS but they certainly do not shy away from anything, and that includes beating you senselessly." MetalSucks says the album, "will play like the soundtrack to a jetliner stuffed with burn victims plummeting into an ocean of bent nails," while Stereokiller gave it a 4/5, comparing the band to, "a hyper Eyehategod or a lethargic Converge, take your pick," continuing, "COWARDS present an unsettling group of songs on Rise To Infamy that I don't recommend listening to if you're enjoying your day." Metal Observer noted, "Rise To Infamy is a challenging, punishing experience. It has a grating, ugly sound that rarely settles into extended grooves and is almost entirely devoid of melody. The production gives each instrument clarity and distinction, while keeping a grainy, scraping tone. No one would deny that COWARDS sound intense and uncompromising and if blackened, filthy hardcore/sludge sounds appealing, Rise To Infamy will be a surefire winner, as there's much here to enjoy." And Cvlt Nation's review included, "even if they kept the same core in terms of musicality, the album is really different than the previous ones. There is much more chaotic hardcore going on, and they have a lot more fun jumping from a slow sludge atmosphere to a more speedy blackish hardcore. I love it."
http://www.cowards.fr
http://www.facebook.com/cowardsparis
http://www.cowardsparis.bandcamp.com
http://www.cowards.bigcartel.com
http://www.throatruinerrecords.com
http://www.ruinsrecords.com
http://www.deadlight.fr