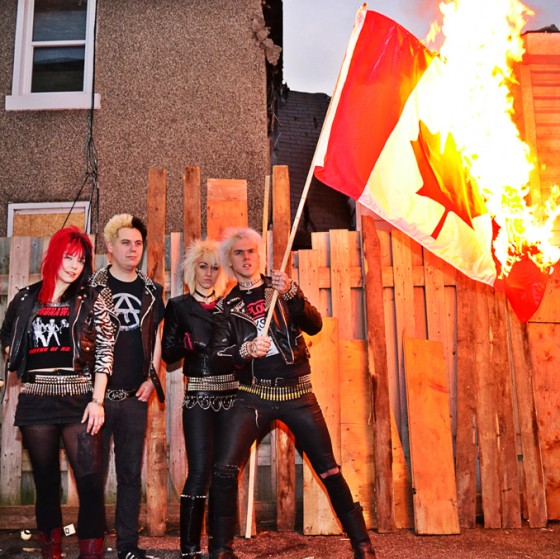 As part of a massive upcoming 2015 label release schedule coming together, Magic Bullet Records is stoked to announce the upcoming worldwide re-release and distribution of Fight For Yourself, the infectious debut album by Ottawa, Ontario-based punk rock quartet, ZEX.
Delivering their no-bullshit take on early punk penetrated with an edge of early heavy metal, carrying forth the torch lit by the influential predecessors who've inspired their path, ZEX pumps out melodic and energetic but sarcastic and riotous tunes. Streetfight-ready songs with a darker edge are surrounded by catchy, upbeat anthems, producing a humble, raw and inspiring culmination of straight-up melodic punk rock. Citing influences including Gary Glitter, The Sweet, Sweeny Todd, Suzi Quatro, Slade, Shakin' Street, Brats and the like, elements of founders Blondie, The Ramones, X-Ray Specs, Vice Squad, The Partisans and others can be heard in ZEX's sound, with a tightly-knit musical backdrop courtesy of drummer Tasha G (ex- Gone Drinkin', Get Wrecked, Slumlord) and bassist Gab Sex (ex- Revenge Of The Mormons), and wailing leads and solos from guitarist Jo Capitalcide (ex- Iron Dogs, Germ Attak), all fueling the vocals of Gretchen Steel, her clean approach wavering between the erogenous style of Debbie Harry and the more raw approach of Joan Jett or Pat Benatar.
With ten solid tracks recorded Paul Yogi Granger at Meatlocker Studio in Ottawa and mastered by Brad Boatright at Audiosiege in Portland, ZEX's debut LP, Fight For Yourself, received a solid and immediate buzz, gaining quite a bit of attention throughout their home country and well beyond following its initial self-release across Canada. The record caught the ear of Magic Bullet Records, who has already delivered the platter for production and worldwide distribution of the album on CD, LP and digital release during the Winter months of 2015. A solid street date will be announced shortly.
ZEX has also confirmed a massive international tour of the Southwest Pacific for early next year. The ZEX Wanderlust Tour 2015 will run through nearly a month of dates in Malaysia, Singapore, Indonesia, Australia and New Zealand from February 7th through March 2nd. View the city-to-city routing below and watch for specific venue info and additional widespread tour efforts from the band in the coming weeks.
Stream Fight For Yourself in its entirety at THIS LOCATION, and also scope out the band's videos for the album's title track HERE and the closing anthem, "Savage City," right HERE.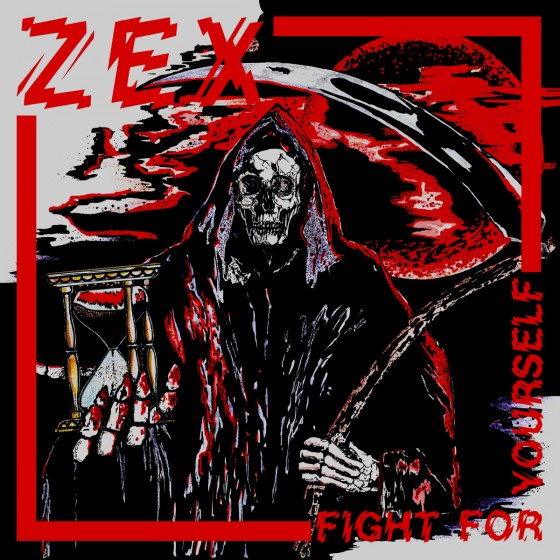 Fight For Yourself Track Listing:
1. Fight For Yourself
2. Wild Blood
3. We're Rebels
4. Screaming At The Wall
5. XXX
6. Wanderlust
7. World Of Trash
8. Break Free
9. On Our Own
10. Savage City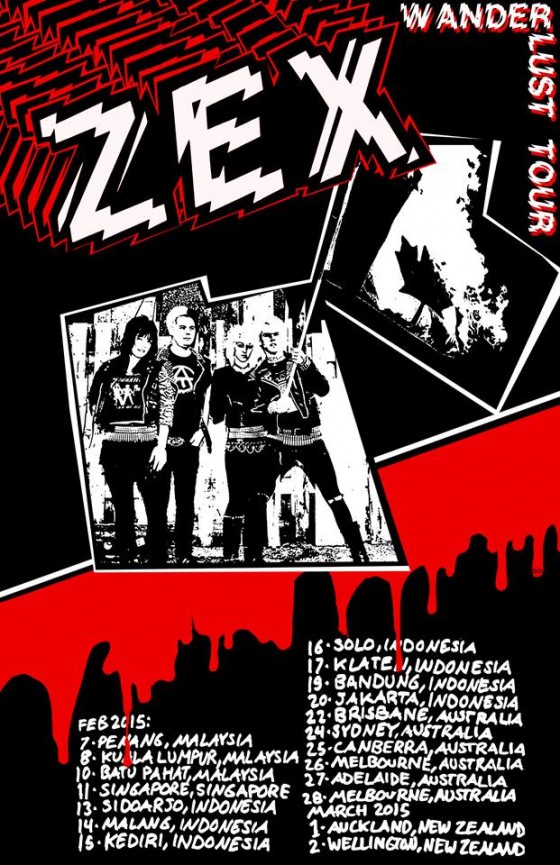 ZEX Wanderlust Tour 2015:
2/07/2015 Penang, Malaysia
2/08/2015 Kuala Lumpur, Malaysia
2/10/2015 Batu Pahat, Malaysia
2/11/2015 Singapore, Singapore
2/13/2015 Sidoarjo, Indonesia
2/14/2015 Gresik, Indonesia
2/15/2015 Kediri, Indonesia
2/16/2015 Solo, Indonesia
2/17/2015 Klaten, Indonesia
2/19/2015 Bandung, Indonesia
2/20/2015 Jakarta, Indonesia
2/22/2015 Brisbane, Australia
2/24/2015 Sydney, Australia
2/25/2015 Canberra, Australia
2/26/2015 Melbourne, Australia
2/27/2015 Adelaide, Australia
2/28/2015 Melbourne, Australia
3/01/2015 Auckland, New Zealand
3/02/2015 Wellington, New Zealand
http://zexzexzex.com
http://www.facebook.com/zexzexzexofficial
http://zexzexzex.bandcamp.com
http://www.magicbulletrecords.com
http://www.facebook.com/magicbulletrecords
http://twitter.com/magicbulletrecs