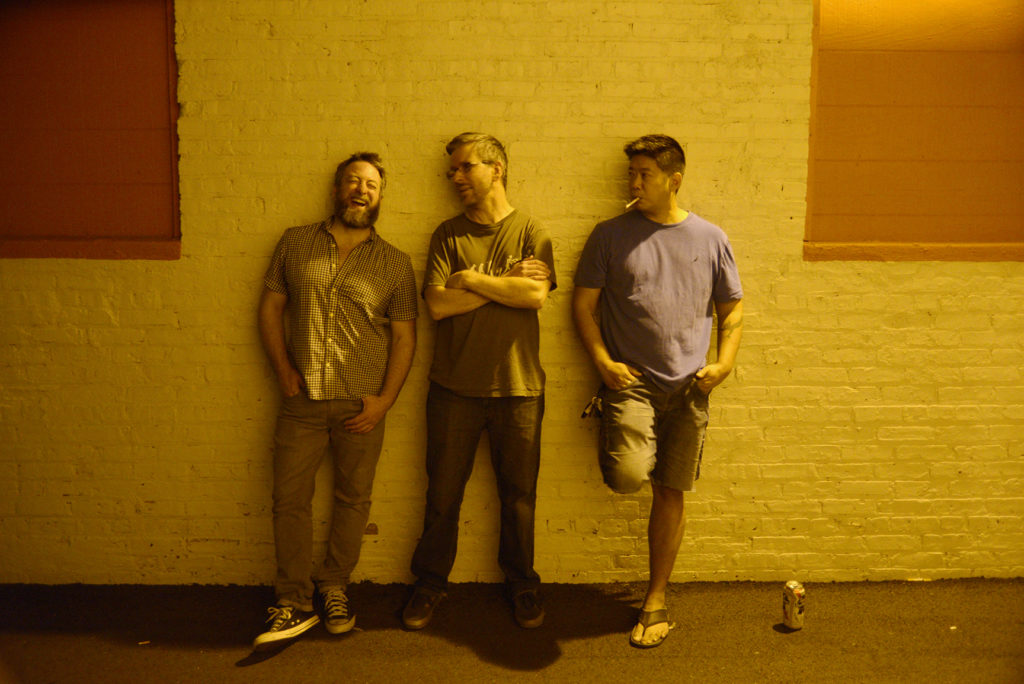 Having released a split single with Eastern Anchors through Nefarious Industries in 2014, New Brunswick, New Jersey-based eclectic rock trio ZERO FOR CONDUCT returns to the label with their second album, CTRL+Z. Ahead of the album's release in March, the track "Oh Nancy! Only British People Can Fly" has been debuted via New Noise Magazine.
With eight new tracks packed into a half-hour of mayhem, ZERO FOR CONDUCT delivers a wild ride through Downtown Post-Punkville on CTRL+Z. The trio's slick hooks and quirky melodies are countered with pounding rhythms, all boasting a barrage of entertaining and infectious tales of everything from non-compliance to nonsense and everywhere to the side. The band brings forth all things great about indie rock, shoegaze and punk, with a post-rock fringe, their songs reminiscent of The Misfits, fIREHOSE, Dinosaur Jr., Fugazi, Hüsker Dü, Weezer, and more. CTRL+Z was recorded and mixed by Joe Dell'Aquila at Exeter Recordings and mastered by Kim Rosen at Knack Mastering and completed with a cover painting by Keith Crowley.
New Noise Magazine is now streaming the "Oh Nancy! Only British People Can Fly" ahead of the album's release, the band noting that the song is, "Guaranteed to be the most straight forward song in 7/4 you'll hear in 2018."
Hear ZERO FOR CONDUCT's "Oh Nancy! Only British People Can Fly" at New Noise RIGHT HERE.
Nefarious Industries will release CTRL+Z digitally on March 23rd; find preorders HERE. Watch for additional audio premieres and more to be issued in the coming days.
CTRL+Z Track Listing:
1. Bouncy Castle
2. Stache'
3. Like Bill Hader
4. If We Were Emo, You'd Be Home By Now
5. Oh Nancy! Only British People Can Fly
6. Surprise Attack
7. Rollin'
8. Average Marks Make Shitty Sparks
ZERO FOR CONDUCT has booked a record release show is booked on March 3rd at the Court Tavern in New Brunswick, with additional live skirmishes to be announced throughout the months ahead.
ZERO FOR CONDUCT Live:
3/03/2018 Court Tavern – New Brunswick, NJ w/ Bodega Satellite, GayGuy/StraightGuy, San Tropez [info]
3/23/2018 Pino's – Highland Park, NJ w/ The Nowhere, Gold Streets
Having too many kids between the members of ZERO FOR CONDUCT doesn't stop them from finding the time to fire up their wild tunes amid the hectic dad life. Vocalist/bassist/guitarist Morgan Chen and drummer Joe Dingerdissen and have been collaborating for the last fourteen years, and with the addition of J. Pat Holden's artsy-fartsy-yet-energetic bass lines, the trio delivers songs that hark the images of raising battle cries, raising families and razing small towns.
The fellas aren't just musicians, but sonic students and fans who are likely to be sweating in the crowd next to you before and after their set, cheering on the other bands and offering you a sip of their whiskey. While the band savors music theory and song structure, they never let it get in the way of a good hook while keeping it refreshingly unconventional. (Sometimes the trio will switch to a drummer and double-bassist attack mode.
Before the indie rock, Chen sang in the Metropolitan Opera's Children's Chorus, resulting in operatic yelps and howls splashed over the melodic waves that flavor these rock songs about hope, determination, and partying. Dingerdissen is what's often called a "drummer's drummer," delivering intricate rhythms and precise details that always manage to stay in the pocket and propel a song forward. The essential and explosive Holden delivers the goods on bass guitar, filling the low-end with expressive playing like the seventh son jamming econo.
ZERO FOR CONDUCT:
Pat Holden – bass/backup vocals
Joe Dingerdissen – drums
Morgan Chen – vocals/guitar/bass
https://zeroforconduct.bandcamp.com
https://www.facebook.com/zfcband
http://nefariousindustries.com
http://www.facebook.com/NefariousIndustries
http://www.twitter.com/NefariousInd