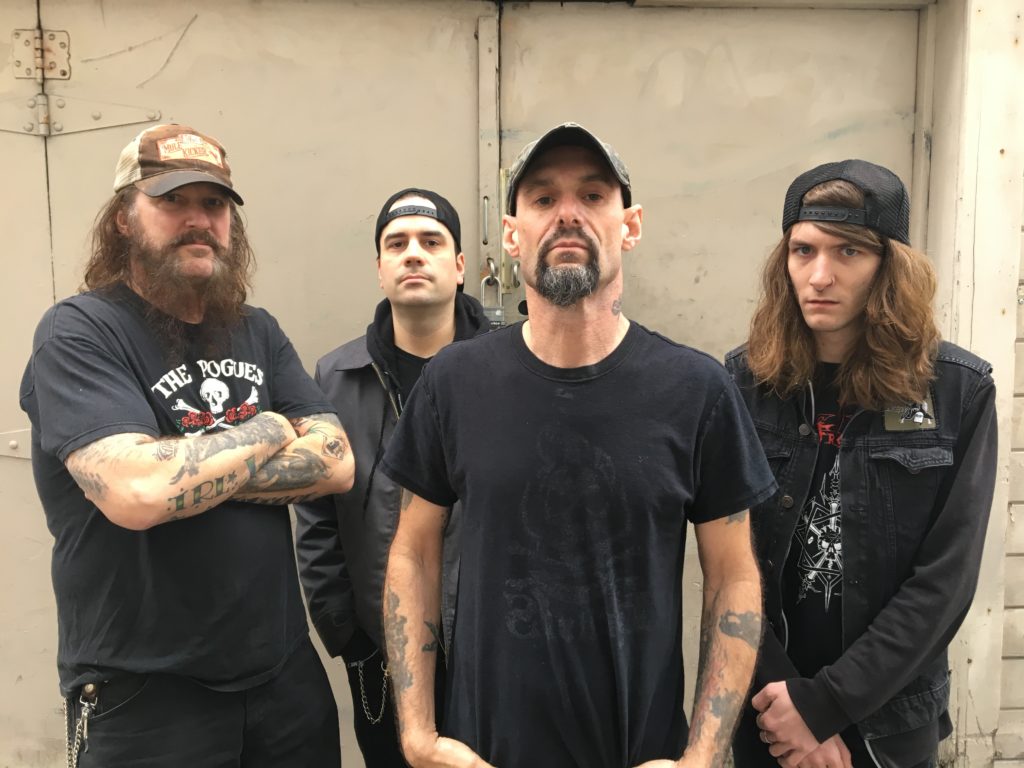 Seattle punk legends ZEKE return with their first new album in over fourteen years, titled Hellbender, set for release through Relapse Records.
Short, fast, loud, and to the fuckin' point, Hellbender contains fifteen tracks laced with ZEKE's signature mix of hyperspeed thrash-punk and Motörhead-possessed, hard as nails, rock 'n' roll. Complete with a raucous, in-your-face production by Jack Endino (Nirvana, High On Fire, The Accüsed), and completed with artwork by Hollis Tucker and Lee Goode, Hellbender is the culmination of a band twenty-five years into their career, sounding more aggressive, immediate, and turbo-charged than ever before! Ride to live…
Stream three new songs from ZEKE — "Working Man," "Hellbender," and "County Jail" — off Hellbender via YouTube HERE, Bandcamp HERE and Spotify HERE.
ZEKE's new album Hellbender is due out March 30th, 2018 on CD, LP, and digital via Relapse Records. Physical packages are available via Relapse.com HERE and Digital Downloads on Bandcamp HERE.
Additionally, ZEKE will embark on a headlining Spring European tour in support of Hellbender's release next month. The tour commences on March 30th at Paaspop Festival in Schijndel, Netherlands and ends May 5th in Kassel, Germany. A short stint of regional dates in the Pacific Northwest will take place in the coming months as well. A full list of current confirmed tour dates is available below.
Hellbender Track Listing:
1. All The Way
2. Two Lane Blacktop
3. On The Road
4. Working Man
5. Hellbender
6. County Jail
7. Burn
8. Goin' Down
9. White Wolf
10. AR-15
11. Cougar Rock
12. Devil's Night
13. Ride On
14. Redline
15. Big Rig
ZEKE Tour Dates:
2/17/2018 Dante's – Portland, OR
3/17/2018 The Manette Saloon – Bremerton, WA
3/24/2018 El Corazon – Seattle, WA
3/30/2018 Paaspop Festival – Schijndel, NL
3/31/2018 Tower – Bremen, DE
4/01/2018 Loppen – Copenhagen, DK
4/02/2018 Frimis Salonger – Orebro, SE
4/03/2018 Bar Brooklyn – Stockholm, SE
4/04/2018 Krosset – Oslo, NO
4/06/2018 Pustervik – Goteborg, SE
4/07/2018 1000Fryd – Aalborg, DK
4/08/2018 Schaubude – Kiel, DE
4/09/2018 Hafenklang – Hamburg, DE
4/11/2018 Rote Sonne – Munchen, DE
4/12/2018 Freakout Club – Bologna, IT
4/13/2018 Evol – Roma, IT
4/14/2018 The Cage – Livorno, IT
4/15/2018 Circolo Magnolia – Segrate, IT
4/16/2018 Secret Place – Montpellier, FR
4/18/2018 Rocksound – Barcelona, ES
4/19/2018 TBA – Valencia, ES
4/20/2018 Gruta 77 – Madrid, ES
4/21/2018 Jimmy Jazz – Vitoria, ES
4/22/2018 Rock'n'Eat – Lyon, FR
4/24/2018 Bi Nuu – Berlin, DE
4/25/2018 Dont Panic – Essen, DE
4/26/2018 TBA – Koln, DE
4/27/2018 Pitfest – Erica, NL
4/28/2018 Stockrock – Hagen a.T.W., DE
4/29/2018 De Helling – Utrecht, NL
4/30/2018 Nostra – Opwijk, BE
5/01/2018 The Thekla – Bristol, UK
5/02/2018 Rebellion Club – Manchester, UK
5/03/2018 The Rescue Rooms – Nottingham, UK
5/04/2018 Desertfest – London, UK
5/05/2018 K-19 – Kassel, DE
"Ride With Zeke" has quickly become the mantra for music fans who have accepted the invitation brought by on Heckler Magazine when they said, "Welcome the new monsters of rock." It's no doubt true that West Coast punk/thrashers ZEKE are monsters. Ever since their very first gig at the Rock City in Seattle in 1993, people have had no choice but to pay attention. Their records will assault you, and their live show will batter you. ZEKE established a nasty disposition while cutting teeth on their own brash hardcore punk.
ZEKE formed in 1993 with an original lineup of Blind Marky Felchtone, Donny Paycheck, Mark Pierce, and Dizzy Lee Roth. After releasing a couple of singles, they set out to bring their energetic recordings to the stage and established a more than formidable reputation as "the live band to beat" via concentrated regional touring. ZEKE went on to release their first two full-lengths — Super Sound Racing (1995) and Flat Tracker (1996) — on Scooch Pooch. ZEKE then hit the road again, unveiling a devastatingly high-octane live assault. The band was heralded as "rock and roll outlaws," playing every conceivable venue that would have them.
Over the course of the next decade, ZEKE continued to build national exposure signing to Epitaph Records for the release of Kicked In The Teeth (1998) and Dirty Sanchez (2000). Throughout this time, ZEKE toured relentlessly around the world playing everything from stadiums with fifty-thousand people, to bars with ten people, but the spirit remained the same; rock like this might be the last show ever.
ZEKE went on to release their fifth full-length Death Alley (2001) on Aces And Eights and eventually signed to Relapse Records in October 2003. ZEKE set the cruise control to "white hot" on their Relapse debut, 'Til The Livin' End (2004). A relentless ride of rock and roll abandon, the album mixes punk nihilism with a hard-hitting metal extravagance. An album that burned from start to finish, with supercharged guitars, electrifying leads, and a disorderly punk attitude race full-throttle down a highway to Hell. Now in 2018, the Seattle punk legends return with their first new album in over fourteen years entitled Hellbender!
ZEKE:
"Blind" Marky Felchtone – lead guitar/vocals
Kurt Kilfelt – pure hate/disorder
Dayne Porras – drums
Kyle Whitefoot – guitar
https://www.facebook.com/ZekeBand
https://www.instagram.com/ZekeBand
https://www.twitter.com/ZekeBand
http://zekeband.bandcamp.com
http://www.relapse.com
http://www.relapserecords.bandcamp.com
http://www.facebook.com/RelapseRecords
http://www.twitter.com/RelapseRecords
https://www.instagram.com/relapserecords