As the crushing split 7″ EP between ENDORPHINS LOST and their cohorts in OSK sees release this week, Decibel Magazine is now streaming the entire record. The ENDORPHINS LOST/OSK split is being released through a coalition of underground labels including Rotten To The Core Records, Delusions Of Terror Records, Agromosh Records, You All Die Records, and New Age Pyrate Punks Records.
Stream the ENDORPHINS LOST/OSK split at Decibel RIGHT HERE.
Find digital and vinyl preorders for the split at Bandcamp HERE.
ENDORPHINS LOST will tour in support of the record through most of March. Beginning March 7th, the band embarks out of their hometown of Seattle and makes a counter-clockwise path around the western half of the country through March 24th. The excursion includes shows with Ghoul, Brainoil, Hummingbird Of Death, Theories, Woundvac, Laughing Dog, 908, and many others, as well as a set at LA Speedfest.
ENDORPHINS LOST Tour Dates:
3/07/2018 The Kracken Bar – Seattle, WA w/ Das Helm, Savage, Disease
3/08/2018 High Water Mark – Portland, OR w/ Snakes, Born A Lot, Terminal Conquest
3/09/2018 Oakland Metro Opera House – Oakland, CA w/ Ghoul, Brainoil, Redacted
3/10/2018 LA Speedfest – Los Angeles, CA
3/11/2018 The Garth – Las Vegas, NV w/ Product Lust
3/12/2018 Hotel Monte Vista – Flagstaff, AZ w/ Ligyrophobia, Vicious Chiller
3/13/2018 The Lunchbox – Phoenix, AZ w/ Woundvac, Drainage,
3/14/2018 The Dungeon – Tucson, AZ w/ Bag Body
3/15/2018 Apartment 512 Boutique – El Paso, TX
3/16/2018 The Moonlight Lounge – Albuquerque, NM w/ Laughing Dog
3/17/2018 The Triple Nickel Tavern – Colorado Springs, CO w/ Laughing Dog, 908, Blighter
3/18/2018 The 7th Circle Music Collective – Denver, CO w/ Laughing Dog, 908, Chemically Crippled
3/19/2018 Buckhorn – Laramie, WY w/ Euth
3/20/2018 The Beehive – Salt Lake City, UT w/ Deep Romance, Shit Dogma, Establish, Ape Shit
3/21/2018 Treefort Fest – Boise, ID w/ Hummingbird Of Death
3/22/2018 Di Pizza – Bend, OR w/ Foes, Drone Wars
3/23/2018 2nd Cycle – Tacoma, WA w/ Earth Control, Theories, Generation Decline
3/24/2018 Cherry Bomb – Port Angeles, WA w/ Northern Bastard, Masterkush Ultra, Noose
Seattle-based powerviolence outfit ENDORPHINS LOST released their debut LP, Choose Your Way, through Six Weeks Records in November 2016, unabashedly introducing the masses to their blistering style of metallic, grinding, crust/powerviolence. The band now returns with four scathing new tracks, sharing a slab of 7″ vinyl with their allies in Canadian grind/hardcore outfit OSK who add three tracks to the B-side. The ENDORPHINS LOST tracks were recorded in March 2017 by Mike at Soundhouse Studios in Seattle, Washington, with additional vocals recorded by Dylan Ludwig at Raven Sound Studio in Prescott, Arizona, and mixed and mastered by Greg Wilkinson at Earhammer Studio in Oakland, California. The OSK tracks were recorded, mixed, and mastered by Jesse Gander at Hive Studios in Vancouver, British Columbia in the spring of 2013.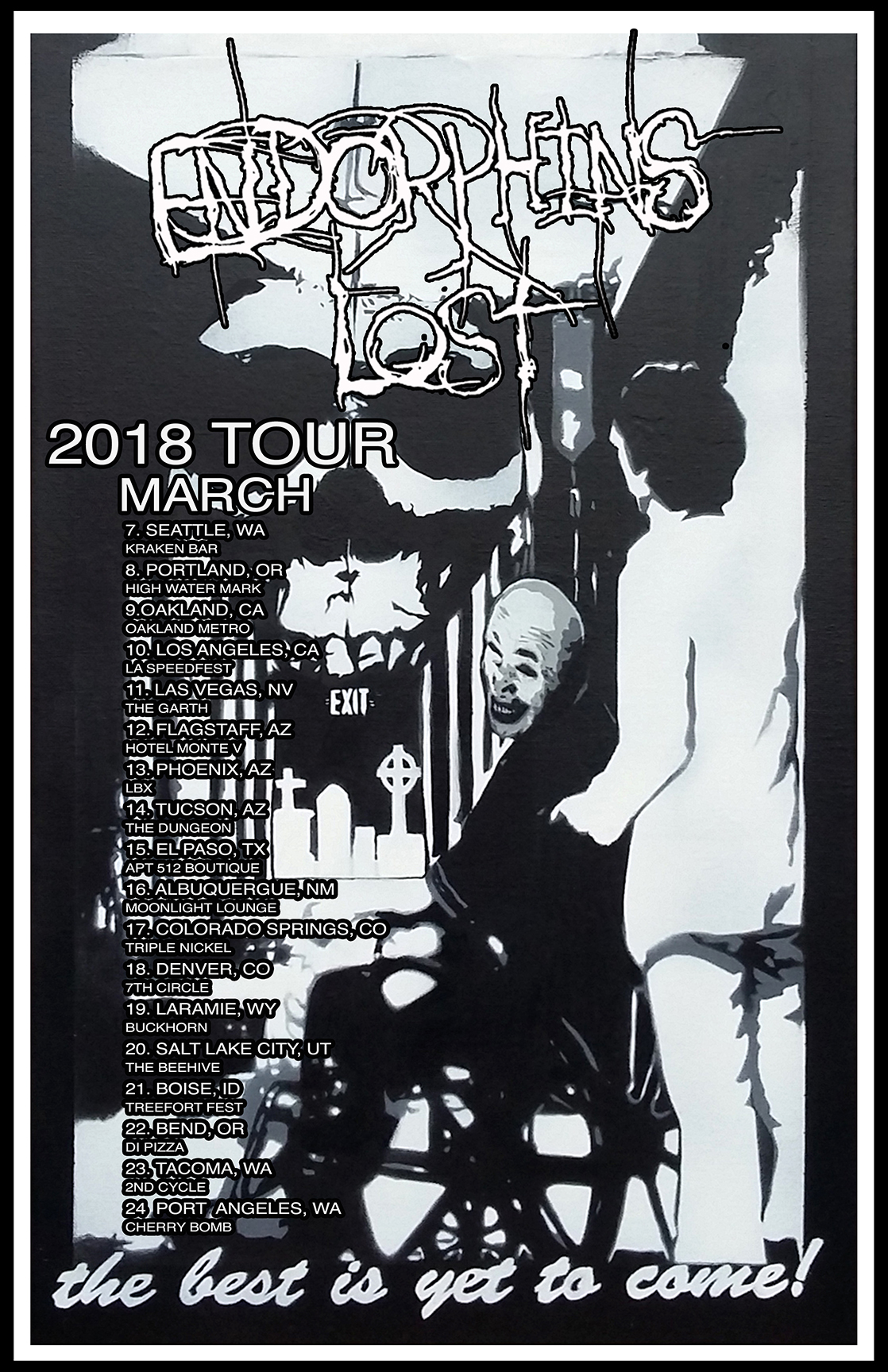 https://endorphinviolence.bandcamp.com
https://www.facebook.com/EndorphinsLost