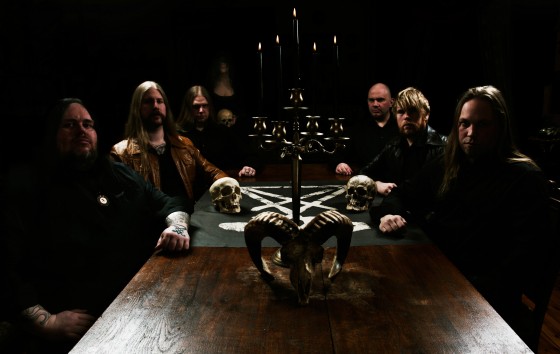 Angels' Necropolis, the infernal debut album from Östergötland/Norrköping, Sweden-based quintet YEAR OF THE GOAT, is available now worldwide via Ván Records, the gang liable for bringing The Devil's Blood, The Ruins Of Beverast, Nagelfar and others into the cult spotlight over the last decade.
Blazing with over fifty minutes of supreme, metallic occult rock, Angels' Necropolis has been reaping mass acclaim, with an arsenal of perfect scores and major features infiltrating print and online media outlets worldwide, and setting the YEAR OF THE GOAT name up for best-of 2012 listings abroad.
In commemoration of its unleashing upon the planet, This Is Not A Scene and Earsplit are hosting a stream of Angels' Necropolis, so celebrate the YEAR OF THE GOAT as loud as possible RIGHT HERE.
Mainstream German news site Spiegel posted a colossal feature on Ván Records' new December releases — including YEAR OF THE GOAT, alongside labelmates Vanderbuyst, GOLD, Attic and more — where European readers can stream the album(s) as well AT THIS LOCATION.
Preceded only by two short EP's, also released by their comrades at Ván Records, Angel's Necropolis is a brilliantly infectious album highlighting the classic metal/occult rock harmonies YEAR OF THE GOAT seemingly permeate the air around them with, rather than "perform" or "execute" said riffery. The atmospheric permeation of the eight rituals which comprise their Angel's Necropolis offering form the proper conditions to transport the listener to another plane of existence for over fifty minutes; a meditative state in tribute to Lucifer and his legions.
"Album Of The Month" – Metal Hammer Greece
"The time is now for an end to the cynical exploitation of the occult by the apparent legion of frauds. Year of the Goat and their peers are laying the foundation for an extremely exciting movement and, as a shot across the bows, this is as powerful an opening gambit as there has ever been. Doubters will be silenced…" – Lurker's Path
"…Sinners, thieves and liars, get ready for the ultimate occult magical Sabbatic Rock release of 2012… 10/10" – Metak Kaoz
"…a wildly dynamic record imbued with rich, vintage tones and ritualistic songwriting and lyrics. 9/10" – Soundshock
"Ein tolles Werk, wenn man sich ihm gegenüber öffnet und es entdecken möchte. Ich prophezeihe dann allerdings Suchtgefahr! Sagt nicht man hätte euch nicht gewarnt! 10/10" – Hell Is Open
https://www.facebook.com/yearofthegoat
http://www.facebook.com/vanrecs
http://www.van-records.de