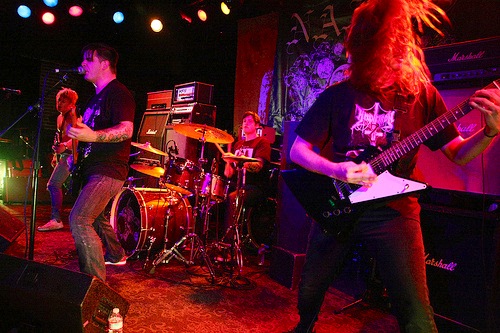 Following their recent attack of shows down the West Coast supporting Converge, Torche and Kvelertak, NAILS has just confirmed a new three-day January West Coast assault.
Dubbed "United & Strong 2013," the crushing short tour will feature NAILS headlining three California dates with support from Death Threat, Twitching Tongues and Incendiary in late January. These shows will serve as a record release weekend for their upcoming Obscene Humanity 7″, boasting three of the most iconic tracks from the bands' 2009 Obscene Humanity 12″ EP, re-recorded during the Unsilent Death recording sessions. Cvlt Nation is hosting a stream of the reanimated title track "Obscene Humanity," alongside a detailed breakdown of the process behind bringing these songs back to life for this 7″ by founding guitarist/vocalist Todd Jones, AT THIS LOCATION.
NAILS will enter Godcity Studios in Salem, Massachusetts with Converge's Kurt Ballou from late December into early January, where they'll align their hate on tape once again, recording their anticipated next full-length, Abandon All Life, set for release mid-year once again through Southern Lord.
United & Strong 2013 — NAILS w/ Death Threat, Twitching Tongues, Incendiary:
1/25/2012 Gilman Street – Berkeley, CA w/ Lecherous Gaze
1/26/2012 Rock City – Camarillo, CA w/ Catholic Spit, Violent Americans
1/27/2012 Aladdin Jr. – Pomona, CA w/ Retaliate, New Brigade
http://www.unsilentdeath.com
http://www.nailsmerch.com
http://www.southernlord.com
https://www.facebook.com/SLadmin
http://twitter.com/twatterlord