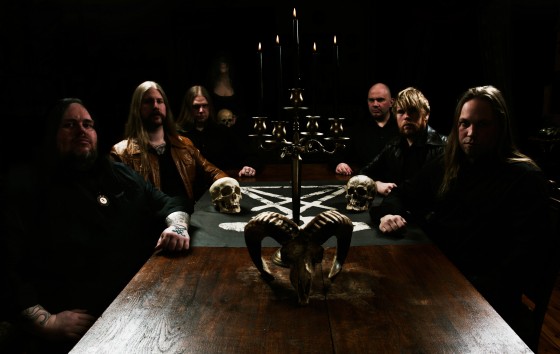 Blazing with over fifty minutes of supreme, metallic occult rock, Angels' Necropolis, the infernal debut album from YEAR OF THE GOAT, has been claiming mass praise from heavy metal fans and critics alike, elevating this new act in the ranks of the scene quickly.
A brilliantly infectious album highlighting classic metal/occult rock harmonies Östergötland/Norrköping, Sweden-based quintet seemingly permeate the air around them with, rather than "perform" or "execute," the atmospheric permeation of the eight rituals which comprise their Angel's Necropolis offering form the proper conditions to transport the listener to another plane of existence; a meditative state in tribute to Lucifer and his legions. The album was released on CD, LP and digitally worldwide via Ván Records, also liable for bringing The Devil's Blood, The Ruins Of Beverast, Nagelfar and others into the cult spotlight over the last decade.
This week YEAR OF THE GOAT has set loose a brand new video for the track "Spirits Of Fire," showcasing the incredibly hooks and melodies the band have seemingly perfected, depicted in a psychedelic 70s Occult horror theme.
YEAR OF THE GOAT will hit the stage sporadically and continuously through the year, having just announced the acts first confirmed performances of 2013. Stay tuned for further updates as more shows are confirmed.
YEAR OF THE GOAT Live Rituals:
3/01/2013 John Dee – Sankt Hanshaugen, Norway
3/09/2013 Dynamo – Norrköping, Sweden
3/22/2013 Harry's Rock Night – Linkoping, Sweden
5/24/2013 Club Destroyer – Sundsvall, Sweden
7/27/2013 Skogsröjet – Rejmre, Sweden
8/29/2013 Beyond The Gates – Bergen, Norway
11/16/2013 Hammer Of Doom Festival – Würzburg, Germany
"Album Of The Month" – Metal Hammer Greece
"…the hooks on Angels' Necropolis are extraordinary, its Blue Oyster Cult-derived fare countered by spellbinding, haunting lyrical content. Heavy on substance but devoid of gimmickry, it's seductive: an impeccable balance of profundity and accessibility. 4/5" – Terrorizer
"Necropolis flat-out fucking rocks. Comprising tuneful and intricate '70s metal steeped in a devout, shadowy Satanism, the disc skirts the edges of prog and doom without losing its solid footing in masterful classic rock and the infernal art of the anthem." – A.V. Club
"This record is a statement that good music can still be written which has its reference to the 70s era. YEAR OF THE GOAT have claimed that malevolent structure, Angel's Necropolis, to perform their darkest arts and spread the worship of the dark Lord. 9/10" – Metal Temple
"…a wildly dynamic record imbued with rich, vintage tones and ritualistic songwriting and lyrics. 9/10" – Soundshock
" Year of the Goat and their peers are laying the foundation for an extremely exciting movement and, as a shot across the bows, this is as powerful an opening gambit as there has ever been. Doubters will be silenced…" – Lurker's Path
"…Sinners, thieves and liars, get ready for the ultimate occult magical Sabbatic Rock release of 2012… 10/10" – Metak Kaoz
"Ein tolles Werk, wenn man sich ihm gegenüber öffnet und es entdecken möchte. Ich prophezeihe dann allerdings Suchtgefahr! Sagt nicht man hätte euch nicht gewarnt! 10/10" – Hell Is Open
https://www.facebook.com/yearofthegoat
http://www.facebook.com/vanrecs
http://www.van-records.de