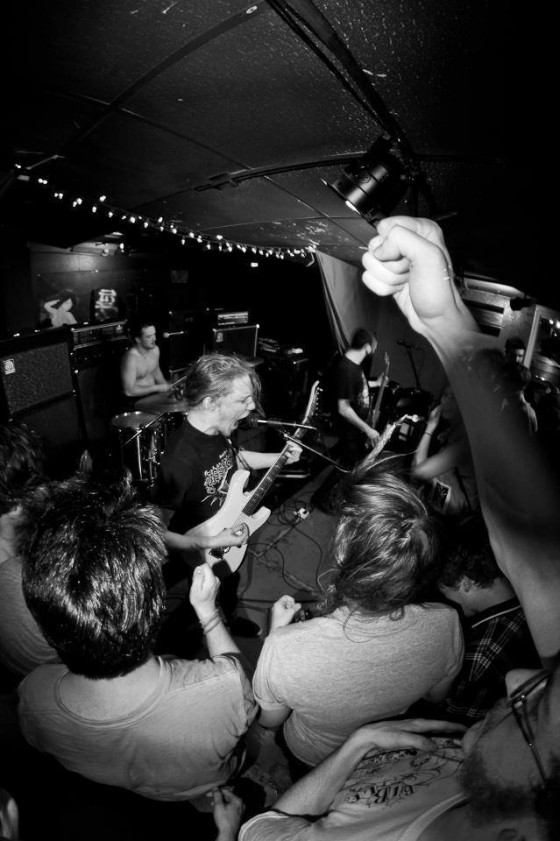 Nashville's grinding hardcore trio, YAUTJA, is already back out on the road on their third major tour of the season, while the dust from their last two tours still settles atop the remains of the cities where the band recently visited.
With the lashing their Forcefield Records-released debut album, Songs Of Descent, left upon the extreme music underworld still fresh, YAUTJA is ravaging town after town in support of the belittlingly thunderous, groove-carved album, currently burning a path across the country on their way to showcase their attack multiple times at this year's widespread SXSW madness. Over the next four days the band will rip it up at major showcases including this year's Pitchfork showcase with Kylesa, Indian, Power Trip, Psalm Zero and more, the Invisible Oranges Showcase with Black Tusk, Mutoid Man, Kayo Dot and others, in addition to several other shows.
Additionally, YAUTJA today announces a massive Spring tour in support of Songs Of Descent, including a week of headlining gigs in early April followed by at least thirty new shows alongside Deathwish artists Cult Leader (ex-Gaza), which take the band out on the highways again all the way through the third week of May.
Featuring members of Coliseum, Gnarwhal, Nameless Cults and more, Songs Of Descent follows YAUTJA's previous releases including a live cassette, a five-track EP and a split 7″ with Enabler. Recorded at Dark Art Studios with Mikey Allred (Inter Arma, Across Tundras, Hellbender), Songs Of Descent presents the act's most ruthless metallic, grind-infused, tone-heavy aggression yet, the digital version mastered by Mikey Allred and the vinyl mastered by Zack Allen of Obsidian Eye Studios (Loss, Recluse, Sky Burial). Having already blown through the colored vinyl pressing of the album since its release only one month ago, Forcefield Records will issue a CD version of the album as well as repress the wax in the coming weeks.
Stream Songs Of Descent in its entirety via Bandcamp HERE.
YAUTJA Tour Dates:
3/10/2014 1919 Hemphill – Ft. Worth, TX
3/11/2014 Mohawk – Austin, TX @ SXSW Pitchfork Showcase
3/12/2014 Javalina – Austin, TX @ SXSW Stereofly Showcase
3/13/2014 Quantum Lounge – Austin, TX @ SXSW Invisible Oranges Showcase
3/14/2014 Austin, TX @ SXSW
3/15/2014 Trends Die Haus – San Antonio, TX @ SxSw Spillover Pt. II
3/16/2014 Walter's Downtown – Houston, TX
3/17/2014 Hound Dogs – Baton Rouge, LA w/ Christworm
3/18/2014 Seasick Records – Birmingham, AL w/ Null
4/03/2014 TBA – Knoxville, TN
4/04/2014 MACRock – Harrisonburg, VA
4/05/2014 TBA – Louisville, KY
4/06/2014 TBA – Kansas City, MO
4/07/2014 Bar Bar (Carioca Cafe) – Denver, CO
4/08/2014 Baby Haus – Laramie, WY
4/09/2014 TBA – Salt Lake City, UT
4/10/2014 The Crux – Boise, ID w/ Cult Leader
4/11/2014 New Frontier Lounge – Tacoma, WA w/ Cult Leader
4/12/2014 Laughing Horse – Portland, OR w/ Cult Leader
4/13/2014 100th Monkey Café – Chico, CA w/ Cult Leader
4/14/2014 TBA w/ Cult Leader
4/15/2014 Aladdin Jr – Pomona, CA w/ Cult Leader
4/16/2014 51 West – Tempe, AZ w/ Cult Leader
4/17/2014 The Naylair – El Paso, TX w/ Cult Leader
4/18/2014 Red 7 – Austin, TX w/ Illustrations w/ Cult Leader
4/19/2014 TBA w/ Cult Leader, Illustrations
4/20/2014 Three Links – Dallas, TX w/ Cult Leader, Illustrations
4/21/2014 The Conservatory – Oklahoma City, OK w/ Cult Leader
4/22/2014 TBA – St. Louis, MO w/ Cult Leader
4/23/2014 TBA – Memphis, TN w/ Cult Leader
5/05/2014 Cafe Coco – Nashville, TN w/ Cult Leader
5/06/2014 The Forge – Birmingham, AL w/ Cult Leader
5/07/2014 TBA – Atlanta, GA w/ Cult Leader
5/08/2014 TBA – Tallahassee, FL w/ Cult Leader, Ex-Breathers
5/09/2014 Churchill's – Miami, FL w/ Cult Leader
5/10/2014 Uncle Lou's – Orlando, FL w/ Cult Leader
5/11/2014 Tin Roof – Charleston, SC w/ Cult Leader
5/12/2014 Milestone – Charlotte, NC w/ Cult Leader
5/13/2014 Strange Matter – Richmond, VA w/ Cult Leader
5/14/2014 Sidebar – Baltimore, MD w/ Cult Leader
5/15/2014 TBA – Philadelphia, PA w/ Cult Leader
5/16/2014 The Grand Victory – Brooklyn, NY w/ Cult Leader
5/17/2014 O'Brien's – Allston, MA w/ Cult Leader
5/18/2014 AS220 – Providence, RI w/ Cult Leader, Tinsel Teeth
5/19/2014 The Lair – Buffalo, NY w/ Cult Leader
5/20/2014 Mr. Roboto Project – Pittsburgh, PA w/ Cult Leader
5/21/2014 Yonka House – Detroit, MI w/ Cult Leader
"Made up of members of Coliseum and others, Yautja incorporate imperial sludge riffs ala Neurosis with grind, math, crust and more. You'd think a mish-mash of influence like that would be jarring, but Yautja feels a lot more organic than their description leads on… Think Inter Arma without the southern bent and with more grind instead of black metal." – Noisey/Vice
"Every rhythm, every riff, every vocal on Songs Of Descent leans grotesquely askew. High-speed sections canter sideways into stroke-slowed stutters before whirring back into panic-fueled passion, and chords chase their own short-lived hallucinations." – Decibel
"Only music with such a combination of smarts and tactile power can put your body in two places at once." – Invisible Oranges
"Mixing elements of hardcore and punk with doom-laden metal, Yautja's sound is simply punishing… There are so many moving pieces and varying sounds on this album, yet where Yautja excels is mashing them all together in a way that doesn't sound disconnected or forced." – Metal Insider
http://yautja.bandcamp.com
https://www.facebook.com/YautjaTN
http://www.forcefieldrecords.org
https://www.facebook.com/ForcefieldRecords