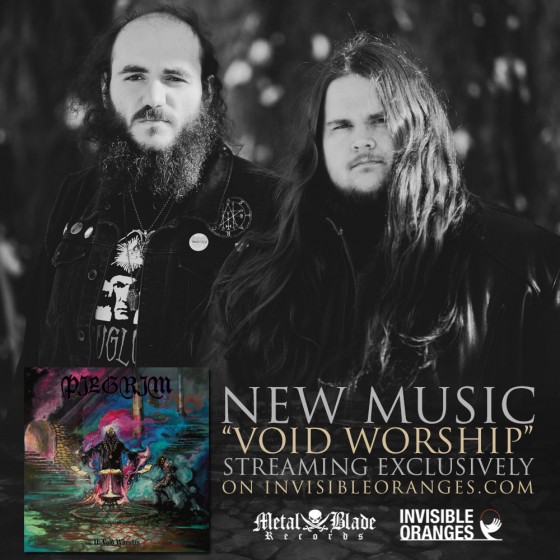 Today, Rhode Island doom conjurors, PILGRIM, hurl forth "Void Worship," the latest carol off the band's forthcoming new long player, II: Void Worship.
Recorded at Moonlight Mile Recording by audio wizard Mike Moebius and centered on tales of swords and sorcery, death, doom and widespread obliteration, II: Void Worship finds PILGRIM exploring new paths in their earth-rumbling compositions, replacing the meditated, hypnosis-inducing dirges of their debut with more calculated and gritty powerhouse riffs. Literally quaking under the weight of their own heaviness, tracks shapeshift and build into frenzied climaxes and fade into sweet sonic depressions, molding perfectly crafted rock songs into twisted spires of sinister doom metal masterpieces.
Hear the amplifier devotion of "Void Worship," now playing at Invisible Oranges at THIS LOCATION.
Additionally, you can still check out third hymn, "The Paladin," streaming at: http://www.metalblade.com/pilgrim/.
In related PILGRIM happenings, the band is currently crumbling stages across the US supporting reunited stoner rock icons, Spirit Caravan. The trek will level nearly two dozen metropolises by its conclusion and features three performances at this year's edition of SXSW including special sets at the Metal & Lace Lounge Showcase and the Tone Deaf Touring Showcase. Additional live PILGRIM rituals to be announced in the weeks to come.
PILGRIM w/ Spirit Caravan [remaining dates]:
3/13/2014 Wonderland – Austin, TX w/ King Parrot, Rivers Of Nihil, more
3/14/2014 Metal & Lace Lounge Showcase – Austin, TX
3/15/2014 Tone Deaf Showcase @ Red Eyed Fly – Austin, TX
3/17/2014 Launchpad – Albuquerque, NM
3/18/2014 Cheyenne Saloon – Las Vegas, NV
3/19/2014 Thee Parkside – San Francisco, CA
3/21/2014 Rotture – Portland, OR
3/22/2014 El Corazon – Seattle, WA
3/24/2014 The Shredder – Boise, ID
3/25/2014 Burt's Tiki Lounge – Salt Lake City, UT
3/27/2014 Marquis Theater – Denver, CO
3/29/2014 Reggie's – Chicago, IL
3/30/2014 Cactus Club – Milwaukee, WI
3/31/2014 The Fifth Quarter – Indianapolis, IN
4/01/2014 Outland Ballroom – Springfield, MO
4/02/2014 Rock Island Brewing – Rock Island, IL
4/03/2014 Fubar – St. Louis, MO
4/04/2014 Hi Tone – Memphis, TN
4/05/2014 V Club – Huntington, WV
4/06/2014 Hideaway – Johnson City, TN
4/08/2014 Pyramid Scheme – Grand Rapids, MI
4/09/2014 Skully's – Columbus ,OH
4/12/2014 31st St Pub – Pittsburgh, PA
4/13/2014 Empire – Springfield, VA
4/14/2014 AS220 – Providence, RI
4/15/2014 Saint Vitus Bar – Brooklyn NY
Since the early 2012 unveiling of their debut sonic behemoth, Misery Wizard, fans and critics alike have patiently yet anxiously awaited the second chapter in the ongoing legacy of the mighty trio that is PILGRIM. Their first release shook the metal underground to its core, making a loud, in-your-face effort to bring doom metal back to its most minimalist and archaic roots, restoring it to its former glory. Their critical success, paired with their controversial interviews and emotionally draining live performances have lead PILGRIM to excellence, traversing the globe performing sold-out shows in multiple countries and playing festivals alongside some of the biggest names in their genre. Two years later, the fabled outfit has returned with a brand new record, the highly anticipated next installment of their aural adventure Pilgrim II: Void Worship.
II: Void Worship is scheduled for release on April 1, 2014 in North America, and on March 28/31 in Europe/UK via Metal Blade Records. Special preorder packages, including vinyl, are currently available at THIS LOCATION.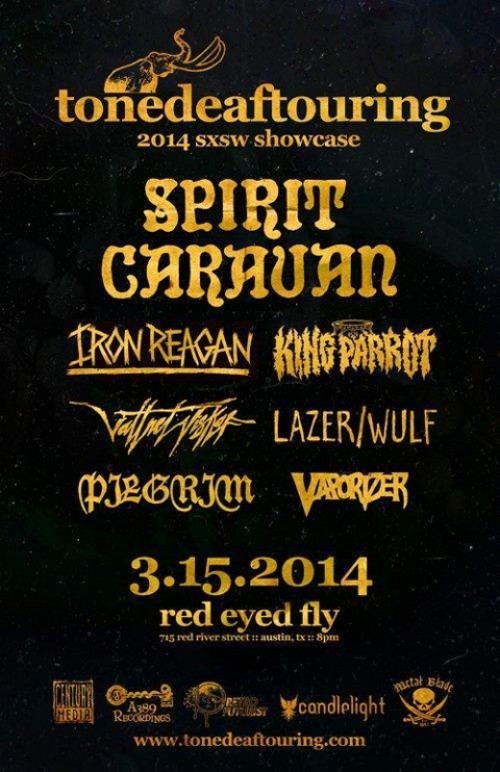 http://www.facebook.com/hailthepilgrim
http://www.metalblade.com