Pomona, California's unstoppable XIBALBA has completed tracking their third LP, and are wrapping up the final elements in order to unleash their most monstrous recordings yet in early 2015, once again through Southern Lord Recordings.
The unforgiving rage of XIBALBA's death-metal influenced hardcore has never been more apparent, with the new album showcasing nearly forty-five minutes of most extreme material yet, as they continue to explore more ominous and foreboding tones. Now confirmed to bear the title Tierra Y Libertad, the eight-song call to arms was recorded at The Pit in Van Nuys by Taylor Young (Nails, Twitching Tongues, Disgrace) as was their 2012 sophomore LP, Hasta La Muerte. Similarly, XIBALBA returned to Dan Seagrave (Dismember, Entombed, Suffocation) to create Tierra Y Libertad's cover artwork, as with Hasta.
Southern Lord will unleash the remorseless Tierra Y Libertad in January 2015, with a final street date, the album art and more on the album to be leaked in the coming weeks.
In conjunction with the release of the new LP, XIBALBA will hit the road hard again in 2015, having taken time off to record Tierra Y Libertad over the last few months. In the meantime, the band will take part in a massive Southern Lord showcase set up by The Power Of The Riff, taking place in Los Angeles tonight, Wednesday, October 15th, where XIBALBA will storm the stage at Los Globos alongside Excel, Goatsnake, Baptists, Obliterations and Torch Runner.
Watch for more news on XIBALBA in the coming weeks and prepare for war as Tierra Y Libertad hits the streets.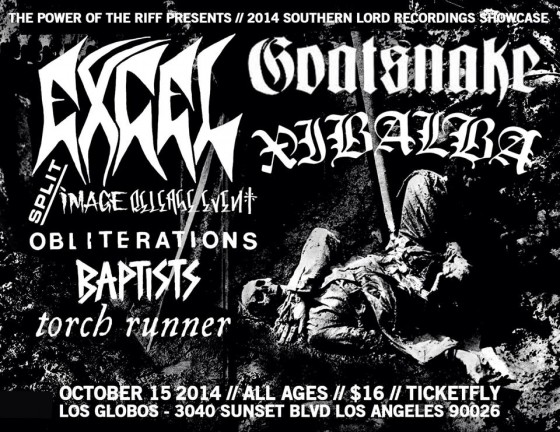 https://twitter.com/XibalbaCA
http://www.facebook.com/placeoffear
http://www.southernlord.com
http://southernlord.bandcamp.com
https://www.facebook.com/SLadmin
http://twitter.com/twatterlord