Ethereal techn death unit, WRVTH, will kick off a western US tour next month supporting headlining labelmates, Lord Of War. Set to embark on September 11th in Sacramento, California, The Ongoing Dissension Tour will raze seventeen stages in five states, coming to a close on September 27th, 2015 in Lancaster, California.
WRVTH will be touring in support of their self-titled new full-length, issued via Unique Leader this June. Tracked at SharkBite/Castle Ultimate Studios by Zack Ohren (Suffocation, Fallujah, All Shall Perish et al.), the records features a guest appearance from Daniel Casares of Bay Area jazz group, Atta Kid, on saxophone and continues to astound the ears of fans and critics globally for its expert balance of beauty and brutality. "WRVTH's long stretches of ambience, combined with a half-billion different guitar riffs and occasional blast-beats, give the band the sense of an auteur, painting a multitude of different, distinctive pictures within their new disc's run-time…," relays No Clean Singing, furthering, "you can relax to this album and then just as quickly want to groove and headbang. It's an ambitious disc whose sensibilities strive for independence, reflecting the band's desire to separate themselves from everyone around them, and it has a massive amount of appeal for that." Dead Rhetoric commends a record that's, "bold and visceral, all while providing depth and feelings." Under The Gun notes, "lush atmospherics share the stage with bone-crushing breaks and dizzying guitar solos, making for a delightfully unpredictable joyride that will no doubt find its way on to many EOTY lists come December." Heavy Blog Is Heavy concurs, "…by so skillfully blending riffy tech death with genres that are known for their emotional qualities, WRVTH sees to it that the album is both beautiful and consistently engaging for the listener." MetalSucks shares the sentiment elaborating, "their penchant for dramatic atmospherics under ominous, stormy death metal might garner them 'on a playlist with Fallujah' one-liners. And the collective's technical wizardry certainly makes them right at home on Unique Leader. But damn if the devil isn't in the details here. WRVTH add to their sonic stew a heavy helping of skronk – think Gorguts, Ulcerate, Artificial Brain, etc. – and a dash of post-hardcore sensibility, both in the harmonic structure of the chords they're using and the vocal approach, all of which makes for a much more moody and emotional experience." Adds Metal Injection of the band's first single, "'Harrowing Winds' is deceiving in that it begins with a very subdued, atmospheric guitar passage before taking off into a cacophony of sonic chaos. This is not an easy balance to achieve well, but WRVTH seem to have it nailed down."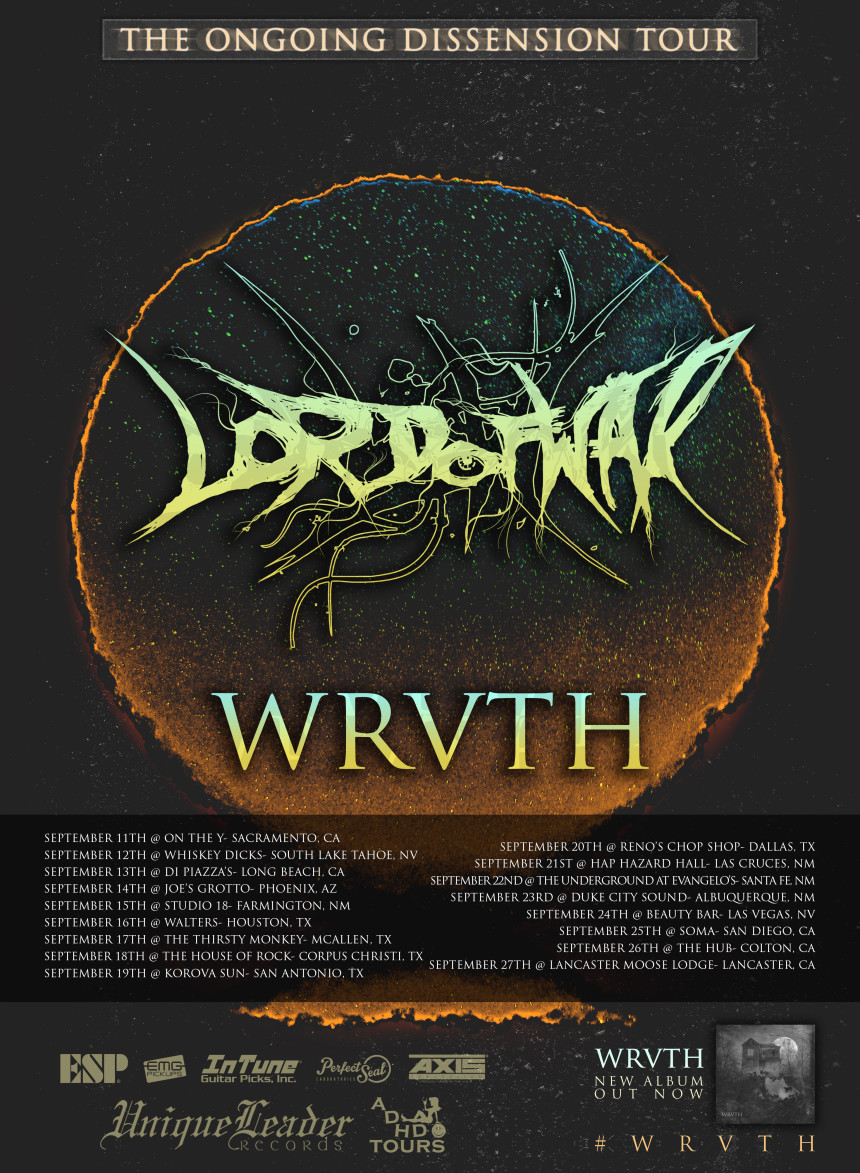 LORD OF WAR and WRVTH: The Ongoing Dissension Tour:
9/11/2015 On The Y – Sacramento, CA w/ The Kennedy Veil
9/12/2015 Whiskey Dick's – South Lake Tahoe, CA
9/13/2015 Di Piazza's – Long Beach, CA
9/14/2015 Joe's Grotto – Phoenix, AZ
9/15/2015 Studio 18 – Farmington, NM
9/16/2015 Walters – Houston, TX
9/17/2015 The Thirsty Monkey – McAllen, TX
9/18/2015 House Of Rock – Corpus Christi, TX
9/19/2015 Korova – San Antonio, TX
9/20/2015 Reno's Chop Shop – Dallas, TX
9/21/2015 Hap Hazard Hall – Las Cruces, NM
9/22/2015 The Underground St Evangelo's – Santa Fe, NM
9/23/2015 Duke City Sound – Albuquerque, NM
9/24/2015 Beauty Bar – Las Vegas, NV
9/25/2015 Soma – San Diego, CA
9/26/2015 The Hub – Colton, CA
9/27/2015 Lancaster Moose Lodge – Lancaster, CA
Check out WRVTH's recent video for the track "Malaise," still playing at Decibel at THIS LOCATION. And if you missed it, hear Wrvth in its malicious entirety courtesy of MetalSucks at THIS LOCATION.
Wrvth is out now on Unique Leader Records. Order yours today HERE.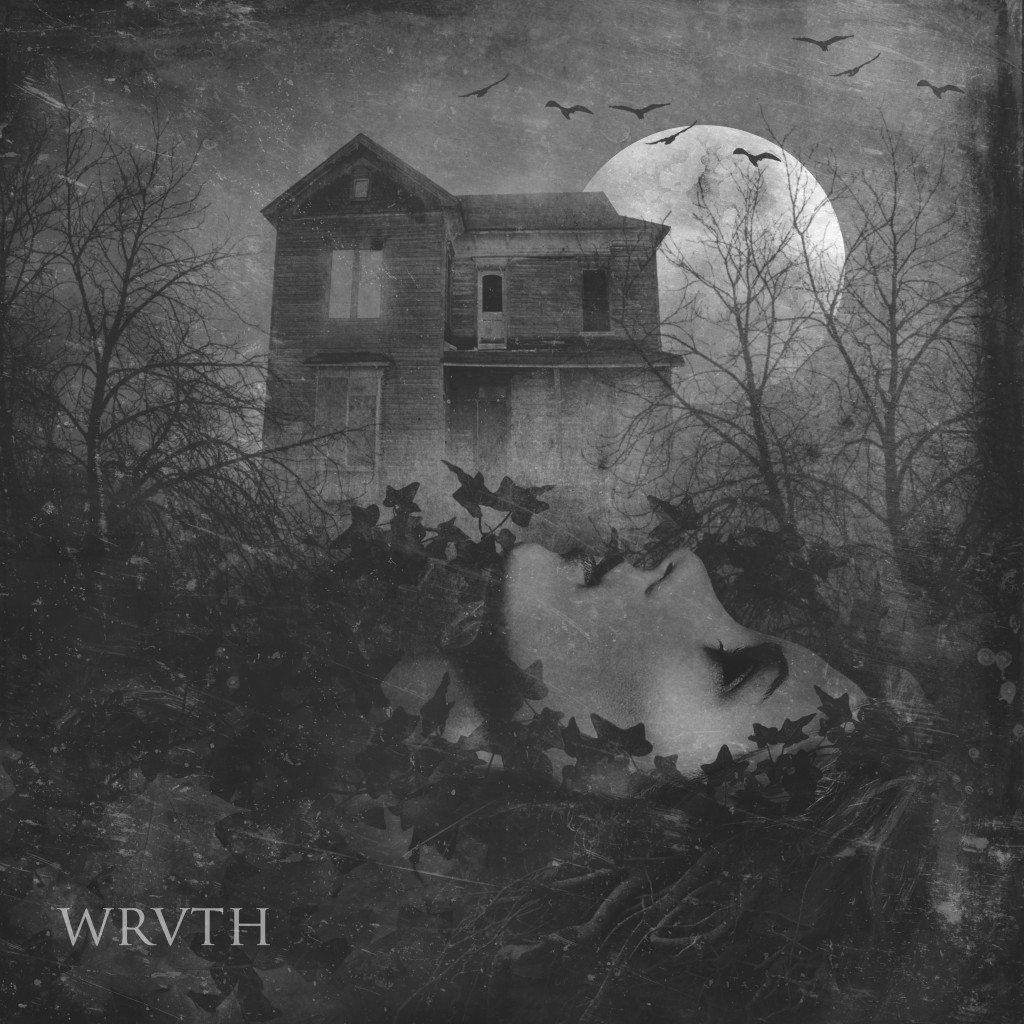 http://www.facebook.com/WrathofVesuvius
http://www.facebook.com/lordofwarmetal
http://www.uniqueleader.com
http://www.facebook.com/UniqueLeaderRecords