[photo by Katie Hovland]
Night Of Your Ascension is the impending new full-length from J.R. Robinson's WREKMEISTER HARMONIES. Slated for release this November via Thrill Jockey Records, the two track offering was nearly a year in the making, and boasts an astounding cast of thirty musicians including Lee Buford and Chip King (both of The Body), Alexander Hacke (Einsturzende Neubauten), Cooper Crain (Cave), Marissa Nadler, Mary Lattimore, Olivia Block, Eric Chaleff (Bloodiest), Dylan O'Toole and Ron DeFries (both of Indian), Bruce Lamont (Yakuza), Sanford Parker (Buried At Sea), Mark Solotroff (Anatomy Of Habit), Solomon Lee Walker, Chris Brokaw (Come), and Jaime Fennelly (Mind Over Mirrors).
In advance of its release, today Revolver Magazine offers up "Run Priest Run" for communal intoxication. Long fascinated with those whose habits or actions have set them beyond the reach of redemption, through his video art and music, Robinson continues to explore humanity's darkest impulses and society's response to them. "Run Priest Run" serves as Night Of Your Ascension's second movement and traces the death of Father John Geoghan, a priest convicted of molesting some one-hundred-fifty children who was violently executed by a fellow inmate while held in solitary confinement. The piece opens in a cold, dank space, evocative of the cell where the violent scene played out. As rumbling bass and brooding drums usher our killer into the frame (the hair raising shrieks of The Body's Chip King), the track takes us into the depth of horror of that cell and the minds of those within it.
Sample "Run Priest Run," now playing at Revolver at THIS LOCATION.
Following the record's official release, Robinson will take the eclectic sound manifestations of WREKMEISTER HARMONIES to the stage on an extensive North American tour in December. Instrumentation for the tour will be provided by Bell Witch along with Esther Shaw who will be performing the pieces Then It All Came Down and Night Of Your Ascension.
WREKMEISTER HARMONIES:
12/02/2015 Barboza – Seattle, WA
12/03/2015 TheCobalt – Vancouver, BC
12/04/2015 Obsidian – Olympia, WA
12/06/2015 Ash Street Saloon – Portland, OR
12/07/2015 The Metro – Oakland, CA
12/08/2015 Starlite Lounge – Sacramento, CA
12/09/2015 Complex – Los Angeles, CA
12/10/2015 Alex's Bar – Long Beach, CA
12/11/2015 Flycatcher – Tucson, AZ
12/13/2015 Mohawk – Austin, TX
12/14/2015 Double Wide – Dallas, TX
12/15/2015 Record Bar – Kansas City, MO
12/16/2015 7th Street Entry – Minneapolis, MN
12/17/2015 Empty Bottle – Chicago, IL
12/18/2015 Vaudeville Mews – Des Moines, IA
12/20/2015 Marquis – Denver, CO
12/21/2015 Diabolical Records – Salt Lake City, UT
Robinson has long been pre-occupied with society's unwanted, observing the horror of their acts while trying to identify with their conflict. Why do we gawk at those ravaged by violence or mental illness? Why do we turn a blind eye to the unspeakable barbarity committed by "civilized" nations? Night Of Your Ascension is a commentary on our own fascination with bloodlust and our seemingly insatiable appetite for lurid depictions of depravity. The music on WREKMEISTER HARMONIES' Night Of Your Ascension is as hauntingly beautiful as it is brutal, the questions it provokes are weighty.
WREKMEISTER HARMONIES' Night Of Your Ascension will be released on CD and digitally November 13th, 2015 via Thrill Jockey. Preorders are currently available at THIS LOCATION.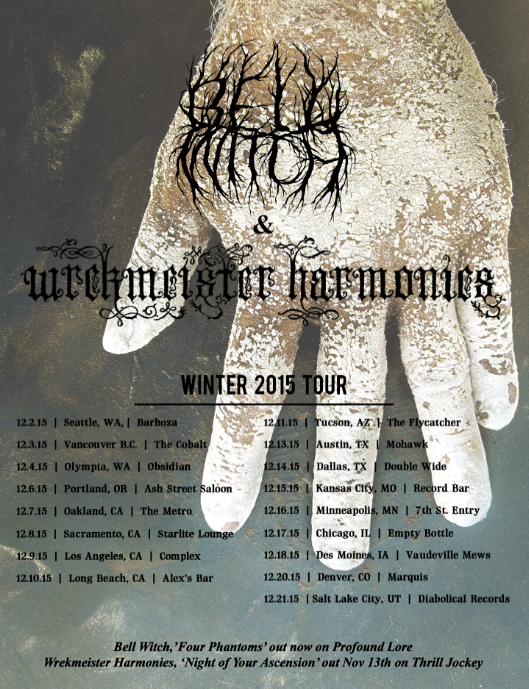 http://www.facebook.com/wrekmeisterharmonies
http://www.thrilljockey.com
http://www.facebook.com/ThrillJockey