"…these guys still have some of the tastiest guitar playing in the game…" – Invisible Oranges
California metal marauders, SAVIOURS, today unveil the road-raging resonance of "Hell's Floor" via Invisible Oranges. The latest riff-fest comes by way of the band's smoldering Palace Of Vision full-length, set for release via Listenable Records later this month.
The band's first proper full-length in four years, Palace Of Vision picks up where the molten manifestations of 2011's Death's Procession left off spewing forth nine tumultuous tracks of titanic riffs, earth-quaking rhythms, infectious guitar harmonies and an obsession with the end of times, the occult, psychedelics and the arcane. From fast-paced road ragers to lumbering doom crushers, SAVIOURS' Palace Of Vision is perpetually hell-bent on taking listeners away to an entirely new dimension of volume abuse.
"Dust off your air guitars friends, because SAVIOURS are back," hails Invisible Oranges. "As a live force, they've always been known for burly riffs, sublime harmonies and Austin Barber's shirtless hollering but in the studio, SAVIOURS have been a rather schizophrenic outfit. They've evolved from scrappy stoners to beer-soaked thrashers to classic metal gunslingers and on Palace Of Vision… they've become something different once again." Regarding the track on deck, the esteemed blog furthers, "An acapella solo courtesy of guitarist Sonny Reinhardt makes way for a barreling stomp that doesn't let up throughout the song's duration while Barber's vocals… have now grown into a genuinely commanding force. This is a far darker SAVIOURS than the one that recorded 'FGT' (fuckin' good times) six years ago, and it's a rather welcome change. The hard rock swing of Death's Procession has been replaced with downtrodden D-tuned chugs, but one element remains: these guys still have some of the tastiest guitar playing in the game, and 'Hell's Floor' is no exception."
Get down with "Hell's Floor,' courtesy of Invisible Oranges at THIS LOCATION.
And if you missed it, you can still sample "Flesh Of Fire" streaming at Decibel at THIS LOCATION as well as first single, "Burning Shrine," still playing at Cvlt Nation at THIS LOCATION.
Shortly following the release of Palace Of Vision, SAVIOURS will kick off a North American Fall tour supporting Corrosion Of Conformity and Brant Bjork And The Low Desert Punk Band. The trek will commence on November 16th and run through December 10th with additional support provided by Mothership.
SAVIOURS w/ Corrosion Of Conformity, Brant Bjork And The Low Desert Punk Band, Mothership:
11/16/2015 Pub Rock – Scottsdale, AZ
11/17/2015 Teragram Ballroom – Los Angeles, CA
11/18/2015 Slim's – San Francisco, CA
11/20/2015 Venue Nightclub – Vancouver, BC
11/21/2015 Neumo's – Seattle, WA
11/23/2015 The Summit Music Hall – Denver, CO
11/24/2015 The Riot Room – Kansas City, MO
11/25/2015 Mill City Nights – Minneapolis, MN
11/28/2015 The Odeon – Cleveland, OH
11/29/2015 Underground Arts – Philadelphia, PA
12/01/2015 Opera House – Toronto, ON
12/03/2015 Altar Bar – Pittsburgh, PA
12/07/2015 9:30 Club – Washington, DC
12/09/2015 Shaka's Live – Virginia Beach, VA
12/10/2015 Lincoln Theatre – Raleigh, NC
Rooted in hardcore punk but preferring to cruise in outer space, SAVIOURS have always brought an infectious swing and swagger to their forward-charging heavy metal. The band melds the prime tenets of the New Wave Of British Heavy Metal, progressive rock, and proto-doom, and delivers it all with a snarling, West Coast hardcore edge. The result is a rugged beast of a sound that is singularly SAVIOURS.
Palace Of Vision was captured at Type Foundry in Portland, Oregon with Billy Anderson (Neurosis, Brothers Of The Sonic Cloth, Eyehategod, Taurus, Ommadon etc.) and comes sheathed in the fittingly dark, intricately transfixing cover renderings of Derrick Snodgrass (Obliterations, Lecherous Gaze).
Palace Of Vision will be released worldwide via Listenable Records on October 30th, 2015. Preorder bundles are currently available at THIS LOCATION.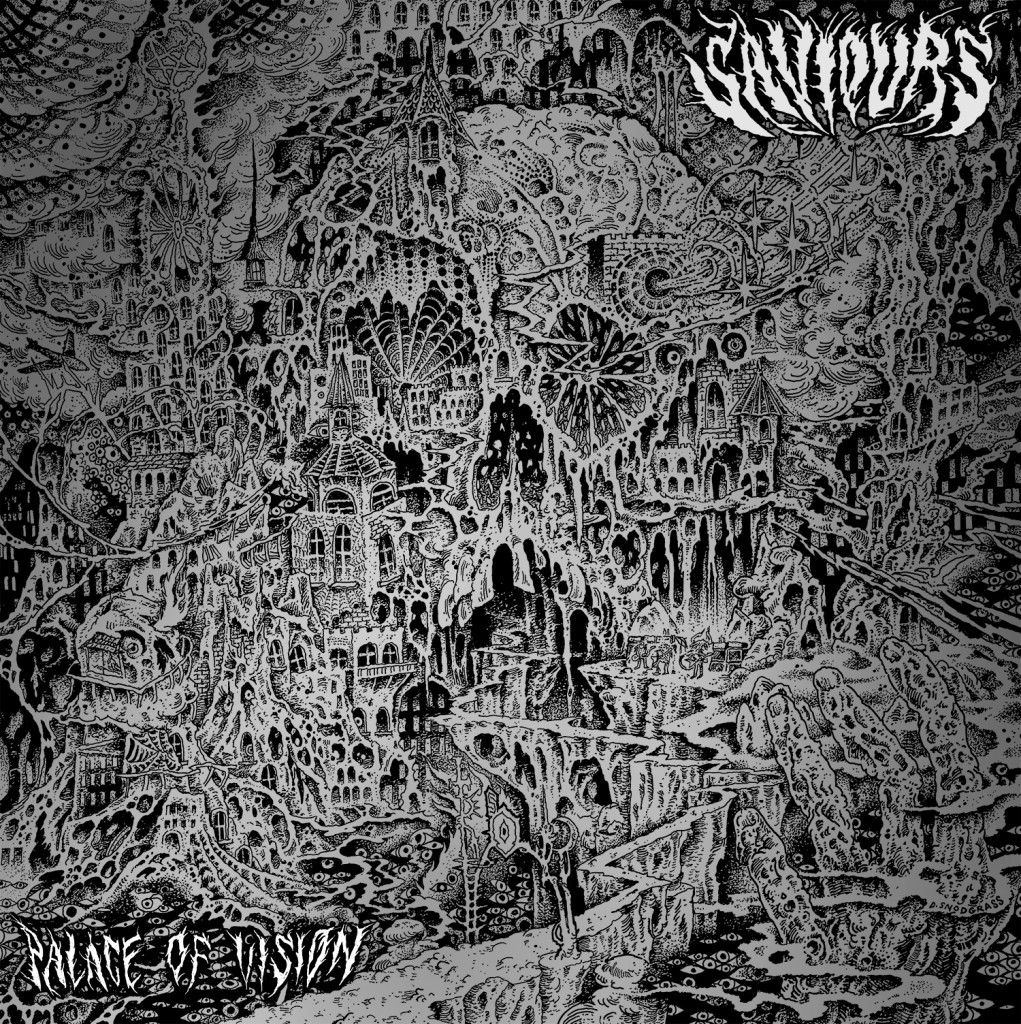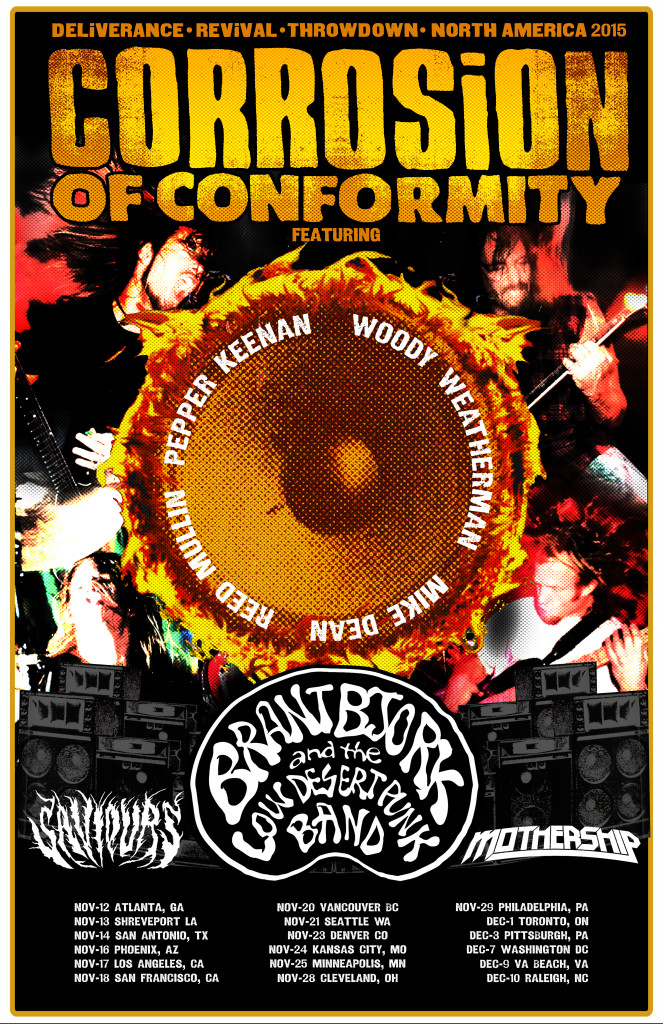 http://www.facebook.com/Saviours
http://www.killforsaviours.blogspot.com
http://www.saviours.bandcamp.com
http://www.facebook.com/listenablerecs
http://www.listenable.net