"WREKMEISTER HARMONIES excels at the cinematic approach to sound composition, driving narrative through slowly developing musical passages culminating in a roaring sea of dread." — A Closer Listen
"It's meant to be haunting and troubling, and it is — but Robinson's deeply ingrained sense of beauty lends it a cold and terrible dignity." — Chicago Reader
"Emotionally draining but also enveloping and cathartic, WREKMEISTER HARMONIES have created something that needs to be heard." — The Metal Observer
Noisey has an advance stream of the upcoming WREKMEISTER HARMONIES album Night Of Your Ascension, out November 13th. This heavy, beautiful album features contributions from nearly thirty musicians including Lee Buford and Chip King (both of The Body), Alexander Hacke (Einsturzende Neubauten), Cooper Crain (Cave), singer Marissa Nadler, harpist Mary Lattimore, composer Olivia Block, Eric Chaleff (Bloodiest), Dylan O'Toole and Ron DeFries (both of Indian), Bruce Lamont (Yakuza), Sanford Parker (Buried At Sea), Mark Solotroff (Anatomy Of Habit), Solomon Lee Walker, Chris Brokaw (Come), and Jaime Fennelly (Mind Over Mirrors).
On the title track of the album, WREKMEISTER HARMONIES' J.R. Robinson was inspired by the eerie story of Don Carlo Gesualdo, a sixteenth-century composer whose madrigal "Ahi Dispietata e Cruda" is reimagined and restructured here. The second long-form track, "Run Priest Run," tells the story of Father John Geoghan, a priest convicted of molesting some 150 children who was executed by a fellow inmate. Night Of Your Ascension is a commentary on our own fascination with bloodlust and our seemingly insatiable appetite for lurid depictions of depravity. The music on Night Of Your Ascension is as hauntingly beautiful as it is brutal, the questions it provokes are weighty.
Listen to WREKMEISTER HARMONIES' Night Of Your Ascension alongside an in-depth interview with Robinson at THIS LOCATION.

You can also check out the trailer, directed by Joe Martinez HERE.
Preorder Night Of Your Ascension via Thrill Jockey Mailorder at THIS LOCATION.
The WREKMEISTER HARMONIES tour with Bell Witch kicks off on December 2nd. Bell Witch, along with violinist Esther Shaw, will be providing instrumentation for the WREKMEISTER HARMONIES pieces Then It All Came Down and Night Of Your Ascension.
WREKMEISTER HARMONIES:
12/02/2015 Barboza – Seattle, WA
12/03/2015 TheCobalt – Vancouver, BC
12/04/2015 Obsidian – Olympia, WA
12/06/2015 Ash Street Saloon – Portland, OR
12/07/2015 The Metro – Oakland, CA
12/08/2015 Starlite Lounge – Sacramento, CA
12/09/2015 Complex – Los Angeles, CA
12/10/2015 Alex's Bar – Long Beach, CA
12/11/2015 Flycatcher – Tucson, AZ
12/13/2015 Mohawk – Austin, TX
12/14/2015 Double Wide – Dallas, TX
12/15/2015 Record Bar – Kansas City, MO
12/16/2015 7th Street Entry – Minneapolis, MN
12/17/2015 Empty Bottle – Chicago, IL
12/18/2015 Vaudeville Mews – Des Moines, IA
12/20/2015 Marquis – Denver, CO
12/21/2015 Diabolical Records – Salt Lake City, UT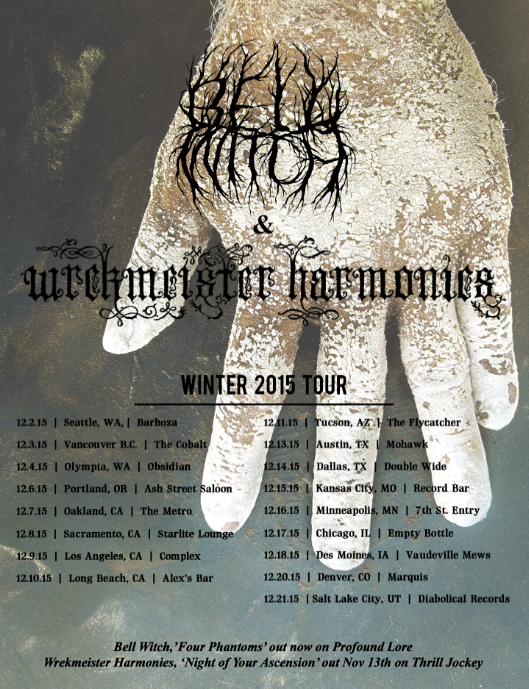 http://www.facebook.com/wrekmeisterharmonies
http://www.thrilljockey.com
http://www.facebook.com/ThrillJockey