Canadian black metal outfit WORMWITCH is proud to present their second standalone single of the year, "Exhumed From Flaming Stars." A brooding black metal dirge with a driving punk edge, the track is now playing courtesy of Metal Injection.
Notes vocalist/bassist Robin Harris of the track, "'Exhumed From Flaming Stars' is an homage to the legacy of J.R.R. Tolkien, namely the tragic tale of Turin Turambar and the fell sword Gurthang, the Iron of Doom…"
Adds guitarist Colby Hink, "This song was the fourth of four tracks recorded this past Summer; the other three have yet to surface. We've furthered our foray into live recording, hoping to capture the energy of a live performance on our recordings as much as possible."
Writes Metal Injection, "If you're unfamiliar with the tales of Túrin Turambar, or you're just in the mood for some crunchy black metal, then the new WORMWITCH single 'Exhumed From Flaming Stars' is for you! It also helps that WORMWITCH crafts some particularly potent black metal, and missing out on it is to deprive oneself."
Stream WORMWITCH's "Exhumed From Flaming Stars" at Metal Injection HERE.
Recorded at LRS Studios with engineer Michael Kraushaar and produced by the band, "Exhumed From Flaming Stars" is currently available across all digital download and streaming platforms.
WORMWITCH will kick off a twelve-date US/Canadian tour next week. The journey runs from November 15th through November 27th. See all confirmed dates below.
WORMWITCH Live:
11/15/2022 Wise Hall – Vancouver, BC *
11/16/2022 Funhouse – Seattle, WA *
11/17/2022 Dante's – Portland, OR *
11/18/2022 Cafe Colonial – Sacramento, CA *
11/19/2022 Gigi's – Ventura, CA
11/20/2022 Charged Noise Fest – Los Angeles, CA
11/21/2022 Brick By Brick – San Diego, CA
11/22/2022 Backstage Bar – Las Vegas, NV
11/23/2022 Underground – Phoenix, AZ
11/25/2022 Lost Lake – Denver, CO
11/26/2022 Aces High – Salt Lake City, UT
11/27/2022 The Shredder – Boise, ID
*Supporting Bewitcher
WORMWITCH began in the year 2015 amongst the rainswept wilderness of coastal British Columbia. Formed from the ashes of several local hardcore punk and metal bands, the new entity set out to combine a relentless blackened death assault with the ferocity and attitude of crust punk and vintage rock and roll. They released their first demo, The Long Defeat in 2015 and shortly thereafter signed with Prosthetic Records, under which they released Strike Mortal Soil (2017), Heaven That Dwells Within (2019), and Wolf Hex (2021). During that time the band toured with the likes of The Black Dahlia Murder, Suffocation, Necrot, Uada, Bat, Midnight, and many others, earning themselves a dedicated cult following and international critical praise.
In 2022, WORMWITCH began to independently release a string of singles and embark upon several tours of North America, honing their craft and continuing their tried and true tradition of devilish speed, searing melody, and diabolical intensity.
WORMWITCH:
Colby Hink – guitar, vocals
Robin Harris – bass, synth, vocals
Izzy Langlais – drums
Kyle Tavares – guitar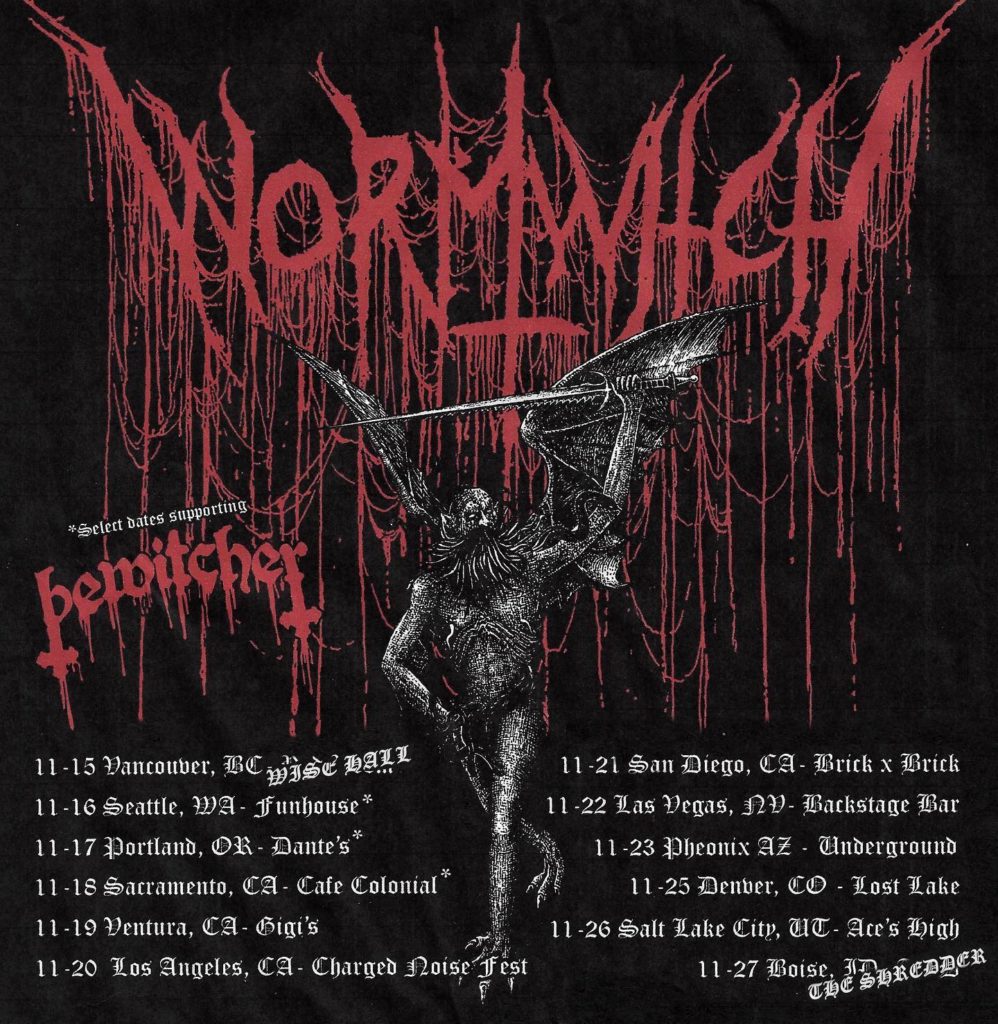 http://www.facebook.com/wormwitch
http://www.instagram.com/wormwitchofficial
http://twitter.com/wormwitchmetal
http://wormwitch.bandcamp.com
http://www.youtube.com/channel/UCC7pPMAmSvtVYrPnDY6c_IA