California sludge veterans -(16)- return with their heaviest and most devastating record to date, Into Dust! Set for release on November 18th via Relapse Records, the new album — a collection of cautionary tales of survival and redemption — is set to an amalgamation of sludge, punk, metal, hardcore, and stoner riffs that could only be built through thirty years of commitment to their dark sonic craft, which -(16)- continues to improve upon.
Today, -(16)- shares the third single off Into Dust with "Lane Splitter." Guitarist/vocalist Bobby Ferry comments, "'Lane Splitter' is a song about paying for some of life's shortcuts with blood…"
Watch -(16)-'s "Lane Splitter" video at THIS LOCATION.
Watch the band's previously released video for Into Dust's album opener "Misfortune Teller" at THIS LOCATION and "Scrape the Rocks" at THIS LOCATION.
Into Dust will be available on CD, LP, and digital formats. Find physical preorders via Relapse.com HERE and digital downloads/streaming services HERE.
In conjunction with the release of Into Dust, -(16)- will embark on US headlining tour with support provided by Doc Hammer. See all confirmed dates below.
-(16)- w/ Doc Hammer:
11/12/2022 Tower Bar – San Diego, CA
11/13/2022 Knucklehead Hollywood – Los Angeles, CA
11/14/2022 Transplants Brewing – Palmdale, CA
11/15/2022 The Fulton – Fresno, CA
11/16/2022 Ivy Room – Oakland, CA
11/17/2022 Café Colonial – Sacramento, CA
11/18/2022 The High Water Mark – Portland, OR
11/19/2022 The Bar House – Seattle, WA
11/20/2022 Mootsy's – Spokane, WA
11/22/2022 Shredder – Boise, ID
11/23/2022 Aces High Saloon – Salt Lake City, UT
11/25/2022 The Hive – Flagstaff, AZ
11/26/2022 The Den – Prescott, NV
From the frantic opening of "Misfortune Teller" to the undeniable pounding and swagger of "Scrape The Rocks," Into Dust lives up to its name, as -(16)- beats the listener into submission through the lowest of ends and the sour, palpable malaise prevalent throughout the album's dozen tracks.
"There's a story arc in the lyrics that start with an eviction notice served amid the ruins of Hurricane Irma in the Florida Keys, to running aground metaphorically and drowning in midlife, bearing witness to the modern suffering of hunger and poverty on the Mexico California border," Ferry says. The negativity persists on tracks aptly titled "Null And Eternal Void," and the dizzying, pill-induced, "The Floor Wins." Elsewhere, "Born On A Bar Stool" sends the listener off with a sobering album closer; ending on a foggy and rainy jazz-tinged San Francisco night, with an anti-drinking drinking song, proclaiming, "Raise your glass all things pass."
-(16)-:
Bobby Ferry – guitar, vocals
Alex Shuster – lead guitar
Barney Firks – bass
Dion Thurman – drums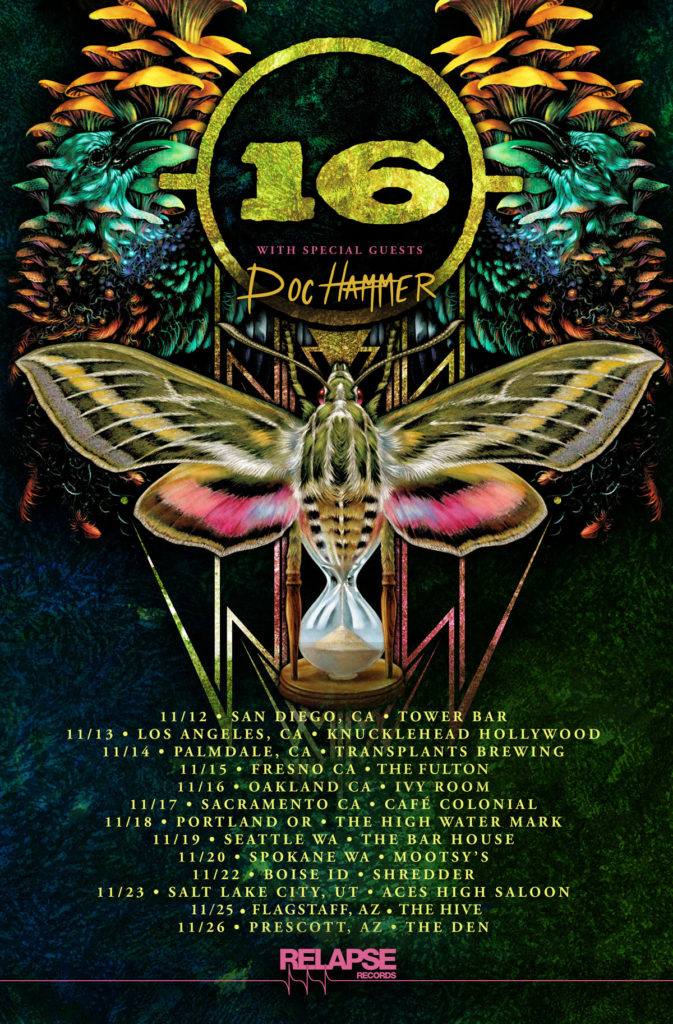 http://www.facebook.com/16theband
http://www.instagram.com/16theband
http://twitter.com/16theband
http://16theband.bandcamp.com
http://www.relapse.com
http://www.instagram.com/relapserecords
http://www.facebook.com/RelapseRecords
http://www.twitter.com/RelapseRecords