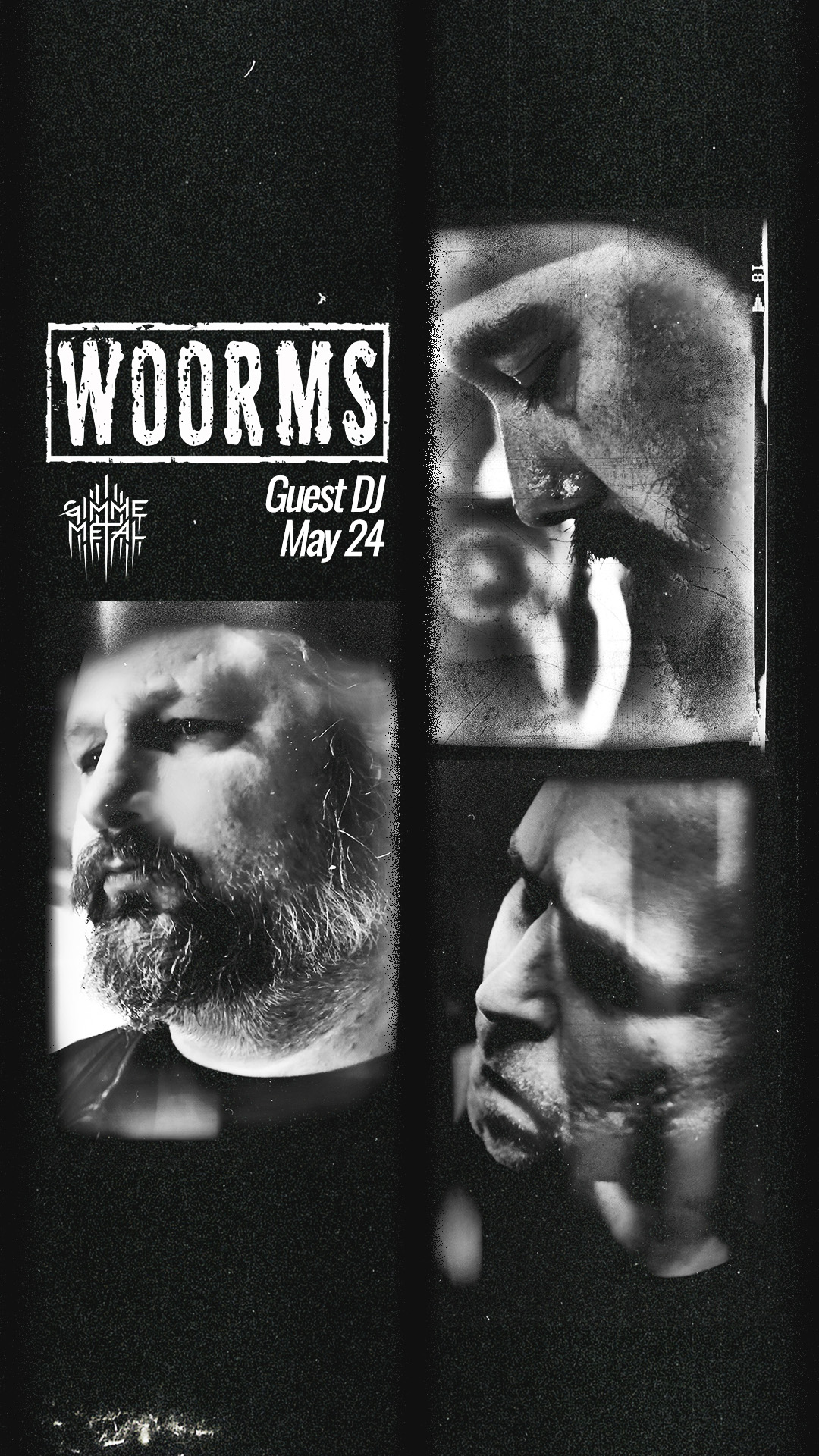 In support of their crushing new SuperNova Records-released Fatalismo LP, Baton Rouge noise rock/sludge metal trio WOORMS will host a guest DJ show at the mighty Gimme Metal tomorrow, May 24th at 7:00pm EST / 4:00pm PST. Visit www.gimmemetal.com and join the band in the live chat!
WOORMS' anthems thunder with elements of dirge, grit, groove, and bellowing amplification foundationally attributed to masters of the realms of noise rock, sludge, and psychedelic metal scenes. Since their 2017 formation, the band has developed a solid fanbase, both through performing live and through a constantly growing discography, releasing material through the likes of Sludgelord Records, Forbidden Place Records, and their own Hospital Records, including two LPs, an array of singles, demos, and EPs, and split releases with A Hanging, Radiant Knife, and just recently with The Grasshopper Lies Heavy.
In March of 2020, WOORMS drove 1500 miles to open for Today is The Day in Ohio where frontman Steve Austin joined them on stage for a song. This connection led WOORMS to Austin's compound in remote northern Maine in the Fall of 2020 to record what would be their third LP, Fatalismo.
WOORMS' Fatalismo was produced, engineered, and mastered by Today Is The Day/SuperNova Records' Steve Austin – who also provides additional vocals on "This Is Nothing Short Of Character Assassination" – at Austin Enterprise, with additional recording by the band's Joey Carbo at The Hospital in Baton Rouge. The album was completed with surrealistic artwork by Januz Miralles and design/layout by Joshua Wilkinson.
Stream WOORMS' Fatalismo in its entirety now at THIS LOCATION.
Fatalismo is out now through all digital services through SuperNova Records, with cassette and vinyl versions to follow. Find digital preorders at Bandcamp HERE and vinyl preorders at the label webshop HERE. Also watch the "Quiet As Isaac" video HERE.
WOORMS continues to book regional shows including a hometown show with Fauns and a San Antonio show with The Grasshopper Lies Heavy in June. The band will also headline this year's Movies & Music On The Lawn series in Baton Rouge, a Summer film series that pairs silent films with not-so-silent Louisiana bands who perform original scores for the films live. WOORMS' installment is confirmed for Saturday, September 17th where the band will perform the score to the classic 1922 silent horror film, Nosferatu, in celebration of the iconic film's 100th anniversary. Find more info on the series HERE.
Watch for additional videos, tour dates, and more to post over the weeks ahead.
WOORMS Live:
6/17/2022 Mid City Ballroom – Baton Rouge, LA w/ Fauns
6/18/2022 Faust – San Antonio, TX w/ The Grasshopper Lies Heavy
9/17/2022 Movies & Music On The Lawn @ Baton Rouge Gallery – Baton Rouge, LA *performing Nosferatu [info]
"This is a heavy drudge through music, heavy, plodding, upbeat, you know, a bit of everything. A bit of everything that has a Melvins-like vibe." – Decibel Magazine
"…you can hear Today Is The Day's influence on WOORMS' raw, sludgy sound, as well as that of bands like the Melvins, Unsane, Kyuss, and others of that ilk." – BrooklynVegan
"…[Fatalismo] sees the trio reaching new plateaus with their sound as well as their songwriting." – Echoes And Dust
"Once you get to grips with the – let's be frank here – weirdness of it all, you recognise actually just how solid some of these tracks are. It has all the hallmarks of a divisive record, but those who take the time to grow accustomed to WOORMS' modus operandi will find it hard to resist the earworm bass-led grooves, the oddball lyrical content and the most characterful vocal performance of the year so far." – Distorted Sound Magazine
"Grimace-inducing riffs again pepper this album accompanied with strange sample sounds and effects… All of this make this band shine with a fresh murky light in this genre." – The Razor's Edge
https://linktr.ee/WOORMS
https://www.instagram.com/woorms_
https://www.facebook.com/WOORMSband
https://woorms.bandcamp.com
https://www.supernovarecordsusa.com
https://www.facebook.com/supernovarecordsusa
https://twitter.com/supernovarecusa
https://www.instagram.com/supernovarecordsusa
https://supernovarecordsusa.bandcamp.com