Fresh off of the first wave of their Desanctifying North America 2014 Tour in support of their third LP, Clawing Into Black Sun, WOLVHAMMER will embark on the next subdivision of the trek at the end of this month, with West Coast devastation planned.
Having stormed the East Coast/Midwest US with support from Mortals in recent weeks on the first installment of the tour, Desanctifying North America 2014 Part II will run from November 30th through December 18th. With several headlining gigs planned on WOLVHAMMER's way out to the West Coast and back to the Midwest, the bulk of the newly-confirmed run will feature headlining action on the West Coast gigs from San Francisco's mighty Black Cobra duo. Additional tour dates will be announced in the coming weeks.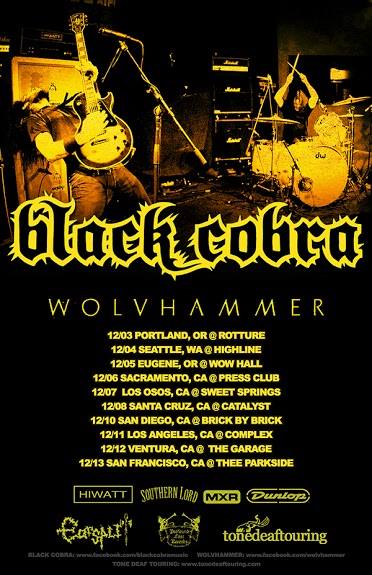 WOLVHAMMER Desanctifying North America 2014 Part II w/ Black Cobra:
11/30/2014 Triple Rock Social Club – Minneapolis, MN *
12/01/2014 Machinery Row – Great Falls, MT *
12/02/2014 The Hop – Spokane, WA *
12/03/2014 Rotture – Portland, OR
12/04/2014 Highline – Seattle, WA
12/05/2014 Wow Hall – Eugene, OR
12/06/2014 Press Club – Sacramento, CA
12/07/2014 Sweet Springs – Los Osos, CA
12/08/2014 Catalyst – Santa Cruz, CA
12/10/2014 Brick By Brick – San Diego, CA
12/11/2014 Complex – Los Angeles, CA
12/12/2014 The Garage – Ventura, CA
12/13/2014 Thee Parkside – San Francisco, CA
12/15/2014 The Divebar – Las Vegas, NV *
12/16/2014 Area 51 – Salt Lake City, UT *
12/17/2014 Lost Lake – Denver, CO *
12/18/2014 Replay – Lawrence, KS *
*WOLVHAMMER only
Released in July, on CD/digital via Profound Lore Records, and on vinyl via guitarist Jeff Wilson's Disorder Recordings, the nearly fifty-minute Clawing Into Black Sun showcases WOLVHAMMER's amalgamation of black metal and death rock surging with more self-infliction, abuse, regret, and debauchery than ever, the band uniting members of Shaidar Logoth, Abigail Williams, Chrome Waves, Doomsday and other acts. Recorded by Dan Jensen at Hideaway Studio in Minneapolis, the bruising eight songs obviously displaying how the band's songwriting and delivery skills have developed since their previous releases, which is not only proven in Clawing Into Black Sun's overall production, but also in the incredible praise the album has reaped since its release. Orders for the CD can be placed HERE, the digital HERE, and the LP HERE.
http://www.facebook.com/Wolvhammer
http://www.profoundlorerecords.com
http://www.facebook.com/profoundlorerecords
http://disorder-recordings.bandcamp.com